What's next for Moonshot?
There's nothing wrong with the Centerton Atom server cartridges announced with the Moonshot Gemini design on Monday, but they have only one processor per cartridge, which is not all that impressive considering how small an Atom chip is. The server nodes snap in from the top, just like the Ethernet switch modules do, and they are hot pluggable. But again, with 45 servers in a 4.3U space, you are only getting 10.5 servers per rack unit.
During the HP Moonshot webcast, Calxeda showed off a Gemini server cartridge that sported four Calxeda processors, which will get up to 180 server nodes in a 4.3U chassis, or just under 42 nodes per rack unit.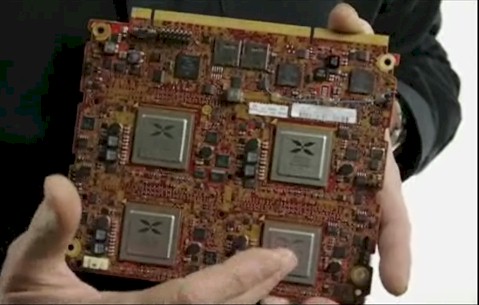 The forthcoming quad-node Gemini server from Calxeda
That is a little bit better than was possible with a mix of Calxeda processing and storage nodes in the original Redstone Moonshot machines. (It's about 17 per cent more computing per rack unit, if you do the math and assume a healthy mix of compute and storage nodes in the Redstone setup.)
Karl Freund, vice president of marketing at Calxeda, tells El Reg in an email exchange that the server card shown above is running in its labs at 1.4GHz and will offer higher performance per node than the Atom S1260 node that was part of the launch today.
"While Intel is first with Atom, rest assured the ARMy is right behind them in the queue," writes Freund. "And really not far enough behind to matter – one to two quarters at most."
It was not clear from the presentation or the exchange with Freund whether this card is using the current 32-bit ECX-1000 with four Cortex-A9 cores, or the "Midway" quad-core chip that Calxeda is expected to deliver later this year with 40-bit memory addressing and support for hardware-based virtualization using Cortex-A15 cores.
The Midway chip is expected to deliver about 50 per cent more integer performance, about twice as much floating point performance, and four times the main memory as the ECX-1000 chip. Calxeda will not get its 64-bit "Lago" ARM SoC into the field until 2014, which is when other vendors are expected to get theirs into the field, too.
Intel doesn't want to leave anyone with the impression that it is resting on its Atom laurels. Raejeanne Skillern, director of cloud marketing at Intel, put out a blog in the wake of the Moonshot Gemini server launch reminding everyone that the "Avoton" Atom S Series processor is coming later this year.
That design will be based on the new "Silvermont" microarchitecture for Atom and will also use the 22 nanometer TriGate wafer-baking processes from Intel's fabs to boost both performance and performance-per-watt significantly. Skillern also confirmed in her post that Intel and HP will be able to cram four of the Avoton processors onto a single Gemini server cartridge, yielding the same socket density as the future Calxeda node.
The Avoton chip is sampling now and is expected to be available in systems in the second half of this year. And interestingly, it will have an "integrated Ethernet fabric controller" – what you and I would call a network interface port – on the SoC.
While these are interesting and better options in both cases, what Moonshot will probably need are brawnier x86 and ARM processors for heavier workloads, and perhaps to pair them with FPGAs, DSPs, and GPUs. Kleyn made no promises, but said that the Moonshot architecture would certainly allow for double-wide and triple-wide server nodes and could, in theory, support two-socket x86 server nodes for larger workloads.
HP has made no promises to do this, of course. But a "Haswell" Xeon E5 seems to be a no-brainer for a single-socket node with more CPU oomph and memory, and a low-powered two-socket Gemini server node with a larger memory footprint using future "Ivy Bridge" Xeon E5 chips would probably come in handy, too. You can global replace Opteron 4400 and 6400 in there, as well. ®