This article is more than 1 year old
McDonalds-card-toting Softcat boss: I couldn't tell you how a computer works
Hellawell on being 'tight' - and his part in Thatcher's downfall
Feature The much-lauded CEO of software reseller Softcat has carved out a high-flying career selling tech - but paradoxically Martin Hellawell can't explain how a computer computes nor the inner workings of a mainframe.
Still wet behind the ears and straight out of uni in 1988, Hellawell made an inauspicious entry into the world of technology via Miles 33, a Bracknell-based supplier of specialist publishing software.
"I had to spend the first three months doing a technical job there to learn all about the products which was a nightmare," says Hellawell. "I'm not a real techie which is one of my regrets in life because technology is fascinating."
There was a support element to the contract and the company thought it was sensible to send in its newbie - a marketing manager who doubled up as a sales dogsbody - to get some on-the-job experience, overseeing the typesetting at night for three months. Nice.
"I was trying to learn the commands at a dumb terminal - so was pressing 'move file', 'copy file' and then got to the 'stop' command - so I tried that and all of a sudden literally 250 printers were asking, 'What's happening?" he tells The Channel.
"I'd taken the central system down while they were printing the order book for Parliament, so Margaret Thatcher couldn't proceed as planned. The following day there was a question from MP Tony Banks asking her to explain the problems they'd had at the printing press - which was me."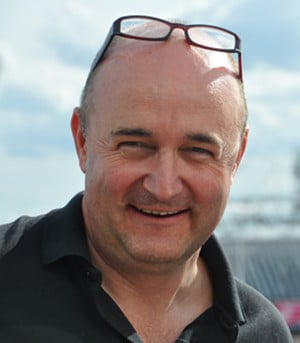 Martin Hellawell
In an industry known for its right wing leanings, Hellawell was an embarrassment to Thatcherism, but amazingly his employer didn't fire its tech-light recruit.
"They kept me well away from the technical side after that; they didn't sack me and I'm amazed they didn't," he says.
Of course, the fumble wasn't a political statement by the Newcastle-born lad - raised in Worcestershire - though Hellawell admits he is something of a closet socialist.
"I was brought up as a leftie - against private education, against private health, against religion, archetypical left-wing family. But I'm in a business world where a lot of right-wing politics prevail and make sense.
"I've voted for all three parties in the last 15 years and oscillate. If you ask people around here they'd probably say I am a bit of a socialist, and there is that side to me."
Hellawell attributes this to his parents, both academics - his father was a Dean of Faculty at the University of Central England and his mother was a teacher.
"I wanted to do something different from my family's humanities type professions. I had a lot of pressure, because I was relatively bright at school, and I was a good citizen - I was head boy. My school wanted me to do Oxbridge, but I said no I didn't want to do that because I wanted to do a degree in business. They were outraged."
After getting two As and a B at A-level - Economics, French and German - he was en route to the University of Lancaster to take a degree in marketing, which back then was not offered by every uni in the land.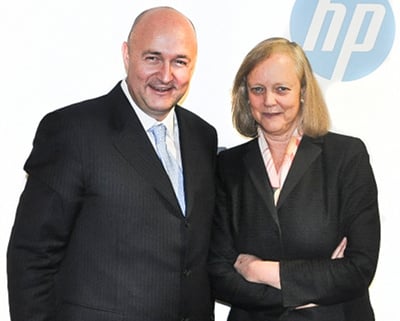 Hellawell with Hewlett-Packard president and CEO Meg Whitman
He exited with a 2:1 and set about looking for a burgeoning industry but claims filthy lucre wasn't the motivating factor - unusual for a sales chap.
"I don't think it was the money," says Hellawell, "I always like working with people, seeing things grow, develop."
Hellawell must have some interest in money because he admits being reluctant to part with it.
"I am so tight, I am really tight, I like value. A lot of my mates weren't from a poor background but weren't rich kids either so I never had that taste for money. It wasn't that important.
"Open my wallet and you'll find a McDonalds card. [This attitude] has represented me generally well in the business world because I do look at every cost," he says proudly.
The interest in IT stemmed from seeing people like Bill Gates, who isn't much older than Hellawell, reach the top of the tech industry at a relatively early age.
"I looked at some of my mates who were in the professions and it seemed like you had to be 50 before could be considered to be a manager - [but you] can move quickly in the IT industry," he claims.
So three months after his inglorious start at the printing press, the company used Hellawell's talents for the French language and packed him off to Paris to help set up an operation with the help of a more senior native.
It didn't work out for the local bod but it did for the Brit, so at 23 Hellawell was asked to run the business.
"It was only tiny, six or seven people," he recalls, "but it was a great experience, living abroad, managing foreign people. I ran the company for three years but then the Mac came and all the printing presses moved to that.
"The software I was selling cost roughly £120,000 a pop and wasn't as good as the Mac which was £2,000 so I thought 'This isn't going to last' and decided to move."
At the same time (1991), more and more enterprises were buying PCs and an established reseller Computacenter (CC) was setting up a joint venture in Paris: the International Computer Group.
The business was the lovechild of CC, German reseller Compunet and French outfit Random. Hellawell went in as marketing manager in a small team of 30 people.
The idea in the short term was to help serve each firm's customers with offices in the UK, France or Germany.
The outfit was run by Gareth Cadwallader, who went on to to run the services business of Digital, and other colleagues included Mike Tobin - now CEO at UK data centre provider Telecity.
Long term the plan was for the three businesses to merge and float but two years after launch, the French partner Random went under. CC and Compunet then stepped in and bought it for one franc.
Hellawell was made deputy of Random at the age of 25. "It was the Wild West - people didn't know if they had a job, if the company was still going. Some offices were operating some weren't, there were leases right left and centre and we had to plateau that business to build it back up again.
"That was the hardest time I've ever had. I worked 24 hours a day. For 2 months I was IT manager, then logistics director and every time somebody left of any importance I had to fill that role," he says.
He was also dispatched to other offices across France to tell staff if their role was to be made redundant.
"I was on the train, I'd go into office, tell them 'Sorry haven't got job for you', then go to the lock smith, it was all that sort of stuff. I was only a little boy, I couldn't do it now but I was so naive at the time," says the channel man.
The reaction from staff? "Yes, pretty hostile," he says.
The French JV between CC and Compunet pushed ahead and stabilised with Hellawell as deputy chairman. But one of CC's founders felt he'd spotted some talent and brought Hellawell back to the UK as CC's group marketing director.
He ran the incubation division for new vendor signings, as well as marketing, so he became the corporate development director, reporting to long-serving CEO and later good friend Mike Norris.
But troubles emerged again in CC's joint venture in France and Hellawell was sent to apply some much-needed corporate balm.
The operation had two managing directors and lots of internal politics, says Hellawell, who said there were some "serious problems" that required full-time residency. The young marketing man was then made MD on top of his UK duties.