Captain Kirk's phaser weapon from the second pilot of the 1960s Star Trek series has sold for an illogical $231,000 at auction.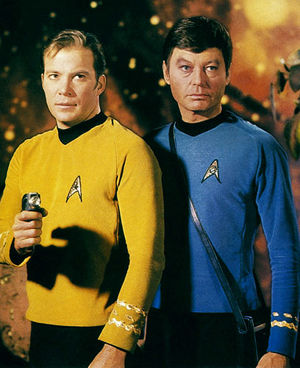 Phasers on stunned: Kirk, left, and McCoy
The phaser, used by the character played by William "Khan!" Shatner, was expected to sell for about $50,000 but racked up more than four times that including commission, Julien's Auctions said.
The prop laser gun - which could stun, kill or entirely vaporise bad guys in the programme - was flogged during a two-day "Hollywood Legends" sale that also included paraphernalia from sci-fi TV and movies including Stargate, Lord of the Rings, Alien and Star Wars as well as bits and pieces from modern films such as Mission Impossible and vintage flicks including The Birds.
The alien survey buggy seen aboard the Nostromo in the first Alien flick sold for $10,625, while the complete Anubis costume from the movie version of Stargate, worn by Carlos Lauchu, sold for $16,250. Christopher Reeve's superhero costume from Superman IV raised $25,600.
From the golden oldies, Marilyn Monroe's bra from the Some Like It Hot gown fetched $28,800 and one of her cocktail dresses sold for $25,000, while a munchkin flower pot hat from The Wizard of Oz was worth $15,000 to one winning bidder.
Memorabilia from more up-to-date non-sci-fi movies didn't really reach the same heights. A lapel pin worn by Liam Neeson for Schindler's List sold for $3,200 and Glenn Close's 1990 Academy Award gown was flogged for $2,560. ®