This article is more than 1 year old
HGST unveils 12Gbit/s SAS SSDs for bankers, gamers and cloud-pushers
Subsidiary of mega-corp punts twice-as-fast kit
Western Digital subsidiary HGST has slapped 12Gbit/s SAS interfaces on three solid-state drives - which it claims is a storage industry first - and they fly, with one model boasting prolonged endurance as well.
The SSD800 and SSD1000 drives store up to 800GB and 1TB respectively, using enterprise grade 2-bit multi-level cell flash, built with 24nm process geometry. Their characteristics make them easy and straightforward to compare with other drives in terms of endurance, random I/O and sequential I/O performance.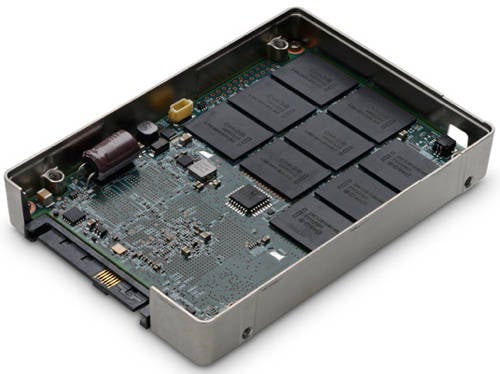 HGST SSD1000MR
The drives come in three variants: The SSD800MH is the maximum endurance product, rated at 25 full drive writes/day for five years. The SSD800MM is intended for mainstream use and rated at 10 full drive writes a day, and the SSD1000MR is optimised for maximum read, rated at 2 full drive writes a day.
In terms of real-world applications, the SSD800MH is targeted at high-frequency trading and online transaction processing. The SSD800MM is said to be for online gaming, big data and cloud computing, while the SSD1000MR is for online audio/video streaming, cloud computing and other Internet applications.
An SSD rated at 10 drive writes/day is regarded as enterprise class these days; 25 full writes a day pushes the bar considerably higher.
The 12Gbit/s SAS interface gets sequential I/O sprinting rather than streaming. The chart compares the three Ultrastars with SMART's C100E and STEC's S840. Respectable performers as they are, both of SMART's contenders are left in the dust.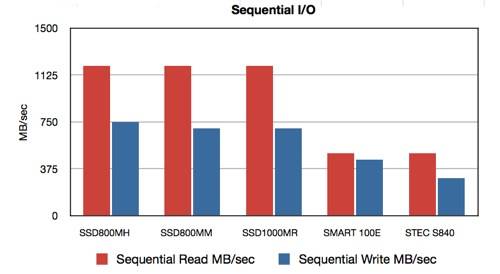 The SSD800M-s and SSD1000MR do 1,200MB/sec sequential reading, which is a record as far as our SSD supplier data is concerned. An OCZ Lightfoot does up to 750MB/sec but most drives do 500MB/sec or less. Exceptions to that include a Samsung SM1625 doing 848MB/sec and Toshiba PX02SM products doing up to 900MB/sec.
Several PCIe flash cards, like Fusion-io's MLC ioDrive Duo rated at 1.5GB/sec do go faster, but that's with the PCIe bus.
The new Ultrastars are also good at random IO, as a comparative chart of random read and write IOPS shows: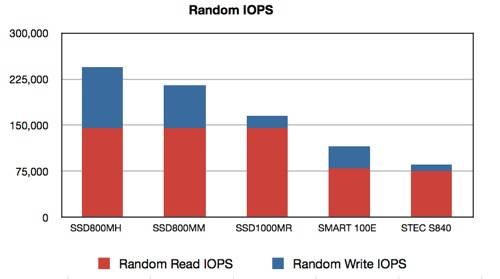 Doing random reads at 145,000 IOPS is very good for MLC flash. Intel's SLC 720 manages 180,000 IOPS which shows how fast these new HGST MLC SSDs are.
The drives are rated at having a 2 million hours mean time between failure spec. Hybrid flash/disk drive array startup Tegile is going to use these drives in a forthcoming Zebi product.
HGST's latest SSDs are sampling with potential OEM customers and channel distribution is scheduled for June this year. Self-encrypting models are also available. ®