This article is more than 1 year old
Review: Kobo Arc Android tablet
Apps and books done right, eventually
As pocketable Android tablets gather momentum and e-reader manufacturers look to offer a more flexible platform, the twilight zone where both meet is certainly looking lively.
A criticism of Amazon's Kindle Fire e-book-meets-Android offerings is the company's imposition of a walled garden for installing apps: you have to download software for the gadget from Amazon's online store. It's hardly in the spirit of the Android development, where openness was considered its raison d'être.
The rival Kobo Arc touchscreen e-reader - recently updated to Android Jelly Bean - takes a different approach, and unlike some earlier devices from the company, it allows unfettered access to the wide-open Google Play store of apps.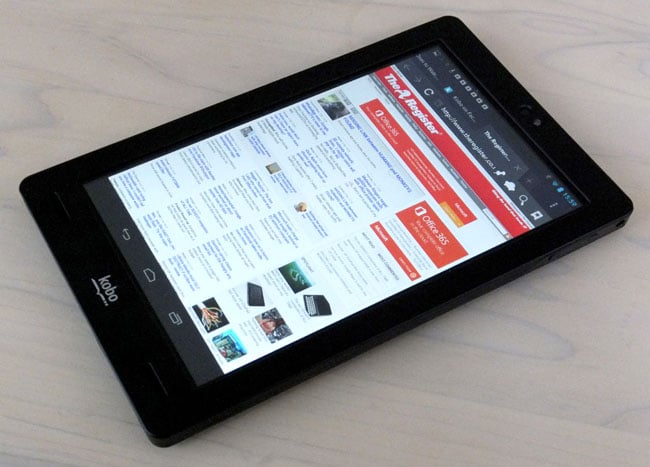 It might be packed with e-reading goodies, but the Kobo Arc is still an Android tablet at heart
You can understand why Amazon wouldn't want you to shop elsewhere, and why Kobo took this line too, initially. But now, an open platform seems to be a gamble that Kobo thinks is worth taking with the Arc. Sure the unit is packed with some clever things that Kobo thinks e-reader owners want to do with these devices, but as you're bound to wonder if it'll run the Amazon Kindle Android app, I'll answer that now. Yes, it does but oddly enough, after installation, the first two attempts to run it failed, third time lucky though.
Kobo describes the Arc as the "ultimate 7in Android tablet" so it has made up its mind what its potential punters are looking for. By flogging the entry-level 16GB model for £160 – the same price as a Nexus 7 – and its 32GB model for 30 quid more, it's relying on its competitively priced bookstore and the Tapestries window dressing that's unique to Kobo.
There's a 64GB model too, but no sign of it in the UK yet. The company also boasts the Arc features a tough glass screen and a durable, hard plastic body, so it'll survive abuse in transit. That said it does have the trademark "quilted" design soft touch back to the device that comes off so other colours can adorn it instead. It also came apart slightly during a nonchalant drop-from-the-desk ruggedness test.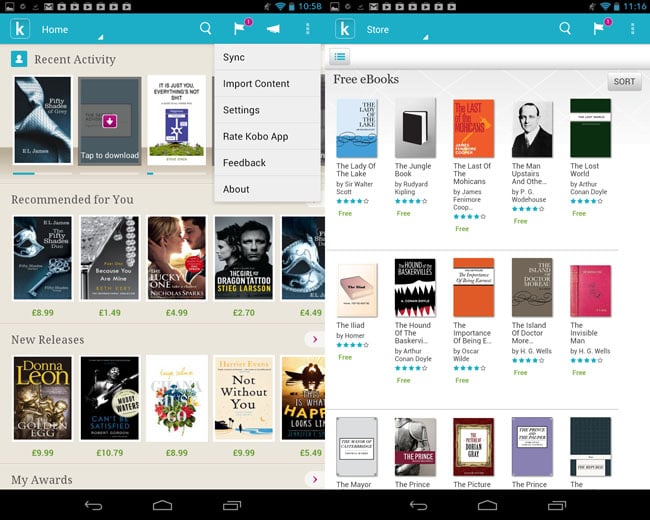 Bookstore and Free titles category
Firing up the Arc for the first time was one of those rather frustrating let's-show-you-how-it-all-works experiences that I couldn't seem to sidestep. I muttered random expletives to myself as I was invited to go through a list of books of different genres to ascertain my reading habits. There was not a non-fiction book among them, though. And because I let my other half have a play with the device and she started on Fifty Shades of Grey (which was among the preloaded titles), I'm now offered tripe in the "Kobo Recommended" rolodex of suggested ebooks that appears in the Reading area.
The Homescreen is kitted out with examples of Tapestries; these are widgets of sorts that organise material into categories – Reading, Entertainment, Browsing, Social – each giving some visual clues to their content. Tap on one and it opens up to fill the screen with Rolodex-style preview panes; navigation shortcuts to specific areas, such as Kobo Recommended and Top 50 lists; and related apps.
You can swipe to see more content and the persistent Discover strip sits at the bottom of the screen and changes according to the current Tapestry type.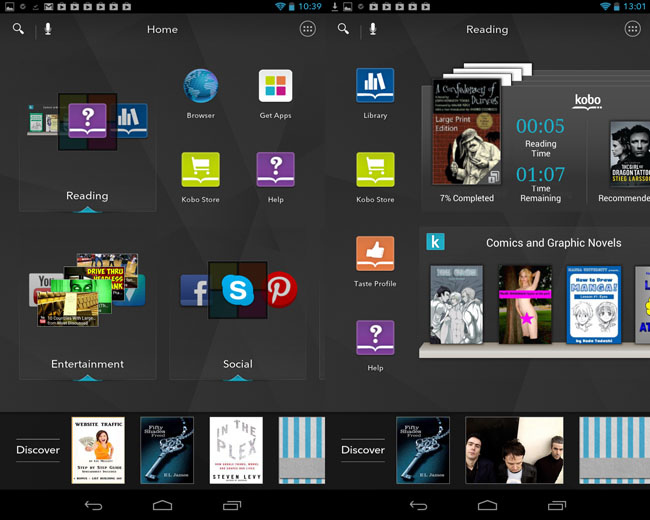 Tapestries organised in the homescreen (left), Reading content revealed (right)
Once you get past the "WTF is this?" stage, Tapestries prove to be rather charming and useful, as you're not stuck with the above categories: you can edit and add your own. This way you can build a rather handy estate of stuff from books to apps to website URLs. Kobo describes it as a way of "curating" material, and to extend this further, Kobo says you can have Tapestries within Tapestries, Russian matryoshka doll-style.
I wanted to try this out for myself: I wanted to create a custom rolodex of selected material in a new Tapestry, like the default Tapestries for books and YouTube videos but with album covers or photo collections. It wasn't explained in the otherwise helpful PDF manual how to create these, and I still have no idea how to do it.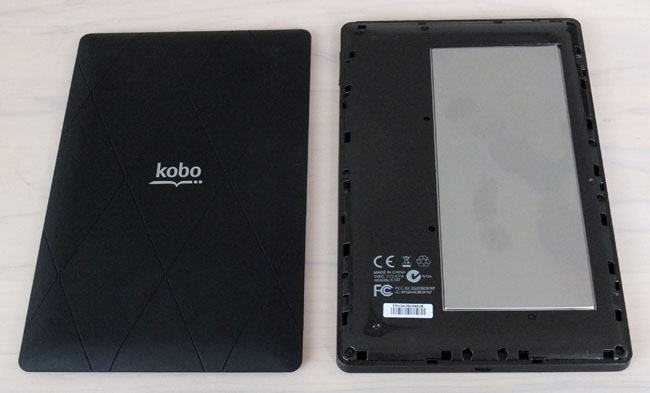 Cover story: Alternative colour casings are available but under the surface there are no expansion slots
Populating Tapestries isn't too well integrated, which I'd say has more to do with Android's idiosyncrasies rather than a major fault of Kobo's. In some areas, such as the web browser, you use the Pin icon to add pages. In other areas, the Share menu is called into action. And in other areas, such as the music player, there's nothing at all for albums, individual tracks or even playlists. Setting up Tapestries for photos isn't particularly well thought out either: it shows large preview images yet when you click on one, it doesn't enlarge the chosen image, it opens the first one of the batch.