The undiscovered shelf
The Discover strip is supposed to highlight content related to the overall topic for each of the Tapestries. I can't say I saw any relevant activity on my homegrown collections despite populating one of the Tapestries with all things photographic from the BJP website to a book preview on digital negatives from the Kobo site, and the Android camera app. Incidentally, I tried to add photo enthusiast magazines too, which can be sourced from the preloaded Zinio app, but couldn't pin any items in a wishlist manner, which would have been useful. If you're really keen to wake up the Discover function you can give it additional information from the Taste Profile app.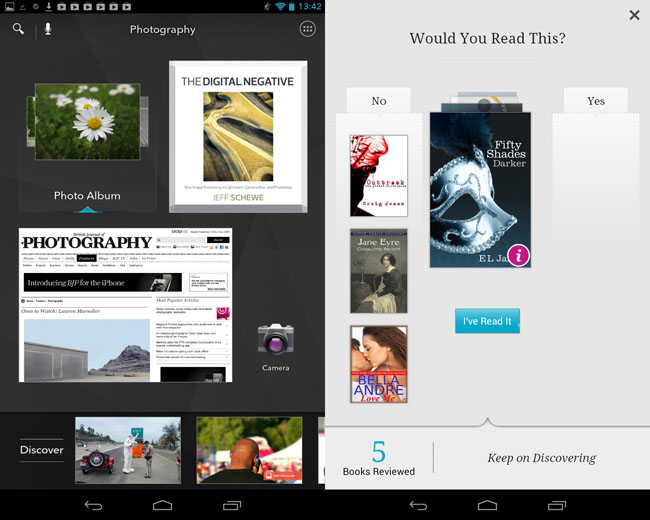 A made up Photography Tapestries configuration and the Discover Taste Profile app
Reading on the Kobo Arc frequently involves a bit of delayed gratification – all too often you'll see a little wheel spinning on a blank screen as a book loads. Even though it's only a few seconds, it typically takes that little bit longer than you'd be comfortable with, especially if you're switching between titles. Another thing that bugged me to begin with was this weird dotted purple dome that sat at the bottom of each page. It's there for a reason and, thankfully, you can deactivate this feature called Kobo Pulse, if you find it too distracting.
Tap on it though, and you can see statistics for the book, who's reading now and reader comments – the dome gets bigger the more there are. The remarks aren't particularly inspired – somebody asking what "cheque" means, for instance. No doubt more learned reading than Fifty Shades... will deliver a different range of comment, assuming they can be bothered with the Facebook login prerequisite for posting pearls of wisdom.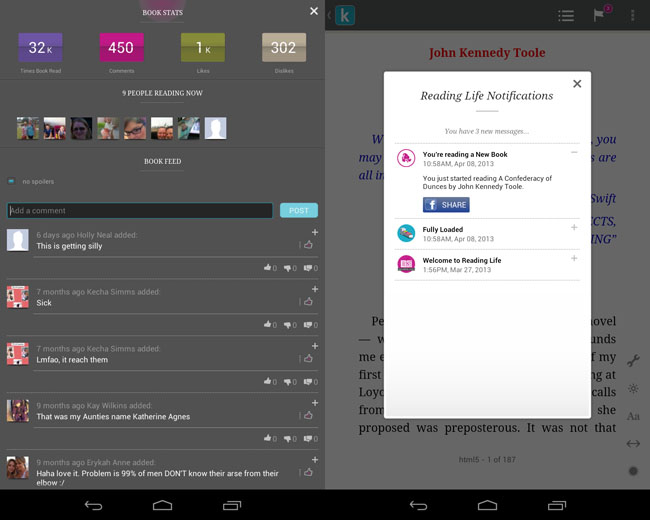 Post comments on the Book Stats section and share your Reading Life on Facebook, if you must
Kobo adds another strand to the social bookworm discourse with its Reading Life notifications. In short, you can see what you've added to the Kobo and share your literary choices with all and sundry on Facebook. If this appeals, tap the top of the page and you'll find reading activity options along with bookmarking and book contents listings. As for annotations, just press and hold to highlight sections and you can add your memo, colour it, or share, of course – you can even pin an extract to Tapestries.
Before you get settled in to a page turner, it's worth a glance at the formatting options. Tapping on a faint dot in the bottom right corner brings up icons for the Activity (comments and posting), Advanced Settings (notifications, navigation and orientation), Appearance, Reading Settings and a scrollbar. Kobo only offers two font style choices (serif, sans serif) and the publisher default, although I'm pleased you can really pack a page out with small type if you want avoid frequent screen taps to the next page. If you enlarge the text even to a moderate size, you'll find annoying spaces between apostrophes. I've no idea if this is a Kobo or e-publisher issue, but it looks nasty on the page.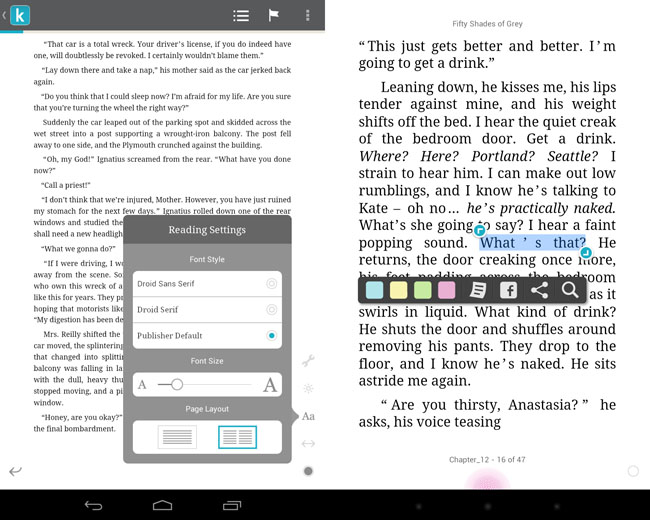 Fonts options and reference/sharing tools highlight ugly punctuation spacing
Apart from this formatting quirk, the only real irritation when reading was when the screen brightness dimming kicked in. This can be fixed easily enough for longer periods from the Android settings; however, a lazy tap to bring the display back to life would all too often engage some other menu to obscure the text. It had me wishing for a Simple Mode, that would only offer page turns. I guess I'm not the social sort when I'm reading.