Store points
If you're wondering about the spec of the Kobo Arc, it runs a 1.5GHz dual-core TI OMAP 4470 ARM-compatible processor with 1GB of RAM and features a 1280 x 800-pixel, 216ppi IPS 7in display. During tests with performance benchmark tool AnTuTu, the device was a tad slower than a Nexus 7 which, considering the latter is a quad-core device, isn't bad going.
Apart from the occasional slow book load and online bookstore refreshes, there was no noticeable lag in everyday use. Movies looked pretty good too, aided by the front-facing speakers and SRS audio bass boosting. Just don't go too over the top here, as the speakers will distort if pushed too hard.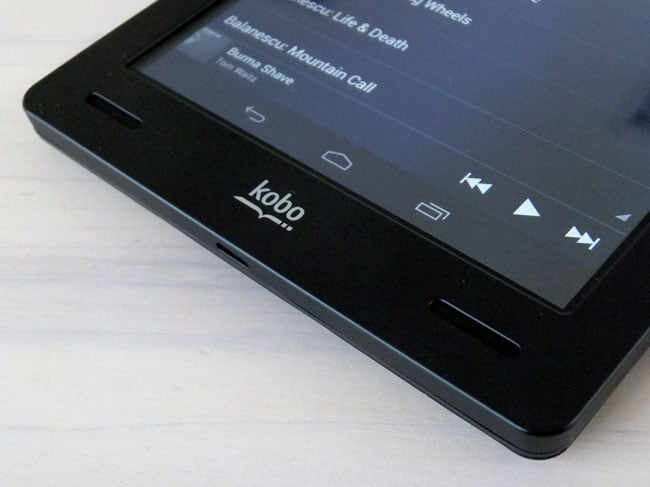 The single ended, front facing speakers arrangement is loud and clear. It's not ideal for landscape viewing, but you get used to it
The battery life is the only real drawback, but it's not because it's inadequate. This is an Android tablet, not an e-reader, so you get hours rather than weeks. Kobo states 10 hours which seems a fair estimate, but with casual reading you'll no doubt manage several days between charges.
As for investing in the Kobo bookstore, it seems that the company has just about all bases covered to sync content across multiple devices. I ran the desktop app on a Mac, which crashed on first run but has been fine ever since. I tried the PC version on a Lenovo ThinkPad Tablet 2 which failed during its first sync but has also been fine ever since. The iPhone and iPad versions fired up without complaint.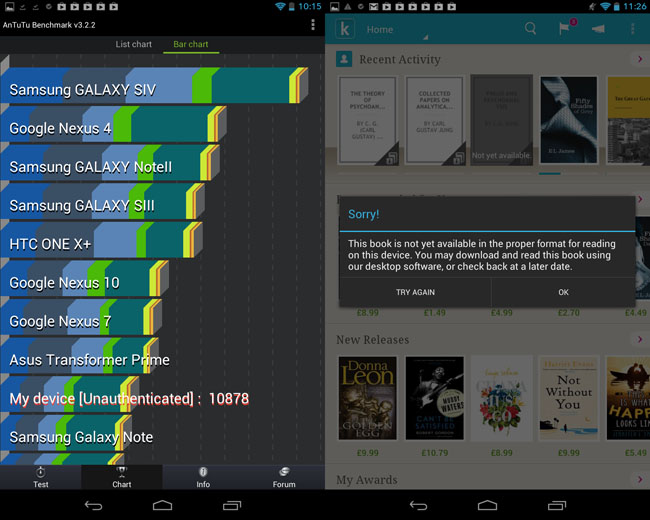 AnTuTu results and format warning from a free book on the Kobo store
I have to say, flicking through a full-colour cookbook looked great when displayed on the desktop app. Even so, viewing colour photo books on the Kobo Arc is absolutely fine, and being a touchscreen device is a positive advantage if you do get busy in the kitchen.
Browsing the bookstore could do with some refinement though. I could view the free books on offer easily enough from the Kobo Arc – as this appears as a category option – but you try searching through them. I entered an author's name but the results came back with a mix of paid-for and free content, which wasn't very helpful. The desktop app is even worse, as it doesn't show the free content at all.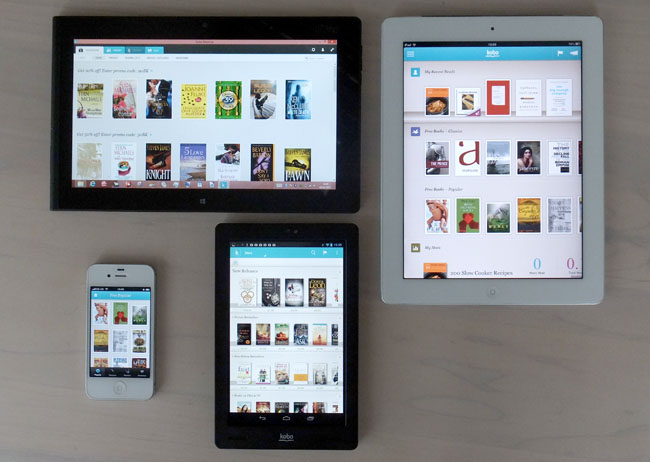 Clockwise from bottom: Kobo Arc with iPhone 4S, Lenovo ThinkPad Tablet 2 and iPad 2 running the Kobo bookstore apps
Oh, and before I forget, I transferred ePub titles to the Kobo Arc that, once imported and the content section had refreshed, were presented perfectly. Just be aware that non-Kobo sourced titles forego all the sharing comments functions apart from posting your own Reading List notifications.
The Reg Verdict
All in all, I'm impressed with the Kobo Arc. It took a little while to learn to love it, but I'd say it's been worth the effort learning how to weave content into the Tapestries function.
Indeed, for those likely to share a device, it offers a great way to keep some level of separateness although the Recommended reading feature is likely to reflect all of the users, which could be interesting, embarrassing and annoying in equal meassure. For those with multiple interests, Tapestries offers a useful way of diving into your favourite things without too much faffing about. And even if this feature doesn't appeal, the Kobo Arc is still a very pocketable and affordable Android tablet. ®

Review: Kobo Arc Android tablet
Dual-core 1.5GHz 7in Android tablet and bespoke e-book reader combo that supports unrestricted access to the Google Play Store for a tidy price.
Price:
£160 (16GB), £190 (32GB), £230 (64GB) RRP