HGST straps Intel Thunderbolt onto uber-pricey drives, docks
Go-faster interface tech, but it'll cost you...
---
The first external hard drive with Intel's extremely pricey Thunderbolt fast cabling system has been announced by HGST, along with a Thunderbolt interface 2-drive dock supporting 2.5-inch disks.
G-Technology is HGST's branded line of external drive products and HGST is a WD operating unit. Intel's Thunderbolt runs at 10Gbit/s full duplex per channel to link hosts with peripheral devices such as displays.
HGST is announcing two things:
the G-Technology Evolution Series of external disk drive products and
the G-DRIVE PRO with Thunderbolt connectivity.
HGST is positioning the Thunderbolted G-DRIVE PRO as having 3.5-inch hard disk drive capacity and SSD-like performance with sustained transfer rates up to 480MB/sec. However, the drive still has disk drive latency levels and won't deliver an SSD's fast response, although it has good streaming speed.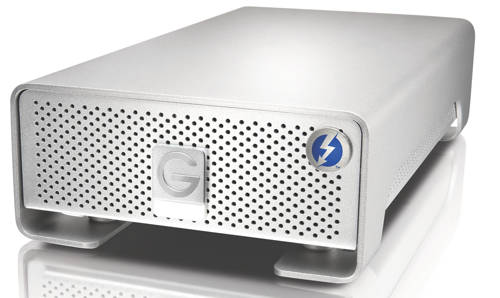 HGST G-DRIVE PRO
Capacity goes up to 4TB and HGST says it's the only external 3.5-inch disk drive with Thunderbolt connectivity, and has dual Thunderbolt points for daisy-chaining of Thunderbolt devices.
HGST says the drive is perfect for movie-makers using 2K and 4K workflows, pointing out "an uncompressed 2K digital video format … requires approximately 305 megabytes per second (MB/s) sustained throughput for smooth editing with no dropped frames." 2K and 4K are the predominant formats used in digital cinema (expressing the horizontal pixel count). HGST adds, "It easily supports compressed 4K and multiple streams of 2K, HDV, DVCPro HD, XDCAM HD, ProRes 4444 and uncompressed SD workflows."
So how fast is the drive itself? HGST has two 4TB disk drives: the Deskstar 5K400 spinning at 5,400rpm and the Ultrastar 7K400 spinning at 7,200rpm. We assume this G-DRIVE PRO baby uses the 7,200rpm one.
Evolution Series products
Evolution Series products have an ev suffix to their name, and there is a docking station and two drives. They include:
G-DOCK ev with dual Thunderbolt ports, a 2-bay drive holder with hot-swapping of drives;
G-DRIVE ev, a 2.5-inch, 7,200rpm drive which has a USB 3.0 interface as well as a 6Gbit/s SATA link for connecting to the dock and 500GB or 1TB capacity. Its transfer rate is up to 136MB/sec;
G-DRIVE ev PLUS, also 2.5-inch and 7,200rpm with USB 3.0, and a 1TB capacity but a transfer rate up to 250MB/sec.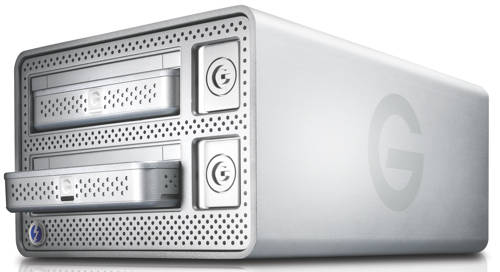 HGST G-DOCK ev
HGST says the drives can be used as external drives out in the field - thank you USB 3.0 - and later plugged into the dock back at the office. There they can be set up as two disks, or configured for RAID 1 (mirroring) or RAID 0, providing striping across the drives for more performance.
If data storage needs to grow and the drive capacity is insufficient then you can switch to high-capacity drives; the dock will still work. Note, though, that this isn't a Drobo-type device which automatically populates the new drives with existing data. However, HGST says drives used in Drobos aren't rugged enough to be taken out and used in the field - they are not, according to HGST, "true standalone external drives."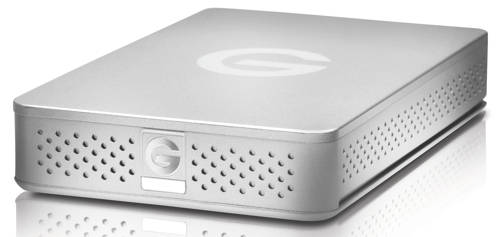 G-DRIVE ev PLUS
The costly and included Thunderbolt cable is used for dock-to-server connectivity with cheaper 6Gbit/s SATA being used for dock-to-drive connectivity.
The dock is shipped with a pair of 1TB G-Drive ev disk drives.
HGST suggests possible application areas for its new drives and dock include photography, 2K and 4K digital cinema workloads
All the products are Mac-formatted and compatible with Apple's Time Machine if you want to use them for that backup situation.
The G-DOCK ev will be available next month with a RRP of £599.95. G-DRIVE ev disks are £119.95 for 590GB and £159.95 for 1TB. The D-DRIVe ev PLUS will follow in the summer and cost £279.95. The G-DRIVE PRO is also ready for delivery in summer and a 4TB one will cost £674.95 RRP or £554.95 for 2TB - told you Thunderbolt was expensive.
As an illustration, HGST's 4TB Touro USB 3 external drive, sans Thunderbolt, is £197.90 on Amazon.co.uk. It spins at 7,200rpm too. ®