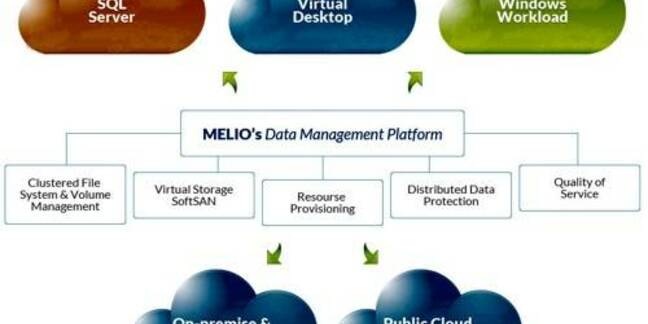 That's right: storage software supplier Sanbolic is shipping server-side scale-out services supporting SSDs. But what does it mean?
Sanbolic's Melio 5 software turns a server's directly-attached flash, SSDs and HDDs into a SAN, combining multiple server's storage resources into a single resource pool.
Sanbolic says it "aggregates across nodes for scale-out and availability while providing RAID, remote replication, quality of Service (QoS), snapshots and systems functionality through a software layer on commodity hardware."
Users just buy server-side storage and not storage-array storage, which, the company asserts, is typically bought from suppliers with margins in the 40 - 60 per cent range.
Storage Switzerland senior analyst Eric Slack says: "Server and disk drive vendors operate on gross margins in the 20 - 30 per cent range."
We're thinking virtual storage appliances (VSA) here.
Sanbolic claims it "provides customers with the ability to deploy commodity and server-based storage architecture with similar economics and flexibility as public cloud data centres such as Google and Facebook."
Hmm. Not unless, dear customers, you buy storage devices in similar quantities as the big cloud players.
The Melio 5 software runs as a storage management layer on ordinary X86 servers. Its architecture is designed to scale up to 2,048 nodes and 65,000 storage devices. Sanbolic claims the software has linear performance scalability in a cluster.
The company also says Melio 5 eliminates the need to deploy a redundant flash caching layer in front of legacy SAN hardware by incorporating flash into hybrid volumes and intelligently placing data based on file system access profiles. Such a hybrid volume will place random access data (such as file system metadata) on flash sectors, while placing sequential data on low cost hard disk drives.
That sounds pretty much like NetApp's Flash Pools use of cache and disk in its storage arrays.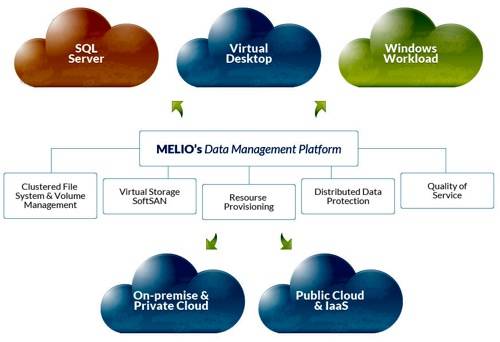 Sanbolic data management platform
The software is a data management platform that supports Windows, SQL Server and virtual desktop applications and the use of public clouds.
Melio FS is a symmetrical clustered file system that provides access to data from multiple servers, enabling high availability, horizontal scaling of applications, and simplified storage provisioning and management.
Users gain the new capability to utilise industry standard or server-side storage hardware (SSD, Flash and HDD). FS is the core of Sanbolic's data management platform; it is server, hypervisor, storage and protocol agnostic.
Melio VM is a host-based volume manager incorporating enterprise storage management capability. This includes provisioning, Quality of Service (QoS), transaction management, locking, RAID and clustering technology, to simplify management and improve shared storage environments.
Melio VM's Virtual Shared Storage functionality produces a highly-available storage environment by creating a pool of shared volumes from existing storage and server-side storage devices such as HDD, SSD and Flash.
Sanbolic claims the resulting software-defined storage and data management platform (Soft-SAN), is functionally comparable to expensive enterprise hardware-based alternatives, at a fraction of the cost.
Here is a chart showing its scale-out architecture: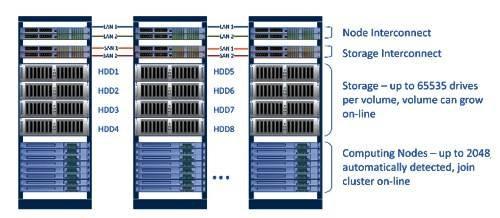 Sanbolic scale-out schematic
Privately-owned Sanbolic is headquartered in Waltham, Massachusetts. It was founded 13 years ago by Momchil "Memo" Michailov, the CEO and Eva Helen, President and COO. It has been funded by private individuals rather than mainstream venture capitalists.
It says it has more than 600 customers for its Melio software.
This is a company in a similar vein to DataCore and FalconStore and, like them, Sanbolic would say their software breaks storage array vendor lock-in and expense.
Clearly Sanbolic provides software-defined storage, and is as modern as a Twitter tweet in that regard. More than 600 customers have voted with their wallets; the best endorsement of all. If you think storage arrays are getting shambolic, and want to bring commodity server and storage device economics to your shared storage then cast your eyes over Sanbolic's offerings. ®
Sponsored: Webcast: Discover and secure all of your attack surface