This article is more than 1 year old
BizNAS at the front, party at the back: Tandberg adds Dropbox to NAS crate
Stripped-down Linux storage box for biz types
BizNAS is Tandberg Data's latest offering - a small business NAS box with iSCSI block access and integrated Dropbox support plus backup to removable disk.
The system, available in 1U rackmount and desktop configurations, is powered by Debian Linux running on dual-core Intel Atom processors. It boasts four drive bays and provides up to 16TB of file-sharing storage for Windows, Linux and Mac hosts in small businesses, branch offices and departments. The iSCSI, Tandberg says, is for virtualised server environments.
The system has dual 1GbitE interfaces and USB 3.0 ports, plus integrated data protection tools. Optionally, customers can also use Tandberg's RDX QuikStor removable disk drives, offering up to 1.5TB of capacity per cartridge, for additional protection.
Tandberg makes a virtue of the system having a stripped-down feature set, with Storage Switzerland analyst Eric Slack quoted in the product release: "So many NAS products are loaded with excessive features (typically, consumer features) that a business doesn't need."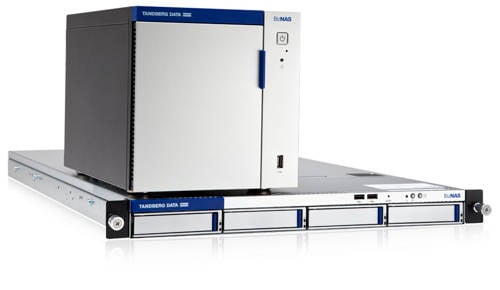 Tandberg Data's BizNAS desktop and rack-mount systems.
However one feature is extra and unusual; the Dropbox file sharing and synchronisation service integration. Tandberg says BizNAS enables IT managers to:
... centralise, monitor and protect multiple accounts of Dropbox ... Used as an additional Dropbox synchronisation point, the BizNAS automatically copies all versions of Dropbox data to any disk accessible to the BizNAS or to removable RDX cartridges for a convenient and secure offline, archiving and disaster recovery solution.
Customers can control Dropbox traffic by establishing BizNAS as the sole Dropbox access point inside the corporate firewall.
Ted Oade, Tandberg Data's worldwide director of product management and marketing, had a canned quote too: "With the BizNAS, we are able to deliver … automated self-protection of the NAS operating system and its configuration settings, offsite disaster recovery using removable RDX media, and helpful tools to centralise and protect digital assets stored in the enormously popular Dropbox cloud."
The Dropbox integration should help distinguish the Tandberg NAS/iSCSI product from all the other small and cheap NAS/iSCSI boxes out there, like Seagate's, as will the option of RDX data protection instead of tape.
In February 2010 Tandberg launched the DPS2000, a deduplicating NAS and iSCSI system in a 4-bay desktop or rackmount box. It also supported RDX. The product is no longer listed on Tandberg's web site and the BizNAS obviously replaces it, dropping the deduplication. El Reg supposes Atom power is not enough for that processor-intensive operation.
Tandberg Data says the BizNAS will be available in the next few weeks with suggested list prices starting at €539. It can be bought diskless or populated with drives and is backed by a two-year replacement warranty. Warranty extensions and USB-attached RDX QuikStor removable disk storage systems are available separately. ®