Chemical-dipped TRANSPARENT BRAINS bare all for science
See-through cerebrums leave neural structures exposed
---
A team of neuroboffins at Stanford University have a developed a chemical process that can render grey matter transparent, a trick they say will fundamentally change our scientific understanding of the brain.
"This feat of chemical engineering promises to transform the way we study the brain's anatomy and how disease changes it," said Thomas Insel, director of the National Institute of Mental Health, which helped fund the work. "No longer will the in-depth study of our most important three-dimensional organ be constrained by two-dimensional methods."
By "two-dimensional methods," he means cutting the brain up. Because the lipids that make up much of brain tissue are opaque, the only way for scientists to see what goes on inside the brain has been to slice it into thin sections.
By rendering the whole brain see-through, however, boffins are able to examine it with all its neurons, dendrites, synapses, and other components and their interconnections fully intact, exactly where they were when the brain was alive.
The technique, developed by Karl Deisseroth and his team at Stanford, has been dubbed CLARITY. Technically that stands for "Clear, Lipid-exchanged, Anatomically Rigid, Imaging/immunostaining compatible, Tissue hYdrogel," but in a nutshell, it works by replacing the opaque lipid elements of the brain with a clear hydrogel – something like the material used to soak up moisture in disposable diapers.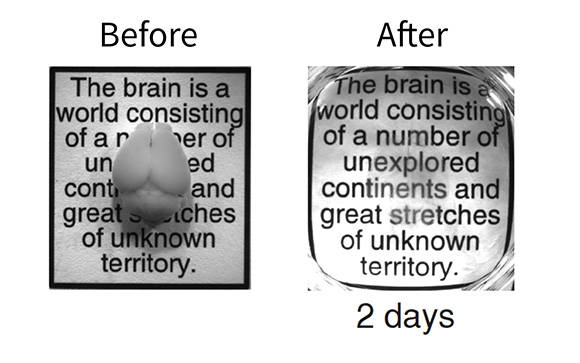 Out of sight, out of mind: Gray matter is replaced with a glassy gel, leaving neural structures intact
The process involves submerging a whole, intact brain into a watery solution of the hydrogel until the brain tissues are completely soaked. Then, the solution is heated slightly, causing the hydrogel to congeal, forming a mesh around the tissues that retains the brain's shape.
Scientists then extract the lipids from the brain tissue using a process called electrophoresis, et voila! They're left with a life-sized, three-dimensional brain, complete with all of its parts, only now it's utterly transparent.
In his paper on CLARITY, which was published in the journal Nature on Wednesday, Deisseroth demonstrated how his team was then able to use fluorescent antibodies that seek out and attach themselves to specific proteins to target specific structures of the brain, causing them to literally light up for study.
By using special antibodies to stain brain tissues, boffins can really get inside your head
Most of Deisseroth's research was performed on mouse brains, he says, but his team has also successfully used CLARITY on the brains of zebrafish and even preserved human brains. The latter is likely to take on greater significance in Deisseroth's research soon, as he is one of the team of 15 experts who have been tapped to plot the course of the Obama administration's $100m brain research initiative.
The catch? Turning brains transparent may give boffins an unprecedented view of the workings of gray matter, but sorting through all of the data they extract from their studies is going to be an enormous undertaking.
"Turning massive amounts of data into useful insight poses immense computational challenges that will have to be addressed," Deisseroth said. "We will have to develop improved computational approaches to image segmentation, 3-D image registration, automated tracing and image acquisition."
In other words, modern neuroscience is rapidly becoming a Big Data problem. Who'da thunk it? ®