This article is more than 1 year old
Netbooks projected to become EXTINCT by 2015
Farewell, underpowered li'l fellows, we hardly knew ye
Proving yet again that fame and fortune are fleeting – even for computer hardware – the analysts at IHS are projecting that the netbook, the New Hotness just a few short years ago, will disappear completely by 2015.
"Once a white-hot PC product that sold in the tens of millions of units annually," IHS writes in an email release, "netbook computers are now marking their final days, with the rise of tablets causing their shipments to wind down to virtually zero after next year."
In a new report entitled "Compute Electronics Market Tracker", IHS analyst Craig Stice puts the blame for the netbook's demise squarely upon the shoulders of the tablet market – and specifically Apple's iPad.
"The iPad and other tablets came in a new form factor that excited consumers while also offering improved computing capabilities, leading to a massive loss of interest in netbooks," Stice writes.
The iPad and its fondleslab brethren weren't the only reason for the netbook's precipitous decline, however – high-end notebooks offered performance beyond that which netbooks were capable. "Squeezed in between," Stice writes, "netbooks could only pass off pricing as their strong point, losing out in other benchmarks that consumers deemed important, including computing power, ease of use such as touch-screen capability, and overall appeal."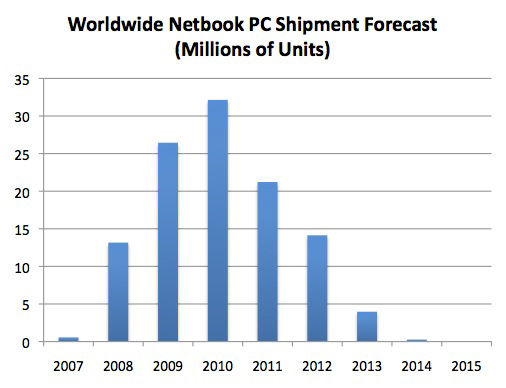 What goes up must come down – and in the case of netbooks, down rather quickly (data: IHS)
And netbooks lost out rather abruptly. Their sales peaked in 2010 at over 32 million units, but dropped to 21 million in 2011, then 14 million in 2012. This year, IHS projects that under 4 million will be sold worldwide, and just a hair over a quarter of a million next year – and those will be "last-time builds to satisfy contractual obligations to customers."
As of 2015, the IHS analysts say, the global total of netbook sales will be exactly "00.0" million.
The same report, however, does bring good news for PC manufacturers in general. In the abstract to his report, Stice projects that "2013 brings again a year of hope for the PC market."
If so, that market had better heat up in a hurry. As IDC reported earlier this week, worldwide PC shipments for the first quarter of 2013 totalled 76.3m units, down 13.9 per cent when compared to the same quarter last year.
Stice noted that total PC unit sales for last year declined for the first time since the dot-com crash days of 2001, but he sees a silver lining to that cloud, saying that "the bar has been set pretty low for 2013 to shine."
IHS, he says, "remains cautiously optimistic" that PC sales will revive in 2013 as a whole, with overall year-to-year growth at about 8 percent, and with sales growing from around 345 million to over 370 million.
Netbooks, however, won't contribute to that growth – they're going in the opposite direction. ®