Pix The Dubai police force can expect a flood of applications to its cadet academy now that it has added a 217mph Lamborghini Aventador to its cruiser fleet.
How much did it set back Dubai's Finest to get their hands on this stylish bit of four-wheeled extravagance? It depends upon whom you believe: Sky News puts the price at £250,000 ($385,000), Metro says £350,000 ($535,000), and the Huffington Post can't make up its mind, with one story saying $400,000 and another, $550,000.
Whatever. No matter what the price of this beast, it's a safe bet that neither you nor your ink-stained Reg hack will ever have the pleasure of pressing the Aventador's pedal to the proverbial metal, and having its 6,500 cubic-centimeter, 700 horsepower V12 engine's acceleration thrust us back into what we can only assume is its fine leather driver's seat as it accelerates from zero to 60mph in three seconds, as reported by the New York Daily News.
Oh, and the Daily News says it cost $450,000.
While the Lamborghini Aventador may seem a wee bit over-the-top for a cop car, it does have its practical uses. Sky News reports, for example, that 15 per cent of the traffic tickets issued on any given day in Dubai are for speeding in excess of 130mph – and this Lambo has more than enough giddy-up to overtake lead foots (lead feet?) with effortless celerity.
This is decidedly not your standard-issue London Metropolitan Police panda car.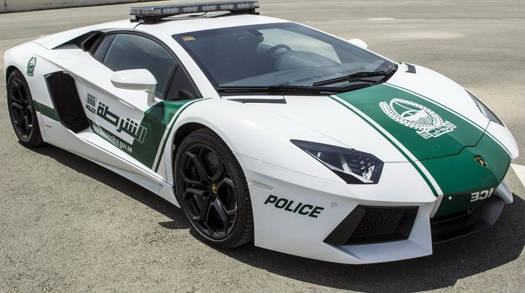 Sexy, indubitably – but how many doughnuts can it carry? (source: lainformacion.com; click to enlarge)
But then again, the Met police don't have to deal with what Sky News refers to as "the emirate's notorious Sheikh Zayed highway," site of many of Dubai's 122 deaths and 2,161 injuries in auto accidents during 2012.
And speaking of the Met police, we can't resist comparing Dubai's new cruiser to a few other cop cars with which our readers may be familiar. There is, for example, one of the cruisers used by said Met plods: the BMW 5-Series: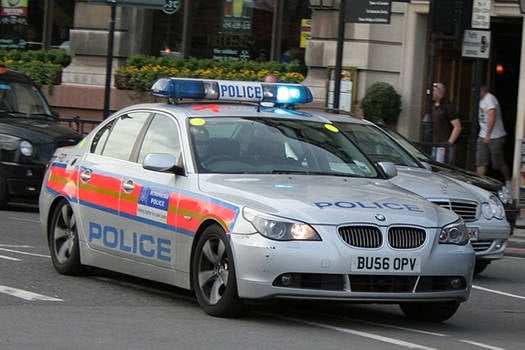 One of the better rides enjoyed by London's Metropolitan Police (source: Police Car Photos; click to enlarge)
Here at Vulture Annex in San Francisco, however, most of our boys in blue patrol the streets of the Cool Grey City of Love in a hefty Ford Crown Victoria: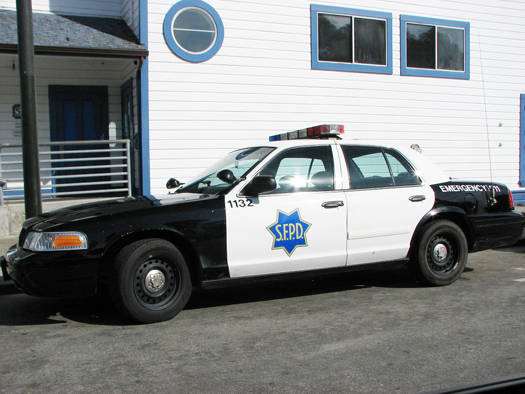 It's big, it's sturdy, it's a Crown Vic (source: Highway Patrol Images; click to enlarge)
Once we San Franciscans hop onto the freeway – that would be the motorway, for you UK folks – jurisdiction switches to the California Highway Patrol, which is transitioning from the Ford Crown Victoria Police Interceptor to the Ford Explorer–based Police Interceptor Utility: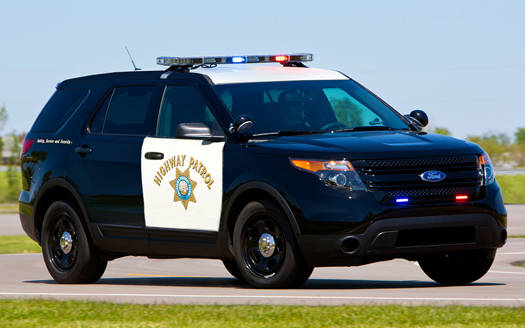 The PI Utility has plenty of room for miscreants and their ill-gotten gains (source: Motortrend; click to enlarge)
The CHP once patrolled California's vast freeway network in lightweight, swift Ford Mustang SSPs, but those days ended about 20 years ago. 'Twas a far sexier black-and-white than the PI Utility, to be sure, but not one that could put the fear of the deity – be he Jehovah, Yahweh, Allah, or whomever – into you nearly as effectively as a Lamborghini Aventador bearing down upon you at 217mph. ®