The widespread belief that lithium-ion batteries don't suffer from "charge memory" might be mistaken, according to new research out of Japan and Switzerland.
The research, published in Nature Materials (abstract), finds that "charge memory" can emerge in the common electrode material lithium-iron phosphate (LiFePO4). As a result, the authors suggest, Li-Ion based systems might mis-report the charge state of the batteries.
In charging and discharging, the electrodes acquire and release lithium ions – when fully charged, the particles comprise iron phosphate, and in discharging, they incorporate the lithium ions.
At the microscopic level, there's a non-linear effect that causes problems: some particles release their lithium ions, but without changing their chemical potential. This prevents those individual particles from absorbing ions while discharging – leading to the charge memory effect, in which the battery stops providing current even though in a chemical sense it's not "fully" discharged.
In other words, the memory effect comes from the electrode's particles being divided into two groups with different lithium concentrations – as a result of too too many partial charges.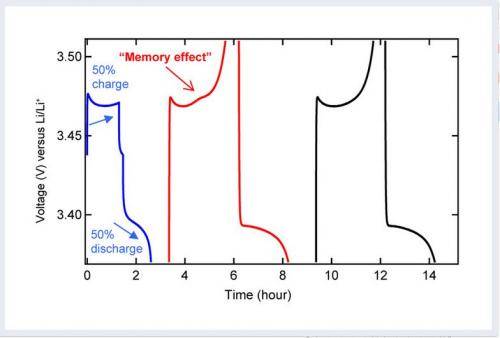 Partial charge followed by full discharge can give Li-Ion batteries a hangover. Source: Nature
"Our finding results from a combination of critical investigation and careful observation. The effect is in fact tiny: the relative deviation in voltage is just a few parts per thousand," explains Petr Novak of the Paul Scherrer Institute's Electrochemical Energy Storage Section, who partnered with Toyota Central R&D Labs on the research.
The effect can be overcome, Novak explains, by adapting the battery management software – since idling the batteries for long enough can erase the memory effect. ®