This article is more than 1 year old
Ten Windows tablets
Slates to select when Android and iOS gadgets will just not do
Product Roundup Twelve months ago the idea of compiling a list of Windows tablets that you would actually want to buy would have been as impossible to do as it would have been farcical to suggest. But with the launch of Windows 8 and Windows RT all that has changed, and we are now faced with a bewildering array of fondleslabs all running Redmond's latest operating system.
Received wisdom is that Windows 8 and RT have woefully underperformed, and Microsoft has got it all utterly, horribly wrong. I'm not sure I agree. I rather like Windows 8 and, by default, RT too. My concern is that machines running the latter are way too expensive compared to those running the former.
That's where Microsoft has messed up. Windows RT devices should have been launched as a near loss-leader to get people to buy into the whole Windows and Windows Phone ecosphere, including SkyDrive and Outlook.com, rather than the already well entrenched offerings from Google and Apple.
As it stands, the only real benefit of RT over Windows 8 is that it runs on ARM chippery and I'm not sure if the man in the street gives a monkey's uncle about which instruction set is being used by the chip in his tablet. At the end of the day, RT is 'Windows 8 light' and should be priced as such.
Had decently specified RT machines hit the market for around £250, I suspect they would have already taken a big chunk of tablet market share and given the efforts of the various Windows Phone 8 handset makers a shot in the arm too. But that's idle speculation. At the moment Windows RT tablets are overpriced. End of.
But that's no excuse not to take a look at the current crop of offerings especially as it includes an impressive, not to say bizarre range of form-factors. So if nothing in El Reg's recent round up of 10-inch tablets tickled your fancy, read on.
Acer Iconia W700

Acer has eschewed Windows RT in favour of the full-fat Windows 8 for both its tablets: the £500 Atom-powered, 10.1-inch Iconia W510 and its big brother, the 11.6-inch, Core i3-driven W700. The 1.4GHz, 64GB model is the pick of the bunch in my book - bigger and more capable than than W510 but significantly cheaper than the 128GB Core i5-based version of the W700. At just under £600, it's a decent combination of value and performance.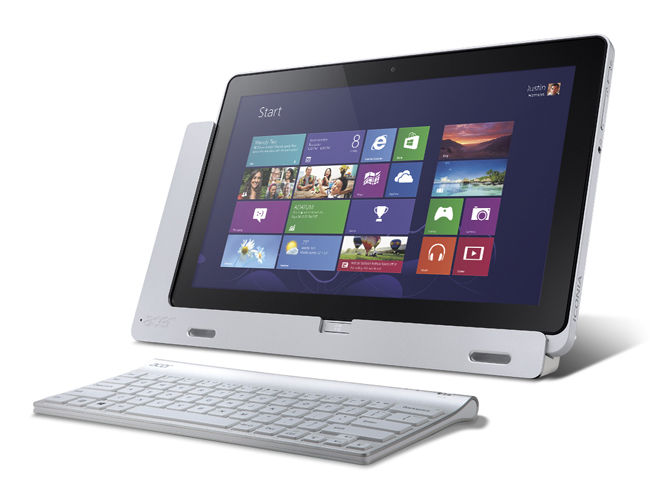 Rather than offer a traditional keyboard dock, the W700 comes with a stand-up plastic cradle that thanks to its three USB 2.0 and HDMI ports turns the W700 into a sort of mini all-in-one desktop PC. The 1080p backlit LED screen belies the price - it's pin-sharp, bright and very colourful - though the Bluetooth keyboard (like the cradle, if I'm being honest) feels a bit cheap. Battery life is reasonable rather than spectacular - you'll see between five and six hours depending on what your doing. For the price it's not a bad package.
Price
£595
More Info
Acer
Asus VivoTab

With its battery-packing keyboard dock, 11.6-inch, 1366 x 768 screen, dual-core 1.8GHz Atom CPU, 2GB of Ram and 64GB SSD, the VivoTab - not to be confused with the smaller VivoTab Smart - is the very essence of a tablet-cum-PC hybrid. With power enough for any task south of serious Photoshopping or 3D gaming, it's a handy jack of all trades and my pick of the current Atom-powered Windows 8 crop. The battery life is excellent too: with a combined 50Wh of juice available, Asus' claim of 19 hours is bang on the money.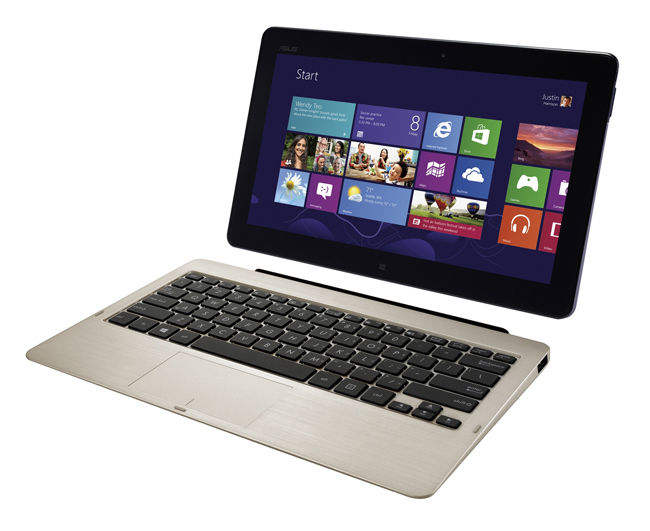 For your 700 quid you also get a pressure-sensitive Wacom stylus and pretty decent 2Mp and 8Mp cameras. As you'd expect from an Asus, build quality is tiptop, though the latch to disconnect tablet from dock has been moved to the side where it's harder to reach than it is on Asus' Android Transformer tablets. The screen is the usual fine Asus IPS affair - bright, colourful and possessed of very robust viewing angles - while the keyboard is spacious and impressively tactile.
Price
£699
More Info
Asus