This article is more than 1 year old
Ten Windows tablets
Slates to select when Android and iOS gadgets will just not do
Lenovo Yoga 11

Lenovo's Yoga machines are split between RT and 8. We've already given the Windows 8 Yoga 13 a good once-over so it's time to give its smaller, lighter, cheaper RT-running 11.6-inch sibling a moment in the sun. Like the Yoga 13, the 11's party trick is a keyboard-screen assembly that can fold right back on itself so it can used as a tablet, as a laptop or as a screen-with-stand halfway between the two. It's a clever and versatile design whose only real drawback is that keyboard and screen are forever shackled together.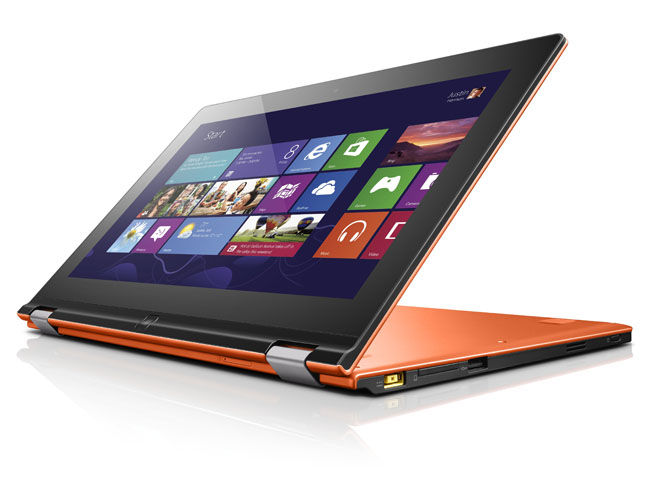 Credit to Lenovo, though, because at 1.27kg the Yoga 11 isn't too heavy, especially for a machine that has a battery inside that will see it cross the nine-hour mark looping an HD video. The soft-touch outer casing is lovely. The keyboard is pretty impressive too, making the Yoga the most laptop-like device here to work on. Of course, if all you want is an 11.6-inch touchscreen laptop, the Asus VivoBook S200 offers full-fat Windows 8 and is a good bit cheaper.
Microsoft Surface

Where Google has Nexus, Microsoft has Surface - reference machines that are the essence of concept, unadorned by third-party frippery. Of course, unlike Windows RT, Android has fripperies to be shorn of - think HTC's Sense or Samsung's TouchWiz - and Google prices its Nexus kit very aggressively. Starting at £399, the Surface costs iPad-money and it really isn't attractive enough in the software or hardware departments to warrant the cost. In short, it's at least £100 too pricey. Insufferable TV ads don't help the cause either.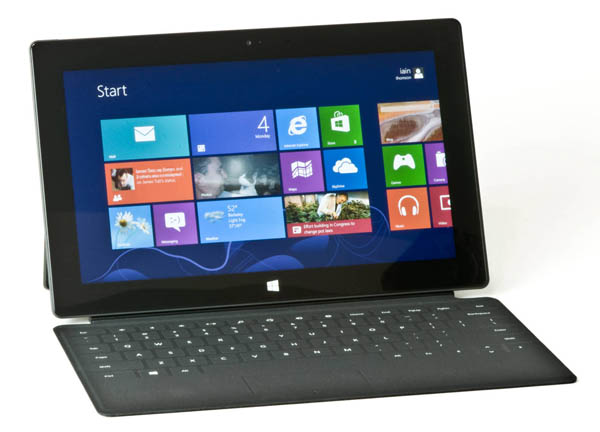 In the plus column, the 10.6-inch, 1366 x 768 screen is easy of the eye and the VaporMg magnesium alloy body makes it as tough as old boots. If you want to type up a storm - and, since the bundled version of Office is probably one of the main reasons you'd buy a Surface in the first place, you probably do - you'll need one of the optional keyboards. The £80 Touch Cover is very slender but tricky to master so the Type Cover is the one to go for especially as it's only £30 more. Battery life is impressive thanks to a 31.5Wh power pack.