This article is more than 1 year old
Kobo strikes new match against Kindle: The Aura HD e-reader
'World's most hi-res' 6.8" technobook unzipped
Pics Kobo gathered the great and the good from publishing and distribution in London yesterday to launch its new high-res e-ink reader, the Aura HD.
Michael Serbinis, Kobo CEO, said the company asked 10,000 book lovers for the features a perfect e-reader should have. While the Kobo Aura HD probably doesn't match all the survey answers, its 6.8in Pearl e-ink display, touting a 265 DPI 1440 x 1080 resolution, will be a sight for sore eyes. This is, we're told, the highest resolution 6.8in e-ink screen on the planet.
And the touchscreen can be illuminated, so you can read it in the dark.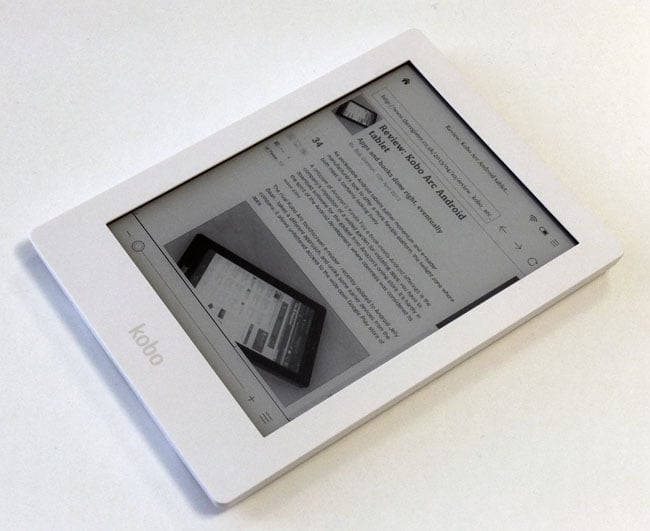 The improved resolution and nifty CPU delivers half decent web browsing too
No doubt high on the feature list of all those book loving respondents was responsiveness, and the Aura HD takes care of this with a 1GHz processor, which means even the web browser bundled with this Wi-Fi-only tablet actually turns out to be to quite useable. Kobo claims the Aura HD is 20 per cent faster than other readers and page swipes never failed to respond when this Reg man tried it out yesterday.
However, typing is still prone to lag and needs rather more considered presses than on say, a mobile, but it is noticeably faster than the current crop of e-ink-based readers. Battery life is also good for a month or two, we're told.
Naturally, the company is keen to highlight its own online book store which adorns the home screen. There are alternative apps supporting other shopping sites so purchases can be viewed on other devices, a feature covered extensively in our recent Kobo Arc review. The 4GB of storage should be enough for most but just in case, there's a micro SD slot to allow further expansion up to 32GB. One absent feature though is any headphone jack – obviously those book lovers prefer to read in peace, library-style.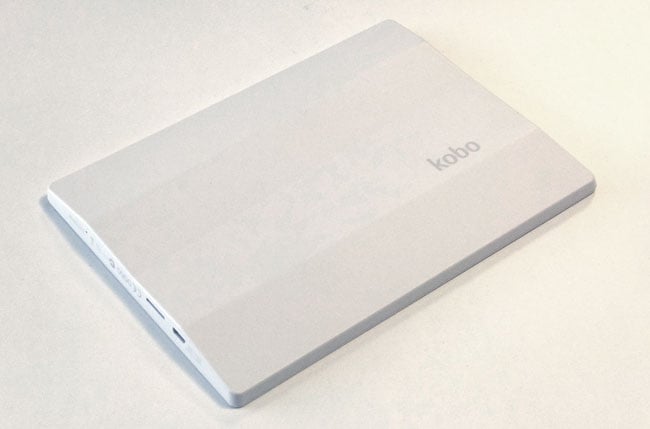 Handheld highlights: The dipped case to better grip the thing
The design efforts extend beyond the screen, processor and cross-platform friendliness, as the back of Kobo Aura HD features a shallow dual-pitched shape that, surprisingly enough, makes holding it more pleasant and less tiring than rival gadgets. A good thing really given that at 240g it weighs 27g more than the Kindle Paperwhite. That said, the Kobo Aura HD's display loveliness allows it to display 10 font styles in 24 sizes which is a definite plus for discerning readers. But at £140, you do pay for the privilege.
UK readers will find Kobos aplenty at WH Smith stores throughout the country; the newsagent is planning a further 100 specialist installations where staff can configure and customise punters' e-readers before they leave with their purchase. Stephen Clarke, WH Smith CEO designate, described the relationship with Kobo as an "interesting courtship" – the two sealed a deal in 2011. He said important factor was to find that a partner that "treated the UK as a serious market and didn't play second fiddle to the US".
The Kobo Aura HD launch, held during this week's London Book Fair, is a case in point: if this was Amazon we'd have to wait months for its latest e-reader to hit these shores following a US release.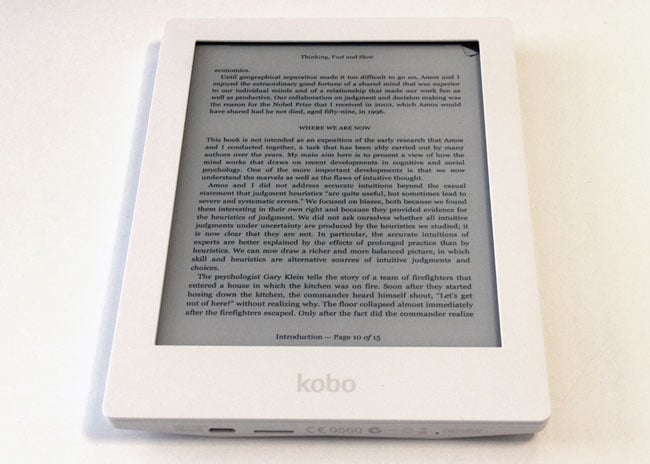 Tweak fonts and margins to taste
Patrick Neale, president of the Booksellers Association and co-owner of independent bookstore Jaffe and Neale, is intimate with the changing face of retail and began selling e-readers in November 2012. He remarked: "Customers showed relief they could talk to us about eBooks and eReaders, they thought we weren't interested." He added that "Kobo has understood the High Street".
Indeed, the tone of the launch event was about partnerships rather than the competitive squeeze that publishers and independent bookstores have experienced lately. Michael Tamblyn, Kobo COO, feels their pain.
"We've been talking to publishers who've been fighting in the gladiator pit of the apps stores of some of our competitors ecosystems where trying to extract a £1 or £2 for incredibly well designed, lovingly created content is like extracting a tooth from an actively running human being," he said.
By means of support he added how Kobo shares what it harvests about its customers with "a stream of data and analytics going back to the publisher so they can understand who the consumer is what they do and why they do it." And you just thought you were buying a book.
Faber and Faber's CEO Stephen Page struck a confident note remarking: "We've to find new ways to serve two groups of people: writers and readers. Our opportunity to reach readers in all sorts of new ways is opening up before us. To create products and formats we've never created before, while not forgetting to do the things we're already expert at."
The influence of the internet has been key to the market too he observed: "The opportunity to have conversation with the reader, we never had that as publishers before." According to Page the new formats mean Faber and Faber no longer describes itself as simply a book publisher, but added: "We care about books, we sniff the glue." Now if only Kobo could bring out a scented e-reader, it could be onto real winner.
The Kobo Aura HD is available from 25 April, 2013, in black, brown or ivory colour for £140. ®