The browser world war, which appeared to have already been handily won by Google Chrome, is heating up again – well, "warming up" might be more accurate – with Microsoft's Internet Explorer having reversed some of its long, relatively steady decline.
A mere two years ago, Internet Explorer was the undisputed king of the browser hill, with a 44.5 per cent market share compared with Chrome's 18.9 per cent share, according to StatCounter Global Stats.
As of the first two weeks of this month, however, the numbers tell a different story. Internet Explorer's market share is now at 31.1 per cent, and Chrome's is 38.1 per cent. Chrome passed IE in May of last year, and hasn't looked back.
But there's a chance – just a chance, mind you – that the folks in Mountain View might want to glance in their rearview mirror, despite what Satchel Paige once advised. Just this March, Microsoft's browser was still sinking – it held a 29.3 per cent share – but its popularity is now rising. A bit.
Again, caution is in order – we said "rising," not "rocketing upward" by any means. Still, it appears that Microsoft's effort to promote Internet Explorer 10 is having an effect in some markets, most notably the US.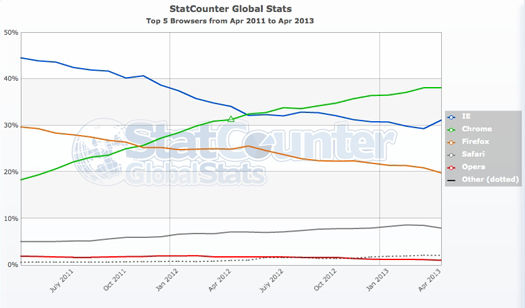 Google's pleasure has been Microsoft's – and Mozilla's – pain (source: StatCounter; click to enlarge)
Internet Explorer is still number one in North America – oh, and let's not forget Greenland – and in China it has stopped its decline and Chrome has stopped its growth.
That said, it's still a Chrome, Chrome, Chrome, Chrome world, with Google's browser more than holding its own in Europe – except for pockets of Firefox fans – the Middle East, India, South and Central America, and Australia.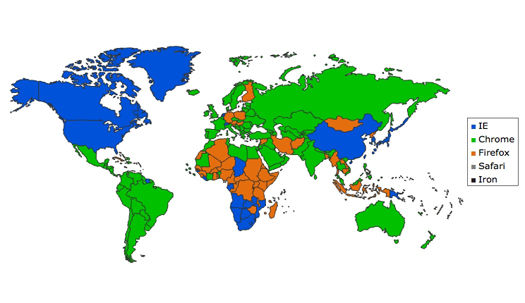 Internet Explorer remains big in Suriname (source: StatCounter; click to enlarge)
StatCounter Global Stats, by the way, gets its data from its own web-analytics software, installed on over three million sites globally, from which the company obtains information on over 15 billion page views per month on those millions of sites. Unlike some other stat aggregators, they don't weight their stats – and are rather adamant about that decision.
Of course, when looking at such reports one must keep in mind Benjamin Disraeli's admonition that "There are three kinds of lies: lies, damned lies, and statistics." To roll out another old saw, "Pick your poison."
That said, there's a fair chance that someone in Microsoft's marketing department is a wee bit cheerier today than they were yesterday. ®