PC floggers scavenge for crumbs as Apple hoovers up profits
Macs now 5 times more profitable than 5 biggest PC players
---
Apple's idiot tax helped it generate five times more profits from operations than the five biggest PC players combined in Q4, according to beancounter Asymco.
Collectively HP, Lenovo, Dell, Acer and Asus flogged 52.8 million boxes equating to 58.6 per cent worldwide unit share, casting a shadow on Apple's 4.6 million Macs - which constituted a mere seven per cent share of unit sales.
But in anyone's estimation profits are the true measure of success - revenues are for the vain - and in this metric the Mac wolfed down 45 per cent of operating profits in the market.
This compares to Dell's 13 per cent, seven per cent at HP, six per cent at Lenovo and Asus and one per cent at troubled Acer.
Horace Dediu, analyst at Asymco, said the beancounters had arrived at the Apple figure by deriving a gross margin of 26 per cent and adding an estimate of the SG&A and R&D expense of 7.1 per cent of sales.
"This yield an operating margin of 18.9 per cent," he said, "If this estimate is considered then the operating profits from PC operations imply that Apple generates more profit than all the top five PC vendors combined."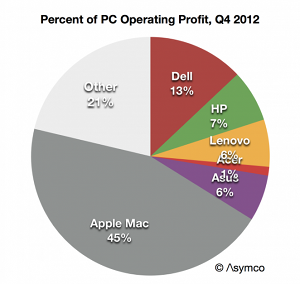 Who ate all the pie? Asymco's chart shows Apple scoffed
most of it.
The differential is even more stark in the smartphone sector, with Apple's iPhone accounting for 72 per cent of total operating profits, the analyst claimed.
PC sales continue to fall according to both IDC and Gartner - recording the steepest decline in 20 years or since records began in Q1 - and the forecasts makes for gloomy reading.
Gartner analyst Ranjit Atwal recently suggested Intel and Microsoft help out their PC pals by sharing some of their profits or risk seeing some PC makers slide out of business.
Atwal told us today: "Vendors and service providers have limited options to deal with the competitive pressures brought on by the Apple effect as it starts to eat market share in the consumer technology industry."
PC sales in the UK channel declined 4.8 per cent in Q1, at least according to data from Context, but veteran analyst Jeremy Davies reckons there's life left in the market yet.
Forrester last week also rubbished talk in the industry that the PC market is deader than a dead thing.
"It is true that PC shipment numbers will decline or be stagnant as people fill out their multi-device toolkits. And some markets may never see the PC dominate as it has done in the industrial nation," said analyst Ted Schadler.
"But few people will abandon their computers altogether," he added.
The Forrester man reasoned that consumers and biz users want multiple devices, PCs create content but do wear out and need replacing with new ones. ®