This article is more than 1 year old
Cloudscaling licenses Juniper virty networking for new OpenStack distro
Getting ready for Grizzly with OCS 2.5 this summer
Cloudscaling, one of the upstarts trying to become the Red Hat of OpenStack, has unveiled OCS 2.5, the third major release of its Open Cloud System. While it prepares for the coming of "Grizzly" - the latest OpenStack release - Cloudscaling has also inked a deal with Juniper Networks to put Juniper's virtual networking software at the heart of the virtual private computing extensions that it is adding to OpenStack.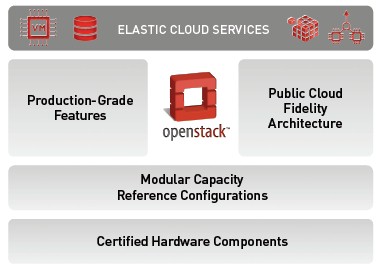 Cloudscaling's OCS stack adds stuff to and certifications for the basic OpenStack
The company's first release, OCS 1.0, came out in early 2012 and was based on a mix of the Diablo and Essex OpenStack code. Last October, the OCS 2.0 release was based on the Folsom OpenStack code. The OCS 2.0 stack included the usual suspects of OpenStack components, including the Nova compute controller, the Swift object storage, the Cinder clock storage, the Glance VM image management, and the Keystone identity management.
With the move to the Grizzly code base with OCS 2.5, Cloudscaling thinks that the Quantum virtual networking plug-in for OpenStack is ready for prime-time. But as many have said, Quantum is not in and of itself a full network virtualization tool. Among other reasons, this is because it only links to virtual switches inside of hypervisors and cannot provision VLANs on physical servers, but there are many other limitations.
This is why Cloudscaling has inked a deal to license Juniper's Virtual Network Control software, which the networking company got through its acquisition of Contrail Systems late last year just as Contrail was getting ready to uncloak from stealth mode. This software-defined networking stack from Juniper will allow for Layer 2 and Layer 3 networks to be virtualized as part of a virtual private cloud. This will effectively allow OpenStack to have the same kind of advanced networking features that Amazon Web Services and Google Compute Engine offer to customers using their public clouds.
This last bit is significant in that one of the selling points that Cloudscaling has for its OCS distribution is that it is API-compatible with the infrastructure services of both Amazon Web Services and Google Compute Engine.
With the plain vanilla networking stack in OCS, you can set up security groups and elastic IP addresses; IP address pools are controlled by the OpenStack administrators.
With the VPC extensions that will be enabled in the OCS 2.5 release, the virtual private cloud's IP address pool will be configured by cloud tenants, not system administrators, and a slew of other features will be available. This is all thanks to the inclusion of the Quantum virtual networking plug-in and the Juniper SDN software. Other features will include network access control lists, private IP addressing, elastic network interface card bandwidth, and both public and private subnets. This means better security without giving up on the elasticity benefits of cloudy infrastructure.
The VPC extensions will be a separately packaged and priced component of OCS 2.5 when it ships this summer, explains Azmir Mohamed, senior director of product management at Cloudscaling.
The company does not have a beta program for the code, but will be giving it to early access customers to kick the tires and shake out whatever issues it has.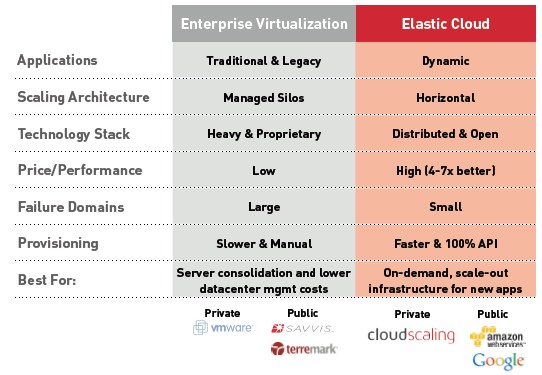 Cloudscaling thinks it is elastic, like AWS and Google, not just a server virtualization cloud such as those based on the VMware stack
Cloudscaling is very big on bringing this superlasticbubbleplastic stretchiness to networking as it has been brought to storage and compute, and it cannot wait around for the OpenDaylight project, just announced last week, to mash up and open-source SDN controllers from Cisco Systems and IBM. Red Hat might be able to do that, and will very likely do that, but Cloudscaling is a much smaller company and it simply cannot wait. Juniper needs all the allies it can get in its fight against Cisco, and an alliance with Cloudscaling is a start.
In fact, El Reg thinks it would not be at all surprising for Juniper to come to the conclusion that it needs to have its very own OpenStack distribution - and therefore acquire Cloudscaling.
One of the differentiators that Cloudscaling brings to its OpenStack variant is that it runs its block storage on top of the open-source ZFS file system created by Sun Microsystems and maintained (and used) by Oracle.
Ephemeral storage on OCS nodes is based on the Nova volume feature of OpenStack and object storage is based on Swift. A new feature with OCS 2.5 is that it allows users to take a snapshot in ZFS of data stored in block storage and push it out to the Swift object storage for long-term safe-keeping.
With the OCS 2.5 release, Cloudscaling is also allowing for its OpenStack to run on a broader set of iron. Up until now, Quanta servers and Arista Networks 7124 and 7050 switches were the only options, but this forthcoming release adds support for selected switches from Cisco Systems (Nexus 3000 and Catalyst 6500), Juniper (QFX3500), and Quanta (LY2) have been added. Dell storage arrays and Dell servers will be certified to run OCS 2.5 as well.
Like Nebula and Rackspace Hosting but unlike Piston Cloud, Cloudscaling likes to be as current with OpenStack releases as it is with its commercial releases. "There are various approaches, with some OpenStack vendors taking releases and doing back ports, but we like to stay close to trunk," says Mohamed.
And Cloudscaling is not trying to set itself up against Amazon Web Services or Google Compute Engine. "It is not us versus them," says Mohamed. "We love AWS and GCE because it is about doing both private and public clouds. This is the modern way of doing things."
But that said, OCS uses AWS server sizes, matching their name and performance, because, well, that is the standard for the moment. ®