Exclusive Dell is closing down its DX6000 object storage appliance product line just three years after starting it up. Its OEM'd Caringo software will be available through Dell's Digital Download Store. But there are concerns that this move will tarnish Dell's reputation as an enterprise raised-floor data centre supplier.
Object storage places data in a storage space using a number computed from the data, the object, itself. This number becomes the object's address. When compared to file-folder addressing or block-level data access, giving the object an "address" means it will be easier to locate in a storage space which is holding billions, even trillions of objects. Object storage is the great hope of storage types who are cognisant of file system scalability and performance limitations in the massively expanding world of unstructured "Big Data".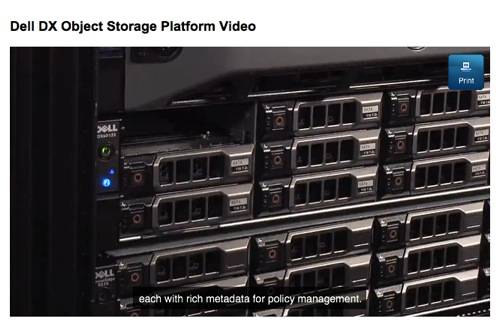 DX6000 video still.
The image above is a still from a DEll DX6000 video which was still available on its site at the time this story was written.
Object storage software using commodity hardware has been developed by startups like Amplidata, Caringo and Scality. EMC has its Atmos product line, HDS has its Hitachi Content Platform and NetApp has its StorageGRID, while HP has its own HP Labs-derived technology in development.
Object storage sales haven't been expanding fast enough for Dell, and it has thrown in the DX6000 hardware towel 37 months after rolling it out.
Dell spokesman Lon Levitan said:
We are changing the model for our object offering. To be clear, we are committed to supporting both our existing and future object storage customers. … we are moving from an OEM appliance model to a software-only model. The software will be available to order through Dell's Digital Download Store, where it can be sold with and deployed on Dell servers.
The company explained why it was changing direction:
First, we felt that by de-coupling hardware and software, we'd be able to offer more timely software updates and full access to the Caringo software suite. Secondly, our customers really wanted flexibility on the hardware on which the object store was deployed. As opposed to a pre-configured appliance, we now can offer greater flexibility in solution design leveraging Dell servers uniquely configured to meet specific customer use cases and workloads, such as storage density and performance.

DX6012S storage node.
Levitan added: "We are big fans of the software model. We think it offers maximum flexibility for our customers."
There is a suggestion that this move will adversely affect Dell's position as a technology innovator. Levitan said: "We believe our position as an innovator is quite strong. We've accomplished quite a lot in the past two years alone. (Think: EqualLogic Blade Array, Active Systems, Fluid File, moving from EMC to our own portfolio with stronger customer TCO.) While we continue to offer excellent performance and value in the SMB space, we're also growing into larger enterprise, seen by the growing size of our sold Compellent implementations each quarter."
Dell's storage commitment is strong: "We are on track for 2013 to be a record year for Dell storage releases. You'll see a number of announcements at Dell Enterprise Forum San Jose in June and more to come throughout the year. … We will continue to examine the best way to get our customers the best technology as soon as possible."
Dell is trying to become a private company again, with the reason given that it would potentially be better able to transform itself into an enterprise IT product, software and services-led company away from the prying eyes of Wall Street analysts, investors and quarterly reports.
The DX6000 product line closure, a sign of other possible changes, comes against a background of declining storage revenues for Dell, as the chart shows.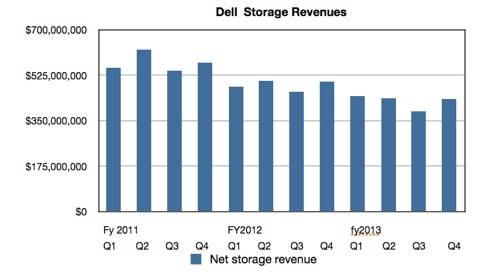 From a management personality point of view, the DX6000/Caringo OEM deal was a Darren Thomas-era event. Thomas has since left the helm of Dell's storage business, which is now the joint responsibility of Alan Atkinson and Pete Korce.
El Reg's supposition is that the DX6000 cancellation decision was made in the management layers between Alan and Pete and Marius Haas, president of Dell's enterprise solutions business.
Enterprise customers who committed to the DX6000 may well feel let down, notwithstanding Dell's continued support. But the product line is going nowhere. Having the software available through a digital download store, like any old phone or tablet app, might be handy for some, but could also imply a lack of strategic commitment from Dell's side. ®