This article is more than 1 year old
Amazon: S3 cloud contains two trillion objects
'We've doubled our big number in a year'
Amazon Web Services now has over two trillion objects within its S3 storage cloud, just one year after Bezos & Co. smashed through the one-trillion ceiling.
Each Amazon object, they say, can range from "range from zero to 5 TB in size," but Amazon does not disclose the size distribution of stored objects. An object consists of a key, a Version ID, a value, metadata, subresources, and access control information.
"It took us six years to grow to one trillion stored objects, and less than a year to double that number," Amazon wrote in a blog post announcing the milestone on Thursday. "Our universe is about 13.6 billion years old. If you added one S3 object every 60 hours starting at the Big Bang, you'd have accumulated almost two trillion of them by now."
Alternately, if each object were to be worth one dollar, then AWS S3 represents the net worth of 30 Bill Gates or 133 Steve Ballmers.
S3 is now regularly peaking at 1.1 million requests per second, up from 835,000 requests per second in Q3 2012, the company wrote. This indicate that along with requiring more storage, the applications built on top of AWS are getting chattier.
These figures may not reflect the actual size of Amazon's cloud, as they do not factor in Elastic Block Storage – a service used by a very large proportion of EC2 instances. Nor does Amazon give figures for the amount of data stored in its flash-backed DynamoDB NoSQL service – another significant piece of business for the company, and one which Amazon chief Andy Jassy described in November as the fastest growing service in AWS history.
As with all things cloud, Amazon's figure is difficult to use to compare S3 against other storage clouds: mid-level operators such as Joyent and Rackspace don't break out storage figures, and neither does Amazon contemporary Google.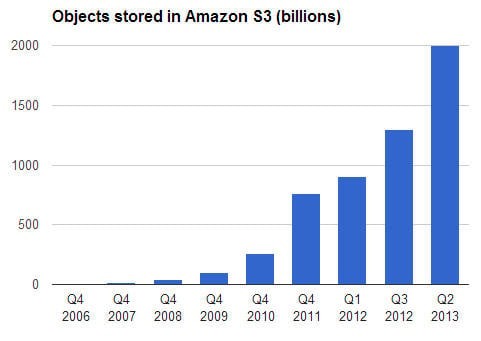 Not pictured: proportion of which are the cat pictures of Tumblr users
Microsoft, meanwhile, stated in July 2012 that its Azure cloud stores 4.03 trillion objects, and that the peak request rate was 880,000 per second (versus Amazon's 1.1m across two trillion objects). This, along with the lack of a detailed breakdown of what goes into Azure storage, indicates that comparing Azure's 4.03 trillion with Amazon's 2 trillion may not necessarily be a fair like-for-like comparison. At the time of writing, Microsoft had not responded to queries by us for an update on Azure storage figures.
With the whopping two trillion for S3, and no information yet on DynamoDB or EBS, it's clear that Amazon Web Services is still growing at a great rate. With each new scrap of information, Bezos & Co. seem more and more like the dragon Smaug, the plus-sized star of JRR Tolkein's The Hobbit: a fearsome creature lurking in a secret mountain, guarding its vast pile of data gold. ®