Updated AMD released its financial results for the first quarter of its fiscal year 2013, which bracketed the Wall Street moneymen's predictions with revenues a tad higher than forecast and the all-important earnings per share (EPS) a tad lower.*
For the quarter, AMD's EPS number came in at negative $0.19 on revenues of $1.09bn, the company announced on Thursday after the markets closed. [Update: See the clarification of GAAP versus non-GAAP EPS numbers appended to the end of this article.]
"Our first quarter results reflect our disciplined operational execution in a difficult market environment," said AMD president and CEO Rory Read.
The average prediction by 26 analysts surveyed by Yahoo! Finance was for a loss of $0.17 per share, with the most optimistic being a loss of $0.14 and the most pessimistic being a loss of $0.21.
Those same analysts, on average, predicted that AMD's revenues for the first fiscal quarter of 2013 would be $1.05bn – a 33.9 per cent drop from the company's revenues of $1.59bn during the same quarter last year.
Those EPS predictions were significantly below AMD's performance during the same quarter last year, which saw an EPS of a positive $0.12 per share – although if you factor in the $703m charge that AMD took for its restructuring of its Wafer Supply Agreement with GlobalFoundries and a number of other adjustments, that EPS dropped to a loss of $0.80 per share.
Bloomberg Businessweek's analysts agreed with Yahoo! Finance's moneymen, predicting a loss of $0.17 per share, but were a tiny bit more pessimistic about revenues, pegging them at $1bn — possibly merely a result of rounding. The analysts surveyed by FactSet, cited by Marketwatch, had a slightly more glum EPS estimate than the others, predicting a loss of $0.18 per share.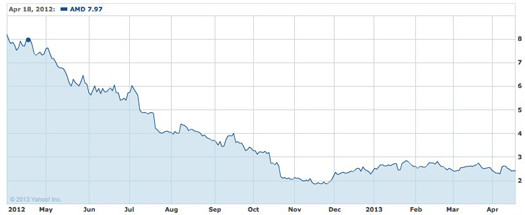 The past four quarters haven't exactly been barn-burners for AMD (source: Yahoo! Finance; click to enlarge)
The past 12 months haven't been pleasant ones for AMD. One year ago today, its stock price stood at $7.97 per share. As we click Publish on this article, it has dropped to $2.38 in after-hours trading from its close of $2.56. Still, today's share price is noticeably better than its mid-November 2012 low of $1.86.
"We have largely completed our restructuring and are now focused on delivering a powerful set of new products that will accelerate our business in 2013," said Read.
That "powerful" linup, however, won't do much to goose AMD's current quarter. "For the second quarter of 2013," the company announced, "AMD expects revenue to increase 2 percent, plus or minus 3 percent, sequentially." ®
* Update
An AMD spokesman contacted us after this article was originally published and suggested that the more-correct view of the Q1 2013 EPS numbers would be to report the non-GAAP (generally accepted accounting principles) figure of a per-share loss of $0.13 rather than the GAAP figure of a negative $0.19, as we provided above. His analysis jibes with the method used to report AMD's Q1 2012 EPS results, in which the GAAP EPS was a negative $0.80 and the non-GAAP EPS a positive $0.12, the latter figure being the one routinely cited by Wall Street. Viewed in this way – which The Reg accepts – AMD's Q1 2013 EPS of a negative $0.13 exceeded the Street's estimates, which, as we noted above, ranged from negative $0.14 to $0.21.