Mark Shuttleworth, the founder of the Ubuntu distribution of Linux, has wanted to turn his creation into a cloud platform for years, he said during his keynote at the OpenStack Summit in Portland, Oregon on Wednesday.
He started the process with the Eucalyptus cloud controller, which is only partially open source and not really backed by a strong community, eventually and enthusiastically switching to the OpenStack control freak. And now, says Shuttleworth, Canonical is working to get out on the front end of the OpenStack customer wave.
"Our goal is to become the easiest and fastest way to get OpenStack up and running," Shuttleworth said, while he reminded the assembled multitudes of OpenStackers that Ubuntu was out there first, grabbing the initial Bexar release of OpenStack on Ubuntu Server.
It has also created mechanisms that allow for the follow-on Essex, Folsom, and Grizzly releases to be upgraded seamlessly on Ubuntu Linux, and the same will be true of the Havana release that comes out in the fall.
To make the point of how Ubuntu has done the hard work to make OpenStack easier to deploy and maintain, Shuttleworth showed off an integration between OpenStack and the Landscape system management service it runs to support 22 million Ubuntu Linux servers (on both PCs and servers) worldwide.
Instead of looking at OpenStack on a node-by-node basis, the integration with Landscape will present a high-level view of an OpenStack cluster and give an aggregate view of an entire cloud as well as allowing for admins to drill down and see individual server node performance characteristics. "It is like a heat map of your cloud," he said.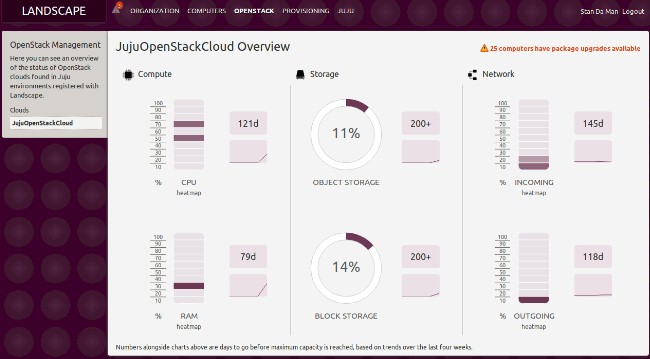 Canonical has integrated OpenStack management into its Landscape tool
A cloud is not a static thing, any more than an operating system is, and one of the particularly pesky problems with clouds is upgrading the underlying Linux operating system and hypervisors used on the server nodes as they need to be patched.
Shuttleworth showed off a live demo of OpenStack running on a pair of HP ProLiant rack servers on stage, which allowed for the underlying Linux kernels on Ubuntu Server on OpenStack nodes to be updated on a secondary server, then running VMs to be live-migrated from a production node to this second box without having to take any of the server nodes or their applications offline.
The interesting thing about that two-pair OpenStack controller node, said Shuttleworth, is that you can add hundreds of racks, thousands of servers, and tens of thousands of compute cores to that initial baby cloud without having to take anything down.
The Landscape OpenStack Dashboard is going to be updated so it can do predictive capacity planning based on past performance and usage data, and Shuttleworth said that next month, a fully certified set of Windows drivers will be made available for Ubuntu Server and OpenStack so that any Windows workload can be run atop the OpenStack cloud without any performance or Microsoft support issues.
The new Landscape features that integrate with OpenStack will be coming with the mid-summer release of Canonical's homegrown management console for Linux. By the way, OpenStack is the first non-Ubuntu software that Landscape is managing. And that tells you what Shuttleworth thinks about OpenStack. He thinks of it as his own and an integral part of a modern Linux server operating system.
"Anything that lives in the data center and anything that is based on growth in the data center is going to be built on OpenStack," he said. ®
Similar topics