Review: Asus PadFone 2 phone-tablet combo
Can't decide on a tablet or a phone? Have BOTH IN ONE!
---
Dock to who
Since there is no clip or latch to keep the phone docked, safe usage depends on the snug fit of the handset inside the tablet. That may sound risky but it works and lets you remove the phone quickly if, like me, you have the phone set to answer incoming calls automatically when it's taken out of the bay.
The only way to dislodge the phone by accident is to repeatedly slap the top edge of the tablet against your hand which will cause the phone to slowly nudge out along the channel. Of course that's hardly accidental.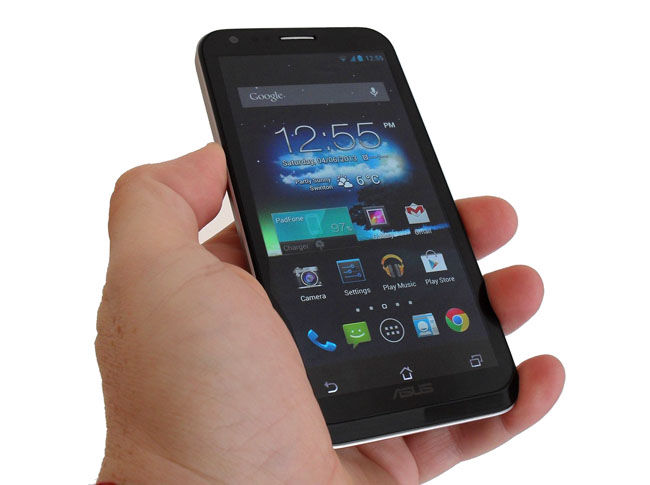 Nexus 4 performance without the overheating
Asus has abandoned the rather nifty Bluetooth earpiece/stylus it bundled with the original PadFone so to make or take a call when docked you'll need to do it in speakerphone mode or with a Bluetooth headset of your own.
Both handset and tablet make do with a single speaker, a setup that HTC's One has rendered a little passé. Both nevertheless manage to produce an impressively loud and composed sound helped by the SonicMaster noise processing system co-developed with Bang & Olufsen.
When the handset is docked, the 3.5mm audio jack on the top of the phone and the main camera at the back continue to perform their functions, this time on behalf of the tablet.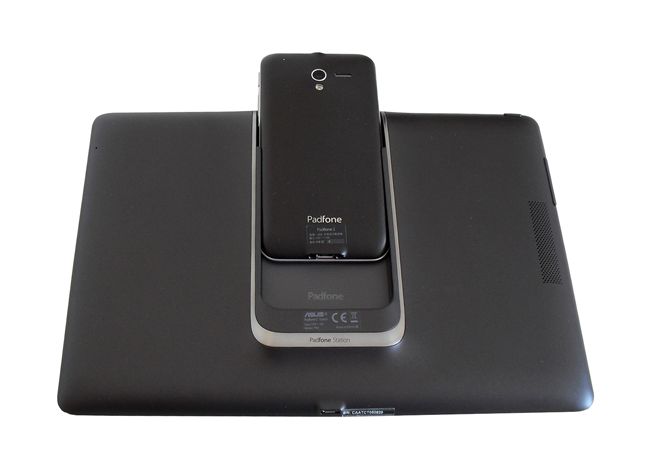 Slide it in
The 13Mp main camera certainly doesn't lack for pixels and takes a decent enough picture in good light. When docked to the tablet it will only shoot 5.5Mp stills and 720p video but I can't see people doing that very often, so I doesn't seem a major problem to me. The 1.2Mp phone webcam and 1Mp tablet webcam are both a little low rent by modern standards but served the purpose for Skype and Tango video chats with my folks in Houston.
The screen layout of tablet and phone are treated as distinct entities so you can scatter different widgets and icons in different layouts across either and they stay that way.
By default each time you dock or undock you're presented with the home or lock screen. You can, however, manually select any apps you want to continue running on screen when you move from phone to tablet or back. Some Google apps like YouTube, Maps and Google+ are excluded from the list and won't transition.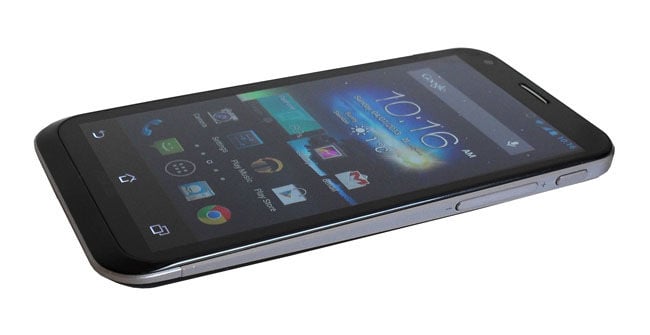 Solid, physically well proportioned and reasonably light
The transition time from one screen to the other isn't instantaneous but the delay is only a matter of a second or two so not really worth carping about.
Asus has, as usual, lightly dressed the stock Android UI with a row of useful floating widget apps - calculator, dictionary, calendar, Sound Wizard and such like - that can be launched from the tablet taskbar.
If you don't like Asus' stock launcher, you're stuffed because the PadFone doesn't play nice with third-party launchers. Both Nova and ADW worked a treat until transition time when the stock launcher always fired up by default.