It's official! Register hack is an alcohol-flushed cave dweller
Budget DNA test reveals our man's genome secrets
---
It's official: this Reg hack is 2.7 per cent Neanderthal, belongs to the J1c3b haplogroup, is at increased risk of coronary heart disease and Restless Legs Syndrome, has wet ear wax, and slightly decreased odds of suffering male pattern baldness.
That's according to the enlightening results of a personal genome test by 23andMe, which for a budget $99 plus P&P, tells me that while I have a higher than average risk of developing Parkinson's Disease and psoriasis, I'm less likely to be afflicted with Type 2 Diabetes and Alzheimer's Disease.
A couple of months back, I ordered the test online and duly received a "spit pack" - basically a plastic tube for a saliva sample and a prepaid courier's envelope to whisk my sample back to 23andMe's lab for the once-over.
The company has been knocking out cheap tests since securing $50m in venture funding in 2012, in a bid to increase its sample base to one million individuals.
23andMe's mission statement says it wants to be "the world's trusted source of personal genetic information", with the aim of creating "a common, standardized resource that has the potential to accelerate drug discovery and bring personalized medicine to the public".
For customers, there's the prospect of taking "a bold, informed step toward self-knowledge" and participating in research "that could improve understanding of how genetics influences our lives".
So, determined to take a bold step towards self-knowledge, I submitted my DNA for analysis. The test involves pinpointing 1,000,000 single nucleotide polymorphisms (SNPs), using a "BeadChip", provided by Illumina. 23andMe explains that "although the process relies heavily on massive computer power, the chip itself is not a microprocessor but a miniaturized genetics lab".
It adds: "The BeadChip is a small glass slide with millions of tiny beads on its surface. Attached to each bead are probes - bits of DNA complementary to sites in your genome where SNPs of interest are located. Your DNA will stick to the probe that matches whichever SNP you happen to have."
While I twiddled my thumbs waiting for the BeadChip to work its magic, I did suffer some doubts about just how much self-knowledge I actually wanted. 23andMe notes: "Learning that your genotype is associated with an increased risk of a particular condition can be difficult, especially if you have seen a friend or family member struggle with a similar issue.
"One of the potential benefits of having more information is that by working with your physician you may better manage your health. But as a matter of personal choice, some people prefer not to know."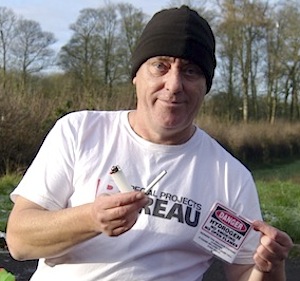 Lester Haines preparing SPB flight hardware
When the results arrived, though, my natural curiosity overcame any misgivings. Diving straight into "Health Risks", I found I was at 58.8 per cent risk of coronary heart disease, compared to an average of 46.8 per cent, since the former percentage of "men of European ethnicity who share Lester Haines's genotype will develop coronary heart disease between the ages of 45 and 79".
23andMe rates its confidence in this result as high, based on "established research" of "at least two studies [which] examined more than 750 people with the trait or condition and/or the associations are widely accepted in the scientific community".
In the case of alopecia areata - to which I'm slightly more susceptible - the result rates slightly less confidence, based as it is on "preliminary research" where "750 people with the condition were studied, but the findings still need to be confirmed by the scientific community in an independent study of similar size".
Moving down the confidence scale, I find I have "substantially increased odds" of suffering hypertriglyceridemia, but that's based on preliminary research in which "fewer than 750 people were studied" and "multiple large studies are needed to confirm these findings".
Having dodged that bullet, pending further research at least, I dipped into "Inherited Conditions", where I found my parents had rather unkindly gifted me hemochromatosis (HFE-related).
Or rather, I've got "one mutation in the HFE gene linked to hemochromatosis". The results conclude: "A person with one of these mutations is not typically prone to higher levels of iron in the body, but can pass the mutation to offspring."
What mum and dad didn't pass down was Cystic Fibrosis, since I don't have any known mutation in the Cystic Fibrosis Transmembrane Conductance Regulator (CFTR) gene. 23and Me notes: "Cystic fibrosis is inherited in a recessive manner, meaning that only a child who receives two mutated copies of the CFTR gene (one from each parent) will get the disease."