This article is more than 1 year old
Readers, we need you... for LOHAN ignition failsafe brainwaves
Last call for back-up rocket-sparking designs
The Low Orbit Helium Assisted Navigator (LOHAN) team is inviting experts among our super readers to submit final proposals for a back-up ignition system for our Vulture 2 spaceplane's mighty rocket motor.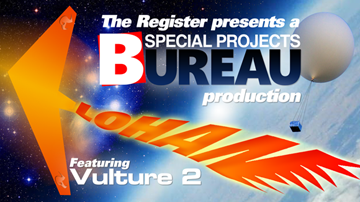 As SPB ballocket regulars know, the primary system designed to light LOHAN's fire is the Special Project Electronic Altitude Release System (SPEARS) control board.
SPEARS uses GPS-determined altitude to switch on reader Rob Eastwood's 12V custom igniter. This design was developed after motor tests in the Rocketry Experimental High Altitude Barosimulator (REHAB) chamber showed off-the-shelf igniters by Cesaroni and AeroTech don't much like low-pressure environments.
Accordingly, Rob put together a custom bit of kit, which proved up to the challenge of getting ammonium perchlorate composite propellant motors fired up in a near vacuum...

At our request, the igniter has two electricity supply cables - one for connection to the 12V battery pack controlled by SPEARS, and another for a back-up system.
Our first thoughts on such a system were that it should be entirely mechanical and triggered at, or after, balloon burst. Here's what we suggested: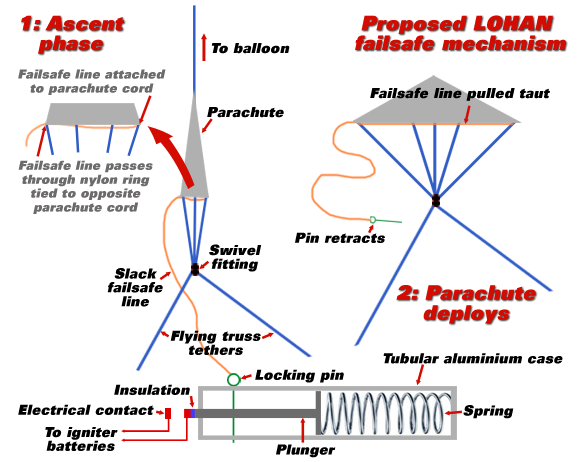 This didn't much impress some of our regular LOHAN commenters, and here's their initial input.
Well, we've taken that on board and are keeping an open mind. However, we do now have to make a final decision, so this is the last chance to chip in your two bits' worth before we finally get down to business.
So, it's thinking caps and kettles on for brilliant ideas and nice cuppas, respectively. As soon as we'll trawled through all the options, we look at the more plausible ones and get back to you with our planned line of attack. ®
---
Further LOHAN resources:
---