This article is more than 1 year old
Review: NetAtmo Urban Weather Station
The new obsession you've been waiting for
Do we need a new obsession? Isn't Facebook and Twitter enough for most folk? Some argue the British are obsessed about the weather.
It's hardly surprising we talk about it all the time, the weather here changes so much, it never fails to be topical. Well that's how it used to be. Lately, Blighty has been blighted by a godawful climate that hasn't seen 20°C in six months yet last weekend finally broke the spell.
The witch is dead, apparently. So when it comes to our national obsession, NetAtmo's Urban Weather Station is surely a tonic to this topic of conversation. Two cylindrical sensors take environmental measurements and using Wi-Fi send them to your phone, tablet or computer.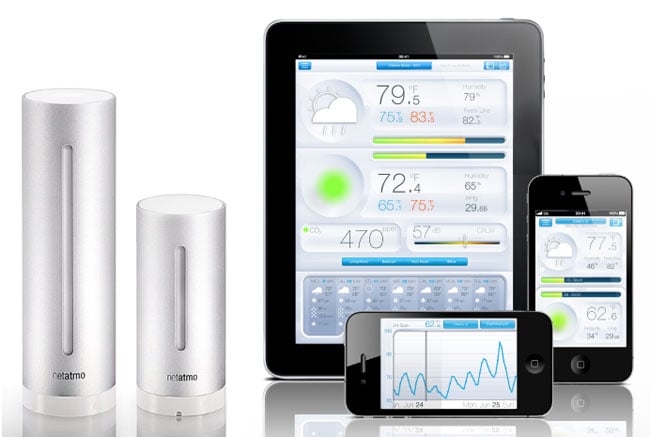 "Everywhere you go, you always take the weather with you"
When NetAtmo's UWS was first announced it was originally iOS-only, but now it supports Android too and if you log-in from a computer, the web site has had a complete makeover recently which is very snappily laid out.
First things first though, you need to instal the NetAtmo desktop app and attach the indoor module to the computer using USB to get the UWS modules linked up to Wi-Fi. Alternatively, you can perform this procedure by linking up your iOS device directly to the main UWS from its USB port with a suitable iOS docking cable. There doesn't appear to be a similar approach for Android though.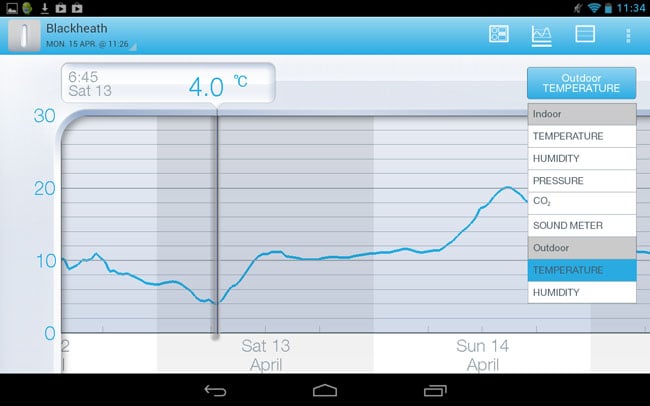 Android app graph choices
The Wi-Fi set-up also involves creating a user account but it's a fairly straightforward process overall, just don't be surprised if the installation is momentarily delayed by an automatic firmware update. You'll also need to have the smaller outdoor unit ready powered up the four AAA batteries supplied in the box. With Wi-Fi established you can then hook up the indoor module to its PSU and position it somewhere suitable. The very basic set-up booklet gives cartoon guidance on where to place the units and, as far as more detailed instruction goes, simply points you to various links which include a full PDF manual.
In the box there are straps and screws for attaching the outdoor unit but as it can't be fully exposed to the elements. It needs sheltering as you're not supposed to get it wet, so choose your spot carefully. I put mine under a stone garden bench which was OK to start with, but eventually fell foul of the elements. NetAtmo uses MeteoGroup for its forecast data and the wind speed seems way too high most of the time, somebody should tell them. Incidentally, you can change the units of measurement for the sensors to suit your windspeed, temperature and pressure preferences.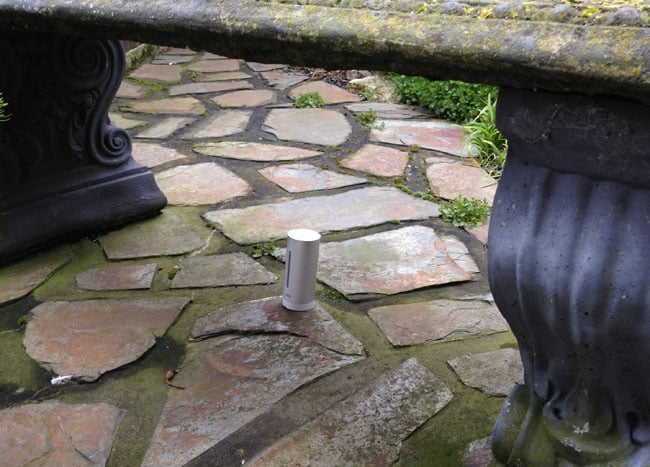 The outdoor module needs protection from the rain or the hygrometer gets stuck
One thing that isn't exactly clear is how far apart these devices can be. The company claims 100m, but that's a relatively unobstructed maximum distance. Information on signal strength and battery level is displayed on the desktop app, which could help with tests and troubleshooting. Indeed, trying a fairly unobstructed line of sight position from 40ft away, the outdoor module in my greenhouse only dropped a couple of bars. To paraphrase the old saying, your footage may vary. Regarding wireless limits, I did wonder if the company would eventually bring out standalone satellite models that could record data to a micro USB card for retrieval later.
When it comes to measurements, the indoor module has a more comprehensive roster that can plot temperature, humidity, pressure, CO2 and sound levels. By contrast, the outdoor unit tracks only temperature and humidity, however, air quality and pollutant information appears but this is sourced from a location aware web site. The levels shown are based on the Citeair index which measures the overall air quality and the UWS app shows only the types that predominate, rather than all the measurable pollutants.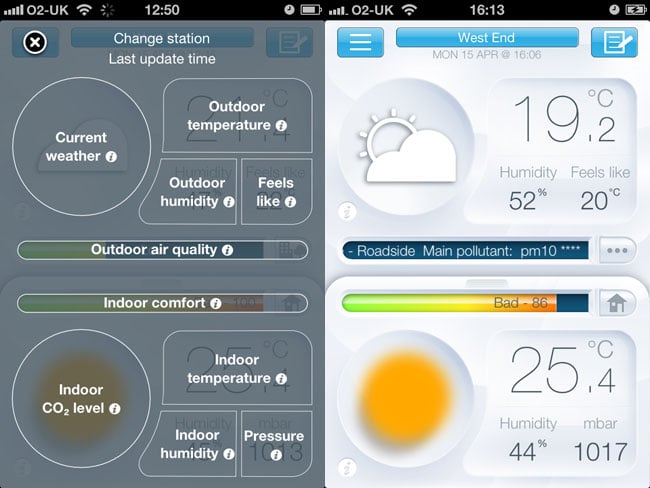 Tapping the info sections provide comprehensive descriptions of functions of the iPhone dashboard
NetAtmo claims the modules are accurate to ±0.3˚C, ±1mBar, ±3 per cent humidity and ±50ppm CO2. It relies 802.11b/g/n Wi-Fi with 915MHz or 868MHz communication between modules. If you don't have access to the mobile or desktop apps, simply touching the top of the indoor unit gives a colour coded assessment of the CO2. Green is good, yellow is a bit stuffy and red is definitely time to take some air.
In use at home it regularly reported ozone (O3) with NO2 and PM10 particulates appearing a couple of times although the latter would be a generalisation. Things became more animated when testing in the London's West End, the outdoor air quality indicator started scrolling information on the two main pollutants it reported. The in-app help provides useful information on all its measurements, so if you see something alarming, you can find out all about it.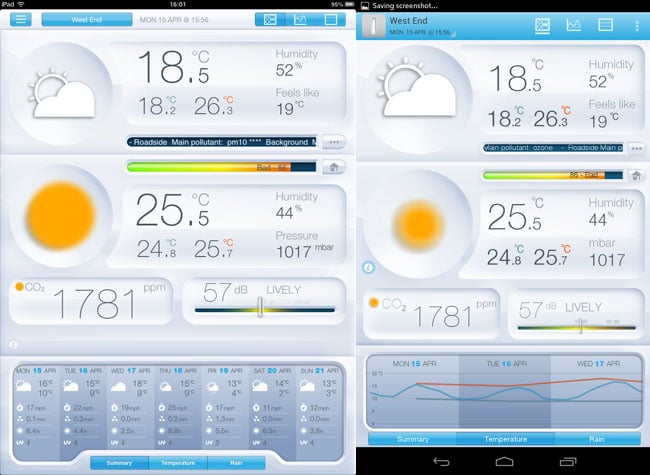 iPad 10in and Android 7in main dashboards
Personally, it was the pollutant measurements that I found the most fascinating and it was disappointing that the device wasn't detecting this itself and that there was no charting of this information either, which is a missed opportunity in my view. After all, if NetAtmo wants you to get obsessive about this stuff then this must be the way forward. We know what the weather is like by stepping outside, but the invisible stuff it detects should be given more prominence. Indeed, locally discovering an unusual peak in SO2 at specific times of the day could be a useful way of tracking down a serious problem.