This article is more than 1 year old
And they're off: Hubble, Herschel race for hot pics of space filly
Scopes trot out new snaps of Horsehead Nebula
Pics Orbiting space telescopes Herschel and Hubble have both snapped new infrared images of interstellar spectacle the Horsehead Nebula.

The Herschel far-infrared snap of the Orion B cloud - look closely for the Horsehead
The European Space Agency's Herschel Space Observatory captured the famous dark nebula in a fresh image of the entire Orion B molecular cloud, a vast star-forming complex of which the Horsehead is just a small part.
The dust-flecked hydrogen-filled Horsehead is dense enough to block visible light attempting to pass through it - but radiation from its newborn stars heats the phenomenon's cosmic dandruff, causing it to shine in far-infrared wavelengths, which sit in the lower end of the infrared spectrum.
At about 1,300 light years away, the Horsehead is one of the coolest star-building regions. Within it, matter clumps together into blobs that increase in density until they collapse into a newborn sun. The process is complicated by space wind and radiation, which push away matter, and magnetic fields that cause turbulence and stir up the material.
Bright yellow, white and pink areas in Herschel's far-infrared picture above show the densest regions, where newborn suns are found, and darker regions show colder parts of the cloud where star-construction efforts have calmed down a bit. All the way on the right lies the Horsehead Nebula, which NASA's Hubble has taken a near-infrared close-up of.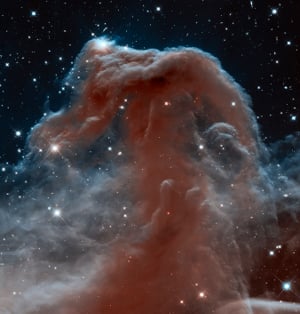 Hubble's new Horsehead close-up (click here for zoomable image)
The Horsehead was first spotted by astronomer Williamina Fleming in the 1880s when she was compiling one of the first catalogues of astronomical photographs. In that image, the nebula stood out as a silhouette against the diffused glow of the IC 434 nebula.
In the Hubble pic, the Horsehead's upper ridge is illuminated by Sigma Orionis, a young five-star system outside the camera's view, and two new suns can be seen along the nebula's top ridge. The snap marks the 23rd anniversary of the space telescope's launch.
Scientists know that the harsh ultraviolet glare from one of these stars is slowly dispersing the nebula. Gas clouds around the Horsehead have already dissipated, but the phenomenon has some protection in the tip of the jutting pillar, which contains a slightly higher density of hydrogen and helium laced with dust. The thicker cloud casts a shadow that protects the material behind from being stripped away. ®