The enterprise software gravy train stalled in 2012
Big data, analytics, and cloud build up a head of steam
---
The world spends about twice as much dough on enterprise software as it does on data center hardware, and that software is also where a lot of the profit for the IT sector comes from. So when enterprise software revenues don't grow as fast as they have in prior years, it has ripple effects on the IT industry as a whole.
The prognosticators and bit counters at IDC have just finished up casing the enterprise software market for 2012, and they reckon that the growth rate in 2012, which came to 3.6 percent - a little bit better than the 3.4 percent they were projecting but still have the growth rate that the software racket enjoyed in 2010 and 2011.
The whole enterprise software pie added up to $342.6bn last year, and is probably not going to return to the growth rates of a few years ago given the jittery economies around the globe and the transitions going on in software, as some of it is moving from licenses in the data center to subscriptions out there on the cloud.
What is saving software makers' cookies is that many companies still don't trust SaaS for their key back-end systems and they are only adding SaaS around the edges or to flesh out app stacks with functionality they don't currently have.

Microsoft is still king of the enterprise software hill
The market shares of the top vendors are more or less the same, suggesting that they have expanded into growth markets such as analytics, big data, and cloud, either by putting new wares into the field or by making strategic acquisitions.
Collaborative applications, including CRM suites, as well as security software and system and network management software are grew at between 6 and 7 per cent last year and more consistent with prior years.
IDC chops the enterprise software space into three parts.
The application segment, at $167.9bn, accounted for 49 per cent of the pie last year and was growing at only 3.3 per cent. Within this segment, customer relationship management and collaboration apps had 7 per cent growth, and various enterprise social apps (which are starting from a very small base) grew revenues by 24.8 per year.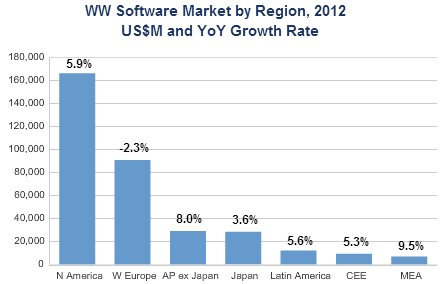 Enterprise software sales in Europe took a dive in 2012
The next biggest piece of the software pie is system infrastructure software, which includes operating systems, server virtualization hypervisors, network management tools, security apps, and other stuff that lives close to the iron, tallied up to $92.5bn, rising the same 3.3 per cent.
Virtualization software for servers and storage had double-digit growth and but the core system and storage software had flat sales compared to 2011. Microsoft is the dominant vendor in this category, with $25.9bn in revenues and a 28 per cent share of the system infrastructure software pizza.
Application development and deployment tools are the third piece of the enterprise software market as IDC slices it, and these wares brought in $81.5bn in revenues, or just under 24 per cent of the pie. This segment had 4.6 per cent growth, however, raising the class average.
The jump is due mostly to analytics applications and the databases and data stores that are underneath them, which are tucked into this category. One could argue that big data apps are in fact applications, but IDC sees the world the way it does.
Data access, analysis, and delivery software had 6 per cent growth in 2012, and structured data management software grew by 5.9 per cent. Oracle rules this segment of the market, with a 21.6 per cent market share thanks to its $17.6bn in sales. IBM, Microsoft, SAP, and SAS are ranking in that order behind Big Larry. ®