This article is more than 1 year old
Platform clouds can make enterprises all teeth and no tail
Red Hat and VMware want to be your private parts
The cloud is at the same point in its history that proprietary minicomputers were at four decades ago.
Back then, everybody was trying to figure out how to use this new technology, which offered substantial economic and ease-of-programming benefits compared to the big iron systems they replaced.
At the time it was not obvious where the upstart platforms would go or how enterprises would adopt them or reject them. But one thing was clear: enterprises would have to adopt minicomputers as peers in the data center - or there would be no minicomputer industry.
As we all know, Digital Equipment, Hewlett-Packard, IBM, and others built successful minicomputer businesses, attacking new customer bases that could not previously afford a sophisticated system for running their bookkeeping, warehouses, and manufacturing operations.
A slew of Unix-based system makers followed suit in the open systems war of the late 1980s and early 1990s, making minicomputers more compatible and giving customers more of a chance to move from platform to platform - because Unix systems at least had common features, functions, and runtimes.
Having lived through the proprietary and Unix revolutions, and seeing how fast things can change, relatively few enterprises have decided if they will move to a platform cloud, much less which one. The market is too immature at present for many to contemplate such a move.
But the decisions that companies will make about their infrastructure and platform clouds in the next couple of years will set their path for many years to come, just as it did when picking a mainframe, minicomputer, or Unix system platform.
John Dillon, CEO at Engine Yard, a San Francisco-base platform cloud provider, has seen this movie many times before, and he is positioning his company with a similar script to the one he used at Oracle and Salesforce.com.
We have had rogue computing forever
"IT departments hate this rogue compute that is actually very traditional," he explains. "The problem that they have is that it will never go away. We have had rogue computing forever. I recall when I was at Oracle in the early days when the IT departments wouldn't take meetings with my sales team because they thought relational databases were stupid. And that was fine, because we sold it departmentally on DEC VAXes. It is all kind of humorous now, but if you go back and use history as an example, you'll find that this is how most technology comes in. We had the IBM PC come in that way, and I was at Saleforce.com and that came in departmentally – the IT department didn't want that stuff."
This is how platform clouds – virtualized server, storage, and networking infrastructure that takes abstraction up another layer, weaving together programming languages and runtimes creating an application framework that exposes them as a service layer – will get traction, says Dillon.
Early adopters will include start-ups, which want to code applications fast and have not already spent a fortune on data centers and infrastructure; and small and medium-sized businesses (SMBs), which love infrastructure and platform clouds because they level the playing field. Large enterprises, by contrast, will have to take it slow.
"Big corporations that have large sunk costs in IT and compliance issues are going to dabble," says Dillon. "If they are a little progressive, instead of fighting the rogue compute guys, they may give them rules – use these programming languages and this stack under these restrictions."
The idea is to allow for certain kinds of infrastructure and platform clouds, but not others, so in the event that an application needs to be brought in house, it can be. "Gradually, they will do it for themselves, in some form or another. Either because they are scared of the cloud or have a legitimate reason to put it behind their firewall."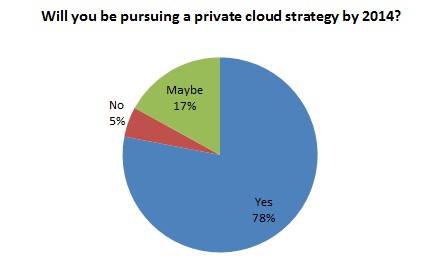 Gartner survey says companies are taking their clouds private
Start-ups and some SMBs may be eager to move to platform clouds to run their applications because of the relative simplicity they offer and the agility they get in coding, testing, and deploying applications. But enterprises have to watch out for lock in at many different layers of the IT stack. Being able to bring not just the apps, but also the whole platform cloud in-house, will be important.
And it is ironic that Engine Yard, which got its start running Ruby apps on the Rails framework as a service and now supports JRuby, Node.js, REE, and Rubinus, does not have a private platform cloud variant. At Engine Yard, its eponymous framework runs as a managed service on the Amazon public cloud and at Terremark, a hosting firm owned by Verizon.
"We can do that, technically," says Dillon, when asked if Engine Yard can create a private platform cloud for Ruby and Node.js apps. "Do I care where it runs? No, not really. Right now I run at Amazon and Terremark. I have spun up on Azure and CloudStack and someday when OpenStack is ready – and by the way it is not – I will be able to run it there. And I will look the CIO in the eye and say if you run it on your own gear it is not a cloud in the sense that you run it as a utility. However, if you ask for it, the answer is: yes you can do it. I think the future deployment model for platform clouds is that some will be in a shared environment and some will be running in a dedicated environment. This isn't about public or private."