This article is more than 1 year old
Review: Disgo 8400G 7.9in Android tablet
A 3G fondleslab for £150, where's the catch?
A 7.9in Jelly Bean Android tablet with 3G connectivity for £150? There has to be a catch, right? Absolutely. The catch with the Disgo 8400G is that you've probably never heard of the company before...
Now, this could mean you'll be ahead of the game with the next big thing in affordable fondleslabs if you bought one. However, there's also the possibility that you've stumbled upon a low-cost tablet and you'll get precisely what you pay for.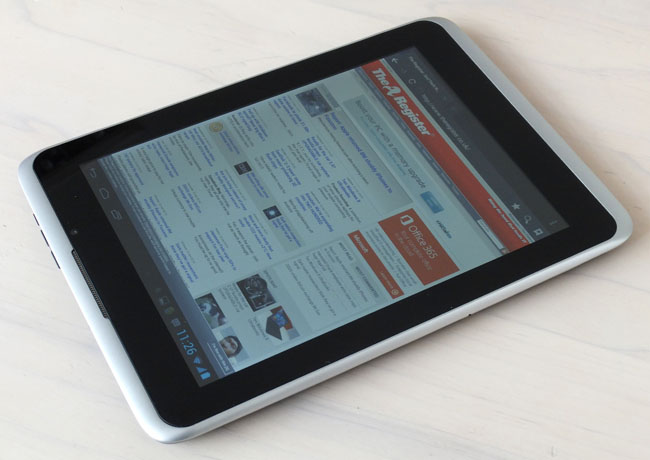 The price is right? Disgo's 8400G 3G Android tablet
Certainly, having a tablet that runs Android 4.1.2 on a Snapdragon S4 processor is an encouraging start. The MSM8625 chip is getting on a bit now, though, at well over a year old. There's 512MB of LPDDR2 RAM and 4GB of storage on board. Luckily, there's a micro SD card slot allowing expansion for a further 32GB. For mobile use it takes a full-size SIM card, features 802.11n and Bluetooth 3.0 support, along with A-GPS. In the box, a micro USB charger is supplied.
Indeed, the Android OS isn't too focused on easy disconnects of the 3G modem, which would be a great help if you're on a limited tariff. Once my Three SIM was active there was quite a bit of poking around involved to ensure it was off in Wi-Fi zones – you can never trust these things to do a smooth handover, after all. Yet downloading the free Data On-Off app from the Google Play store worked out nicely in the end.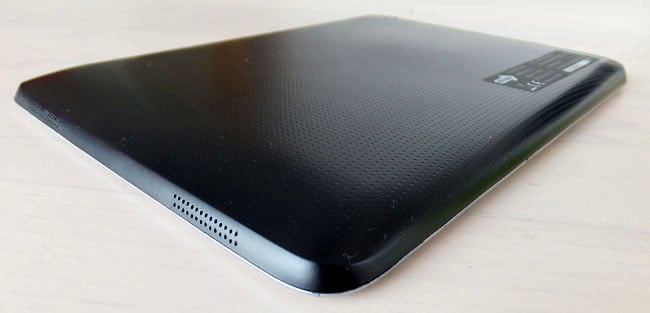 These speakers should be seen but not heard
So what about that screen size, then? At just under 8in you get a sizeable tablet, and part of the reason is that the resolution is 1024 x 768 (just like the iPad mini), rather than the widescreen letterbox aspect of most Android tablets. The outer casing isn't too imposing – the metal framing looks a little like HP's ElitePad 900 and the dimpled plastic back feels nice enough to hold, albeit a fingerprint magnet. The screen itself suffers this problem too, to such a degree that images can easily become bleary if surface cleanliness goes unchecked. Thankfully the display is very responsive to touch, with a pixel density around 160dpi; akin to the iPad Mini's 163dpi.
While the display choices share some specs, the viewing experience is worlds apart from Apple's baby. The Disgo 8400G screen is certainly not among the brightest out there and has a slighty blue-ish hue too. I can only assume there has been some tinkering to conserve power. While most browsing tasks will be fine with this, movies and photos do suffer in brightly lit environments and can end up looking a bit grim at times.

The controls end up in the base in portrait mode, but there are workarounds
In the hand it's not exceedingly heavy, and not too chunky either at 205 x 140mm and 9mm thick, according to Disgo. This seemed a bit svelte though, and the review sample measured up at 10mm. The tablet has all its controls and interfacing at one end, which appears quite sensible until you realise the accelerometer will only orientate in one direction when viewed in portrait mode.
This positioning puts all the interconnections and buttons at the bottom, which is ridiculously annoying if you have it in a cradle. Even the front-facing VGA webcam ends up buried down below. There's a 2MP camera on the back too, but neither snapper satisfied me. That said, the webcam performed well enough on Skype.