This article is more than 1 year old
Review: Disgo 8400G 7.9in Android tablet
A 3G fondleslab for £150, where's the catch?
Turning points
Overall, the accelerometer sleeps on the job and isn't particularly reliable. More often than not I'd need to press the power key to put the Disgo to sleep and fire it up again in the right position for the orientation to correct itself. Interestingly, when running both AnTuTu and Quadrant benchmarking tools, the portrait orientation flipped to appear in the way I'd prefer. It's as if somebody from Disgo has been tweaking again.
Talking of tweaking, the free Ultimate Rotation Control app managed to sort out my desired portrait orientation on this tablet.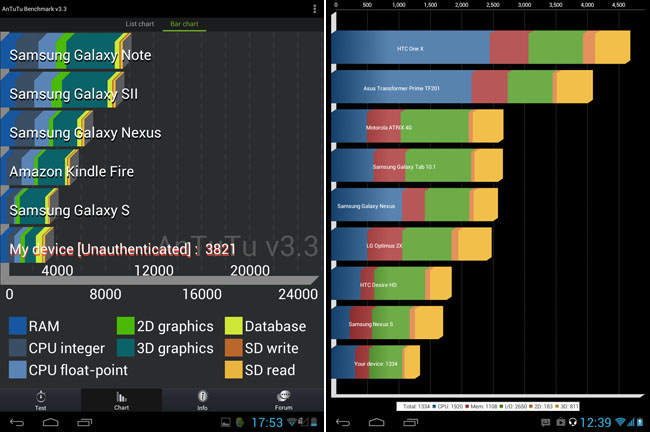 Somewhat underwhelming AnTuTu and Quadrant benchmark scores
Regarding benchmarks, I am still trying to work out why the results were so low on both tests – akin to single-core models from 2010. The dual-core MSM8625 S4 chip supposedly runs at 1.2GHz, although the test apps registered it at 1GHz; possibly it's been underclocked for energy saving. Disgo quotes 512MB of RAM but apparently this is shared with the Adreno 203 GPU, with the system info showing around 384MB left for the CPU.
Perhaps this, combined with the screen size, is where this Snapdragon tablet feels the pinch? Moreover, a glance at the test results shows that it's the 3D graphics where the Disgo falls down most. So what's it like for gaming? I've no idea, but I think we can guess.
Yet for general tasks such as web browsing, the Disgo acquits itself reasonably well. No huge delays and quite happy to deliver the goods with the music player tinkling in the background without skipping a beat, although there were momentary pauses in playback when flipping through the on-board photo gallery.
Homescreen page flipping could be smoother too, but the good news is, switching between Wi-Fi and 3G didn't deliver any noticeable difference with general browsing, although the BBC iPlayer was just as bad with both connections clocking up slow frame rates for a Charlie Chaplin-style viewing experience.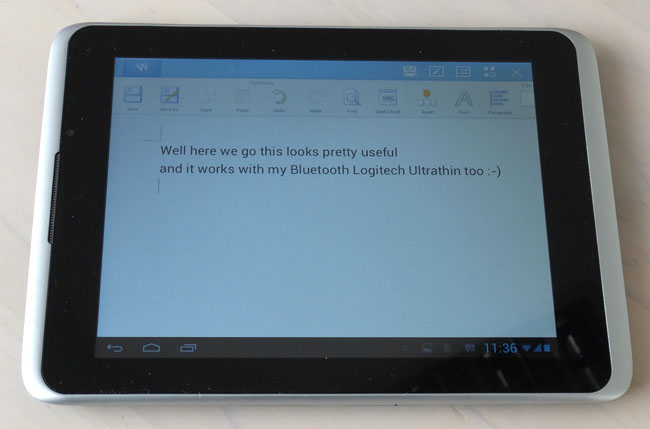 Hooked up to a Bluetooth keyboard and running Kingsoft Office works fine
Thankfully, playing movies from an microSD card was much smoother, and was equally at home with the mp4, m4v, avi and 3gp files I tried. Although, an old Xvid .avi file didn't play nice with the default Android Video app, so it became a case of VLC Player to the rescue, as always.
Sonically, though, the stereo speakers at the back have a weak output – too quiet and gutless with it – and even equaliser bass boosts don't really deliver any significant improvements. Headphones are fine though and the players respond to remote stop/go buttons on headsets – oh and there's Bluetooth too, so you can always hook up to headsets and speakers that way.
I tried out a Bluetooth keyboard with Kingsoft Office – a free Android productivity suite – and this proved better than expected, looking good on the screen and with no noticeable lag when typing. The Disgo 8400G also proved itself to be a rather tidy eBook reader, running apps from Amazon, Kobo and Google without a hitch.
Indeed, this could well be the ideal niche for this tablet. Here, not having a dazzling screen isn't too much of an issue and the 3G connectivity is going to appeal to avid bookworms. Indeed, while out and about the 3G performance was perfectly satisfactory, quickly picking up again on the train after travelling through tunnels.
As for phone calls, yes you can make them – the mic sounded fine on Skype – but you'll want to use a headset for this too, as it's just silly doing this in a speakerphone style. Whether you'd ever want to rely on the Disgo as your primary device for voice calls is another matter, but maybe you could chance it on holiday - if you weren't planning on too many chats.
There's also the battery life to consider, which Disgo claims is around 8hrs from the 4800mAh cell. You'll probably manage by applying the usual power saving tricks. With fairly heavy use and no screen dimming I clocked up around 6hrs. It's not great but it's enough to get by on.
The Reg Verdict
Indeed, that statement just about sums up the Disgo 8400G: it's not great, but it is enough to get by. This tablet has a few frustrating quirks but you simply learn the workarounds, even if they are a bit cumbersome. If you are short of cash and desperately need a 3G tablet - or for that matter, just fancy a 3G Android e-reader - then you shouldn't be too disappointed. You might even be pleasantly surprised. Just don't expect miracles: you really do get what you pay for. ®

Review: Disgo 8400G 7.9in Android tablet
Affordable 3G Android tablet running Jelly Bean on a Snapdragon S4 chip with a 7.9in 1024 x 768 pixel display.