Enterprise flash storage is proceeding inexorably down the process-shrinking road. But what happens when the shrinkage stops and flash devices evolve from using 2D to 3D chips? SanDisk thinks it might have the answer.
SanDisk makes consumer and enterprise flash. Its CEO and co-founder, Sanjay Mehrotra, gave a glimpse into SanDisk's enterprise flash future on the first quarter 2013 earnings call.
Current SanDisk enterprise SSDs and PCIe flash products are made using 24nm NAND. Mehrotra said: "We expect to launch our next-generation SaaS and PCIe SSDs manufactured on our 19-nanometer technology in the second half of this year."
The 19nm move is more advanced with client SSDs: "For the client market, we have begun revenue shipment of our new 19-nanometer SSDs to the retail and B2B channels. We are also in various stages of OEM customer qualifications with our 19-nanometer Client SSD, and we expect to begin revenue shipments late in the second quarter."
The 19nm process is also called 1X, with 24nm flash being a 2X process in flash manufacturing lingo. The industry sees future 1Y and 1Z processes coming and these generally refer to 18nm - 15nm (1X) and 14nm - 10nm (1Z) processes.
Mehrotra said:
Our 19-nanometer technology remains the dominant production node in the first quarter and we anticipate continued high usage of 19-nanometer technology throughout 2013. We expect to begin initial production of 1Y nanometer technology late in the third quarter. We will review more details related to our 1Y and future technologies during our upcoming Investor Day on May 8.
Build more fabs or shrink flash dice to get more flash bits
SanDisk operates flash foundries in partnership with Toshiba. There are basically two ways SanDisk, or any other flash foundry operator, can produce more flash bits. One is to build and commission more flash fabrication foundries, known as fabs, so as to produce more wafers; the other is to shrink the size of flash cells, via a process shrink, and so get more flash dice from a wafer. Process shrinks cost money as equipment has to be re-jigged.
Fab building costs real money, billions of dollars. Commissioning a new fab costs money too; far more than a process shrink, but a lot less than building a new fab.
Demand for flash is good but not "that" good, and so the flash industry has already-built fabs not operating, not open, because the demand doesn't justify the cost. Instead it's generally choosing to go down the process-shrink route to increase flash bits. This has the benefit of limiting supply and so keeping prices up. There are few enough flash fab owners, all with knowledge of loss-making flash gluts due to over-supply in the past, to make this discipline stick.
SanDisk has a Fab 5 already built but not operating, and Mehrotra referred to this in the earnings call:
We have decided not to add new wafer capacity in Phase I of Fab 5 during the remainder of 2013. Instead, concentrating our efforts on completing the remaining 19-nanometer transition, beginning the 1Y nanometer transition and making continued improvement in fab productivity. … Given the increased manufacturing equipment requirements of 1Y, we expect to utilise the remainder of the clean room space in Phase I of Fab 5 to continue the 1Y transition in the 3 Yokkaichi fabs. We expect that the Phase I Fab 5 clean room will be approximately 75 per cent full by the end of this year and ultimately will be completely filled by the equipment required for the Yokkaichi 1Y transition.
El Reg thinks that other Toshiba fab output customers, such as Violin Memory, could transition to 19nm NAND as well, getting higher density out of their flash chips and potentially increasing their arrays' capacity.
3D stacking
What about after 1Y and 1Z?
SanDisk has, Mehrotra says, decided 3D stacking of layers of planar or 2D cells is the way to go:
We continue to make good progress in our 3-pronged memory technology strategy, which includes cleaner NAND scaling, 3D BiCS NAND and 3D resistive RAM. As we consider future clean room space requirements, we will need additional space to complete the 1Y technology transition and to enable transitions to 1Z nanometer for Fab 3, Fab 4 and Phase I of Fab 5 and potentially for Bics NAND technology as well, once it is ready for manufacturing. While we have not made a final decision, we now expect to begin construction of the Fab 5 Phase II shell sometime in the second half of this year, with construction expected to take 7 quarters. Phase II of Fab 5 is not expected to contribute any meaningful incremental wafer capacity for SanDisk in 2014.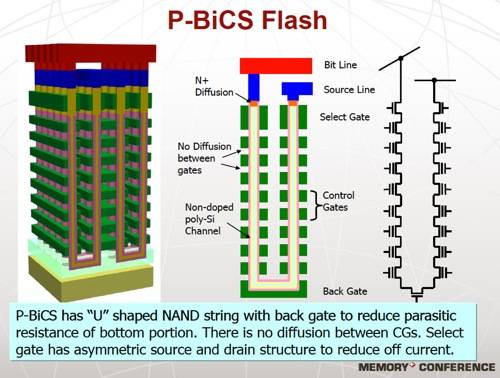 "BiCS" is bit-cost scalable flash and a Toshiba technology. P-BiCS is pipe-shaped BiCS.
The whole area has a deal of uncertainty about it with Mehrotra saying:
NAND's future technology roadmap beyond 1Z … is not certain, and the 3D technologies of the future are in -- still in early stages of development. It's not clear that how much of the toolset of those 3D technologies will be usable [in] common with the NAND memory production. … the 3D technology [is] 2 to 3 years away from any meaningful production."

1Y technology will start production in the third quarter. And even in the fourth quarter, the 1Y production level will be very small … 1Y will be ramping up primarily during the course of 2014 and perhaps some in 2015 timeframe as well.

I believe that meaningful production of 3D technology and here I'm, of course, referring to BiCS kind of 3D NAND technologies, meaningful production is 2 to 3 years out. Of course, some pilot line level of production can begin earlier because that what it would take to demonstrate the viability of the technology. But any meaningful production in 2 to 3 years away in the industry because meaningful production requires not just a technology. It requires all the application, all the system-level solution to be ready and for the technology to be adopted by the host of applications that exist out there.

And if we speak about 3D resistive RAM technology, that is farther out. It is still in very early stages of development. And as we have said before, it requires EUV technology and EUV technology from becoming really cost-effective for byte adoption and production is also a few years away. So 3D NAND technologies in the industry, I believe, 2 to 3 years away before they become meaningful."
The indicated timescales are:-
1Y NAND starting in 2013's third quarter and ramping up through 2014
1Z production starting, we think, in 2015/16 and ramping up after that
3D BiCS production starting in 2015/16 with pilot production first, perhaps in 2014
3D ReRAM starting, we guess, in 2017/18 or maybe later.
El Reg notes that Mehrotra did not actually say when 1Z NAND production might start. This, taken together with his 3D BiCS schedule, indicates to us that 1Z NAND may not happen. On the other hand, it may actually happen and push 3D NAND out two or three years, to 2017/18. There seems to be uncertainty about the viability of 1Z NAND. Having a move to 1Z at the same time as a move to 3D would seem to us to be unnecessarily complex
For argument's sake let's assume every step in this sequence gives us a 33 per cent boost in capacity. So ... a 600GB 1X SSD would become an 800GB with 1Y NAND, 1.06TB product with 1Z flash, a 1.4TB product with 3D NAND, and a 1.9TB one with 3D ReRAM. These are, of course, just speculative numbers.
Acquisitive SanDisk
CFO Judy Bruner added some cost colour to this as well as indicating SanDisk could be looking to acquire more capabilities in the future. She said:
"We do believe that when we transition in the future to 3D technologies, post-planar NAND technologies, that, at some point, we will need to add new capacity for those technologies and that the capital cost of adding that capacity will be high. So we do believe that we will need and utilise some of that cash at some point in time in the future when we are transitioning to 3-dimensional technology."
Bruner added: "Beyond that, we absolutely want to maintain flexibility for acquisitions. We believe that there could be opportunities out there that could be advantageous to our business and to adding shareholder value, and we want to maintain flexibility to be able to move quickly in those situations." ®