Spies catch Acer's Windows 8-incher before it hides
Smaller unit should be less intimidating to punters
---
Acer will be the first of Microsoft's hardware partners to release a small-screened tablet running Windows 8, if photos purportedly leaked from the PC maker are any indication.
French technology site Minimachines was the first to reveal photos and specs of the sub-sized device, which it claims will have an 8-inch screen and will be dubbed the Iconia W3.
That report has since been removed, however, reportedly at Acer's request. You can interpret that to mean either that the leak was genuine or that the report was in error; take your pick.
If the device is genuine, power will not exactly be its strong suit. With a 1.8GHz Intel Atom Z2760 processor and 2GB of RAM, its specs are similar to some other Windows 8 tablets, such as the Lenovo ThinkPad Tablet 2 – which is to say you can expect its performance to be acceptable, but nothing to write home about.
What sets the W3 apart from earlier Windows 8 tablets, of course, is its size. Microsoft's initial specifications for the platform required OEMs to ship devices with screen resolutions no lower than 1366-by-768, but it quietly relaxed that requirement in March, a move many analysts saw as paving the way for smaller slabs to come.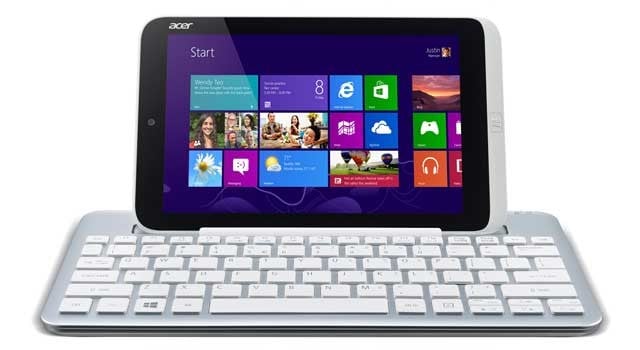 If this fondleslab exists, it may be the the first Windows 8 device with an 8-inch screen
The new minimum screen resolution is 1024-by-768 pixels, but Acer's new panel is unlikely to go that low. More likely, the W3 will pack a screen with a resolution somewhere around 1280-by-800 pixels, comparable to Google's Nexus 7.
A series of photos that were removed from the Minimachines site along with the report depicted a few accessories for the Iconia W3, too, including a case that folded over to double as a stand and a dockable full-sized keyboard.
The W3 will reportedly run full Windows 8 Pro, meaning it will be competing for customers with Microsoft's Surface Pro and similar tablets, rather than with ARM-powered Windows RT devices.
Windows tablets in general have not fared particularly well in the market, moving slowly even during the all-important holiday shopping season. Some analysts have speculated that one reason for this has been because Windows 8 fondlesabs have all had 10-inch screens or larger, while customers have been leaning toward less-hefty devices with smaller screens, such as the Nexus 7 and the iPad mini.
Microsoft itself is reportedly readying a new Surface model with a 7-inch screen, though it's unknown whether that version will run Windows 8 or Windows RT.
Your Reg hack will leave it up to you, dear reader, to decide whether it's the size of the screen or Redmond's OS that has turned consumers off from Windows tablets. While a Windows tablet that you can hold in one hand will doubtless appeal to some, Windows 8's touch controls aren't always ideal, particularly when running desktop apps, and having an even smaller display isn't likely to help matters much.
Meanwhile, notebook makers are reportedly readying convertible tablets based on Google's Android OS, presumably as a hedge against worrying Windows sales.
We'll just have to wait and see which of these devices succeed and which fail when they all begin shipping later this year. Although no pricing information was given for the Acer Iconia W3, it is said to be planned for a September release, just in time for the back-to-school season. ®