AMD pins future growth to embedded marketplace
G-Series SoCs to turn sliver of revenues into wedge
---
AMD has announced a new range chips for embedded devices, and said it hopes that 20 per cent of its revenues in Q4 2013 will come from that market, rather than the 5 per cent currently.
Embedded chips are one prong of AMD's new pitchfork of profitability along with servers and ultra-low power tablet chips. The chip giant is investing in these areas as it looks to broaden its business beyond the corpse-like creature formerly known as the traditional PC market.
"The new AMD Embedded G-Series SoC platform further signifies a strategic push to focus on high-growth markets outside the PC industry, with an emphasis on embedded systems," the company wrote in a release announcing the chips.
The 28nm G-Series chips combine graphics, IO and CPU onto the same die, have a power envelope of between 9 and 25W, incorporate error correction code (ECC) memory support, and can have up to four cores. CPU performance is 113 per cent up on the previous generation of AMD's Embedded G-Series APUs, the company said.
AMD hopes the chips will give it an edge against Intel in a market made more competitive by both companies' desire to wean themselves off a dependence on fast-disappearing PCs. But it also sees the company go up against IBM, Freescale Semiconductor, MIPS Technologies, Intel's own embedded wing, and a slew of smaller companies.
But AMD thinks its x86 architecture combined with its natural expertise in graphics has helped it make an embedded chip that can offer performance options that are otherwise unavailable in the competition's hardware.
"The name of the game in embedded is integration - the more integrated the box is the more value it has, the more integrated the chip is, the more value it has to the box," Arun Iyengar, general manager of AMD's Embedded Solutions division, told The Register.
Each chip has 2MB of shared L2 cache across a maximum of four "Jaguar" cores which can range from 1 to 2GHz for clockspeed, a 1600MHz ceiling on max speed of DDR3, an integrated Radeon HD 8000 GPU for graphics, integrated I/O, and an industrial temp range of -40℃ to +85℃. The chips support Windows Embedded 8, and Linux.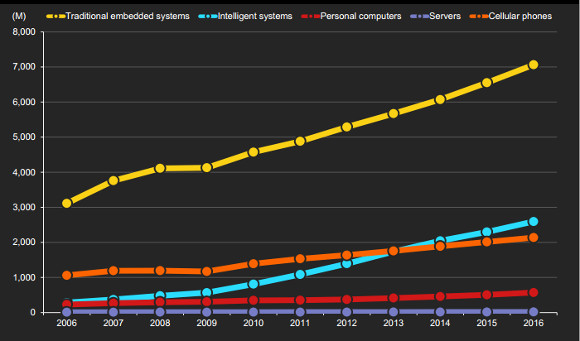 AMD hopes to find a pot of gold in embedded systems
The graphical capabilities come from an integrated AMD Radeon GPU, which supports enhanced universal video decode (UVD) 3 hardware acceleration, along with OpenCL, and DirectX 11 and OpenGL.
At launch, the chips are available in five variants, ranging from a GPU-less quad-core 1.6GHz chip, up to a four-core 2.0GHz chip with a 600MHz GPU. Prices range from $72 to $49 per chip, with discounts available for bulk buyers.
It struck us that these chips could be a bit overpowered for traditional embedded roles, but Iyengar said the the growth in display technologies means there is demand. "I see customers and implementations today where people are saying we really do need this capability," he said.
AMD feels that by packaging up CPU, GPU and I/O into a single system-on-a-chip, it can grab a wedge of the high-powered embedded market. It indents the G-Series to go into thin client-based infrastructures (smart kiosk displays, gambling machines), industrial automation gear, and enterprise gear like low-end storage appliances and security surveillance kit. The chips support Windows Embedded and Linux.
One design tradeoff the company had to make to keep the power consumption low was the use of PCIe Gen 2 for I/O, rather than the more advanced PCIe Gen 3.
"We feel it has a very comfortable headroom in terms of ability to bring data in and out," Iyengar said, "it was also a very good power saving."
By example, Iyengar said AMD has already built a just a bunch of disks (JBOD) array of "20 to 30" consumer-grade HD disks, and is using a G-Series trip to control them all.
The chips will become generally available in the second quarter of 2013, and when they do AMD hopes a broad segment of the embedded industry will come out with products that use them. They will have to, if AMD is to achieve its 20 per cent goal. ®