This article is more than 1 year old
New poll says Assange could win Australian Senate seat
26 per cent of Aussies "likely" to vote for Leaker-In-Chief
Julian Assange's bid for a seat in Australia's Senate may not be just a stunt, with a new poll revealing 26 per cent of Australians consider themselves "likely" to vote for the Leaker-In-Chief.
Assange has repeatedly announced his candidacy for a seat in the Senate, the upper chamber of Australia's national Parliament which comprises 12 representatives from each of the nation's six States, plus a pair from each of its Territories. Half of each State's Senate Seats will be decided at Federal election scheduled for September 14th.
The source of the new poling data is UMR Research, an organisation that says it is "a full-service opinion, issues management and campaign company" that specialises in "political research and campaigns, corporate reputation, issues management and social marketing". UMR conducted 1000 online interviews with Australian voters last week and says its data offers "Maximum margin of error at 95% confidence level: ±3.1% (n=1000) 2."
In answer to the question "Recently, Wikileaks has announced that Julian Assange plans to run for a seat in the Australian Senate. If he were to run, how likely would you be to vote for him and the Wikileaks Party?" 26 per cent of respondents declared themselves likely voters for the Wikileaks Party.
23 per cent of voters in Victoria, where Assange will run, consider themselves "likely" to vote for his party.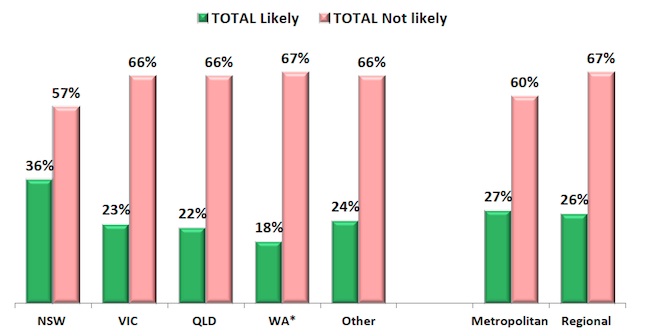 Polling data from UMR Research suggests Julian Assange
could win a seat in Australia's Senate
Source: UMR Research
* Denotes a small sample
UMR Research's Director David Utting has told Fairfax Media he doesn't think that level of support will be sustained on election day.
But Assange doesn't need 23 per cent of votes to win a seat, because voting for Australia's Senate uses compulsory preferential voting, with candidates elected if they secure a quota of one sixth of all votes cast. Once a candidate secures a quota, further votes for that candidate are passed on to voter's second preference. This system means that a candidate can be elected without many voters selecting them as their first preference.
The realities of Australian politics mean that the State of Victoria, Assange's home for several years, will elect two Senators from the dominant Labor party and its main rival the Liberal/National coalition. A fifth seat will likely go to The Australian Greens, leaving the sixth up for grabs.
That seat may, if recent history is any guide, go to a candidate who secures as little as two per cent of first preference votes. That's what happened in 2004 when Senator Steven Fielding won just 1.8 per cent of the vote, despite belonging to a party – Family First – that had never previously run at a Federal election. In 2010 the State elected a Senator from the Democratic Labor Party, an organisation founded in the 1950s as an anti-Communism movement with sectarian overtones and which had been in remission between 1978 and and 2004. Senator John Madigan won that seat with 2.33 per cent of the vote.
Senators Fielding and Madigan both benefited from major parties directing preferences in favourable ways. There's no indication Assange will receive similar treatment, which will cruel his chances. Nor can he count on support from sympathetic parties: The Greens won just 1.02 quotas in 2010, so even if the party wins again it won't have many excess votes to send Assange's way.
Even if Assange did win a seat, Australian Parliamentarians don't enjoy privileges that would allow him avoid arrest upon exiting the Ecuadorian Embassy in London. And as this article points out, he may in any case not be eligible to run. Even if he is eligible and wins, he then faces the problem of appearing in the Senate, as if he fails to do so his seat would be declared vacant and awarded to another member of his party.
If that were to happen, Australia would likely gain a noisy pro-Assange voice in Parliament. That could still be useful to Assange, as the Senate has not delivered an absolute majority for the government of the day during most of the last thirty years. Minor party or independent Senators therefore often trade support for the Government's agenda for support for their pet causes.
Australia is, however, like to elect a Conservative government unsympathetic to Assange. Even if he or a colleague secures a seat, it's hard to see Australia's government moving mountains to assist nation's most infamous hacker/leaker to escape his legal and moral predicaments. ®