An international coalition of nongovernmental organizations (NGOs) has formed the Campaign to Stop Killer Robots, a lobbying organization aimed at securing a worldwide ban on fully autonomous weapons.
"Lethal armed robots that could target and kill without any human intervention should never be built," Steve Goose, director of the arms division of Human Rights Watch, said in a statement on Tuesday.
So far, such fully-automated robots don't actually exist outside of science-fiction films and, encouragingly, several governments have already expressed opposition to the idea.
The UK government has said that it has no plans to build fully autonomous weapons, and in November 2012, the US Department of Defense issued a directive mandating that any such weapons must be designed so that the decision to use lethal force involves "appropriate levels of human judgment."
But the Campaign to Stop Killer Robots believes that directive doesn't go far enough, and that unless a clear and permanent ban is put in place, the rise of autonomous military machines is all but inevitable.
"Many militaries are pursuing ever-greater autonomy for weaponry, but the line needs to be drawn now on fully autonomous weapons. These weapons would take technology a step too far, and a ban is needed urgently before investments, technological momentum, and new military doctrine make it impossible to stop," Goose said.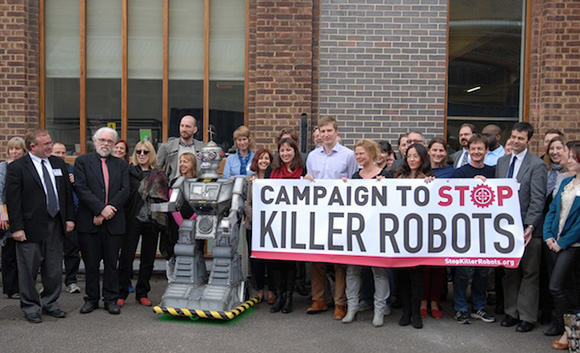 Campaigners and one of their foes at a news conference in London on Tuesday
In November 2012, Human Rights Watch and the Harvard Law School International Human Rights Clinic released a report entitled "Losing Humanity: The Case Against Killer Robots," which detailed various legal, ethical, and policy concerns related to autonomous weapons.
Speaking to the BBC on Tuesday, however, the Campaign's leader Jody Williams was much more blunt.
"The public conscience is horrified to learn about this possible advance in weapons systems. People don't want killer robots out there," Williams said. "Normal human beings find it repulsive."
Joining Human Rights Watch in the Campaign are organizations from some ten countries, including Article 36, the Association for Aid and Relief Japan, Mines Action Canada, the Nobel Women's Initiative, and the Women's International League for Peace and Freedom, among others.
Several of the participating groups have previously been involved in successful efforts to ban other types of weapons, including antipersonnel landmines, cluster bombs, and blinding lasers.
Not everyone is convinced, however, that a ban on robotic weapons is necessary at this juncture. Ronald Arkin, a robotics professor from Georgia Tech university in the US, told the BBC that the important thing was not to rush technology to the battlefield half-baked.
"A moratorium as opposed to ban – where we say, 'we're not going to do this until we can do it right' – makes far more sense to me than simply crying out, 'ban the killer robots'," Arkin said. "Why should we do that now?"
But Human Rights Watch's Goose said a ban is necessary now as a preventative measure.
"If one or more country chooses to deploy fully autonomous weapons, others may feel compelled to abandon policies of restraint, leading to a robotic arms race," Goose said.
The coalition has called for an international treaty outlawing autonomous weapons, in addition to laws banning the devices at the national level, among other measures.
Reg readers who would like to join the anti-killbot crusade can find more information at the Campaign's official website and follow its Twitter feed at @BanKillerRobots. ®
Similar topics