First batch of Firefox OS phones sells out in hours
Experimental handsets a hot item among developers
---
The first batch of phones based on the Mozilla Foundation's open source Firefox OS has sold out, mere hours after they were announced for sale.
As we press the big, red Publish button on this story, Geeksphone, the Spanish startup that designed and built the devices, has shut down its online store, replacing it with a notice indicating that no more handsets are available.
The site promises that sales will resume "in the following hours," but there was no indication as to just how many devices will be made available in total.
Geeksphone isn't the first company to experience such high demand for a new smartphone. For example, the Nexus 4, Google's most recent flagship Android smartphone, met with similar supply problems.
What makes the run on Geeksphone's devices so remarkable, however, is that the devices were intended for developers only, as Firefox OS is still in a fairly raw state.
"These devices are strictly for developers looking to test and create apps for Firefox OS," a Mozilla spokesman told El Reg on Monday. "These devices have not been designed for consumers and include a pre-release development version of Firefox OS."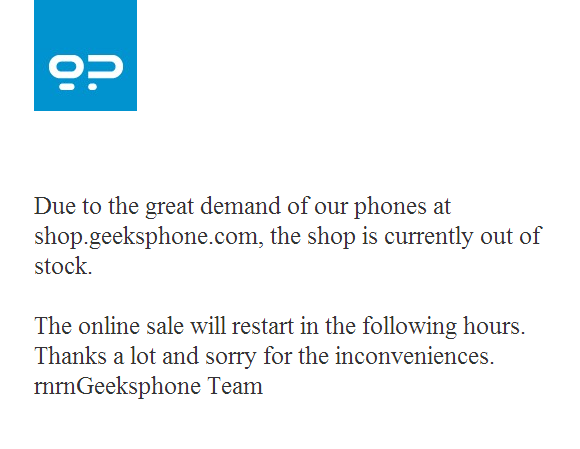 The brisk sell-through of the devices indicates strong developer interest in Mozilla's new OS, which includes an app development model based entirely on HTML5, JavaScript, and other open web standards.
The two developer devices offered for sale included the Keon, an entry-level model with a low-resolution screen; and the Peak, a version with more generous hardware specs. Both models have reportedly sold out, at least for the time being.
Mozilla says it plans to launch consumer Firefox OS phones in 2013 in collaboration with Chinese electronics maker ZTE. The initial devices will be made available in Brazil and a yet-to-be-named Eastern European country, according to reports.
Geeksphone did not immediately respond to The Reg's request for comment. ®
Similar topics
Narrower topics