This article is more than 1 year old
Black-eyed Pies reel from BeagleBoard's $45 Linux micro blow
Gigahertz-class pocket-sized ARM Ubuntu rig, anyone?
Pics Open-source hardware outfit BeagleBoard has formally announced a major revision of its BeagleBone board computer that ups the spec and downs the price.
The BeagleBone Black's single-core processor jumps from its predecessor's 720MHz to 1GHz. It's a Texas Instruments AM335x system-on-a-chip, which uses ARM's Cortex-A8 architecture and a SGX530 3D graphics engine. The CPU is backed up with 512MB of 606MHz DDR 3 memory and there's 2GB of flash storage on the board too, with a Micro SD slot if that's insufficient.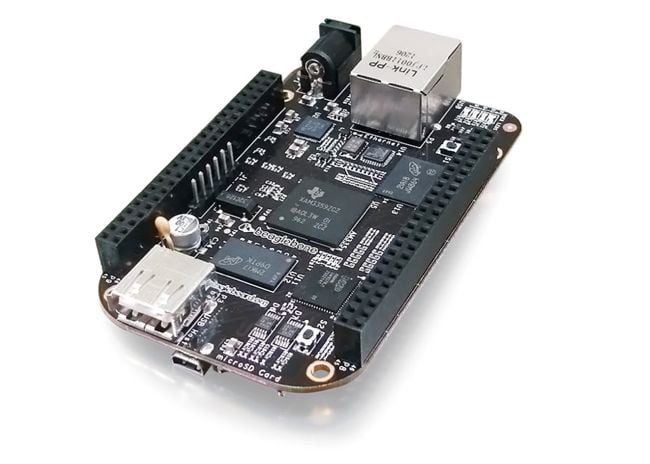 Chalk one up for the Black board
The Black's six-layer, 85mm x 53mm PCB holds all the above plus an HDMI port, 10/100Mbps Ethernet and a cylinder 5V power jack. There are two USB connectors: a full-size jack for host operations and a mini USB client port.
The board also has two female 46-pin IO headers for hooking the Black up to external electronics. It also has a serial port header for debugging.
All of this comes at $45 (£30) - that's half the price of its predecessor and only $10 more than the $35 Raspberry Pi, the British-designed ARM-based board computer the Black will be most compared to.
That extra $10 - £6.55 in real money - buys you the ability to run ARM flavours of Linux more comfortably than the Pi's 700MHz Broadcom system-on-a-chip can manage. That will appeal to tech tinkers who like the Pi's hack-it-and-see approach to computing but are frustrated by its desktop performance.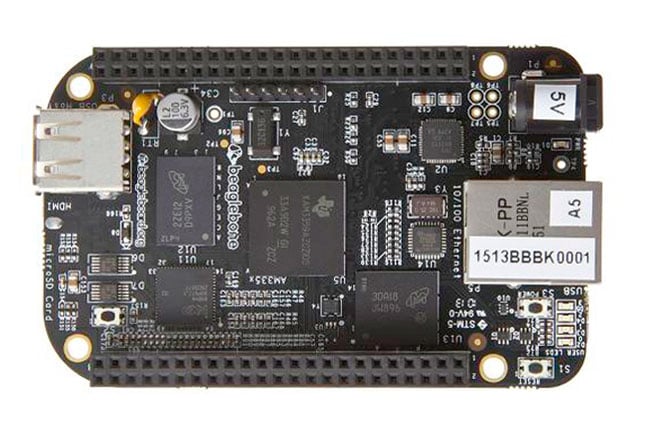 Yup, that's all of it
The Black also has an Android distro.
BeagleBoard's Black is aimed squarely at folk working on hardware hackery - the maker movement, as it's called in the States. The Pi with its cutesy name has found a ready audience here too, but it was always more about getting kids to learn to code in their bedrooms than emerging as a cheap hardware controller.
The Black will be made available through seven distributors, including Pi supplier Farnell Element 14, which says it'll have stock in the UK early next month. It's asking for £33.44 including VAT. Farnell has a full PDF datasheet here. ®