This article is more than 1 year old
Heroku PaaS floats over to Europe
Geo-redundancy for the trendy Ruby cloud
Heroku's platform-as-a-service cloud has come to Europe, giving local developers a chance to reduce the latency of applications they've stuck on top of the application automation technology.
The Salesforce-owned company announced on Thursday that brave devs can try serving their apps from Ireland rather than America, if they sign up for the public beta.
"After collaborating closely with customers during private beta, we're now reasdy to offer Heroku services in Europe to all customers as part of a public beta," the company wrote in a blog post announcing the move. "The Europe region runs Heroku applications from datacenters located in Europe, offering improved performance for users in that region."
The European region is located within Amazon Web Services' major Euro data center hub in Ireland. By running apps from there, local users could see a performance increase of as much as 100 milliseconds, the company said.
However, the company is not yet a registered participant in the Safe Harbor program, so it cannot offer guarantees relating to how it handles data, and whether it will pass information through systems located in America.
"You should assume that some portions of your app and its data will be in, or pass through, datacenters located in the US," the company said.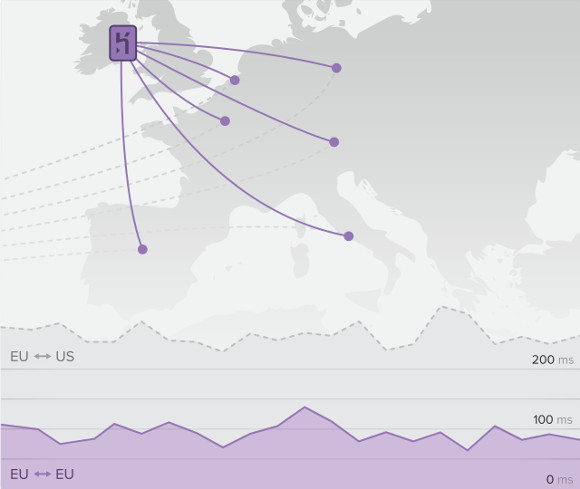 But woe betide you if your users are in South America, or Asia, or Africa, or...
Along with the European region, the company has created a Heroku fork tool, which lets copies over an app's Postgres (DB) data and config vars to a new region, saving developers migration headaches.
Heroku's multi-region feature was praised by developers, with many European techies rejoicing at the chance to reduce the latency of their apps. However, devs in South America, Asia, Africa, and other far-flung regions are still facing an awkward latency-heavy situation.
From an operations perspective, running a cloud service across multiple regions is notoriously difficult. Procrastination giant Netflix has had to develop a large quantity of software tools to let it straddle cloud regions without having problems, and Heroku will likely need to build new tools as well.
But the PaaS is still dependent entirely on the Amazon Web Services cloud, unlike rival Engine Yard, so any hiccups in AWS data center regions will affect Heroku, but at least its users can now flee to another region. ®