App reads The Indie's dead-tree pages - so you don't have to
Tabloid-broadsheet joins digital world circa 2003
---
Printed pages of lefty paper The Independent can be scanned by a phone app and decoded into links to recently updated words and pictures online.
The newspaper, operated by Russian father-and-son duo Alexander and Evgeny Lebedev, is using "augmented reality" app Blippar, which uses a phone's camera to recognise pages from the day's edition and offers additional content. Users can then tap to load image galleries and videos, or vote in polls, thus connecting readers to web content without making them run a browser or type in a URL.
The idea is far from original. New Scientist was linking its printed pages to its virtual presence a decade ago. Various technologies have been used to smooth the transition between print and web, including QR codes and even NFC tags.
Blippar's technology is elegant enough, though one has to get the whole page into frame - which can mean leaning back from the breakfast table to get a proper view: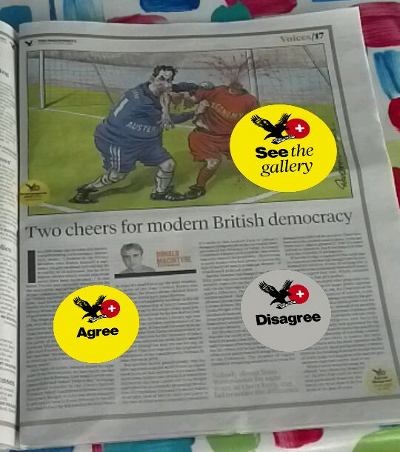 Breakfast with the paper. Just avoid dropping your phone into the Weetabix - how the app looks once you snap a pic of a page
While technically proficient, in the rare cases where moving or fresh images would help, the content is already available online - on The Indie's website. So, one could go to the independent.co.uk, navigate to the same stuff and the videos would work too (their videos didn't work during our test, but we'll chalk that up to teething troubles).
Such apps are only useful if the content to which they link provides relevant and live information, rather than more adverts and a sprinkling of updates.
Last October a Tokyo newspaper, Shimbun, created an app which overlaid kiddy-friendly versions of stories atop the printed pages. This genuinely added value and was promoted as a way to reconnect families. However, only 10 stories (and four adverts) were expanded this way as a demonstration of what would be possible if the app could have been monetised.
Newspapers still provide a useful alternative to web reading. Experimenting with new ways to integrate different worlds is unquestionably the way ahead for them, but it's hard to see anyone on the train taking out a mobile phone to get additional pictures of Crossrail, or voting on whether Parliament's backbenchers are more or less interesting these days. Which, unhelpfully for Lebedev & Son, makes the whole thing look like a PR exercise reminding everyone that papers still exist.
Independent+ is available on iOS and Android devices with Blippar installed. ®
Bootnote
The Indy's PR strapline for the Blippar launch is "wouldn't it be great if your paper could update in real-time?" El Reg feels duty bound to point out that we've been doing exactly that since the 1990s, on this wonderful thing called The internet.