Corsair has made a name for itself offering solid-state drives, fast memory and other components to fit inside high-performance PCs.
But its latest product takes the supplier out of its comfort zone and into the world of smartphones and tablets. It also carries the company into the network-attached storage arena.
It's a good job, then, Corsair has made a decent stab of it.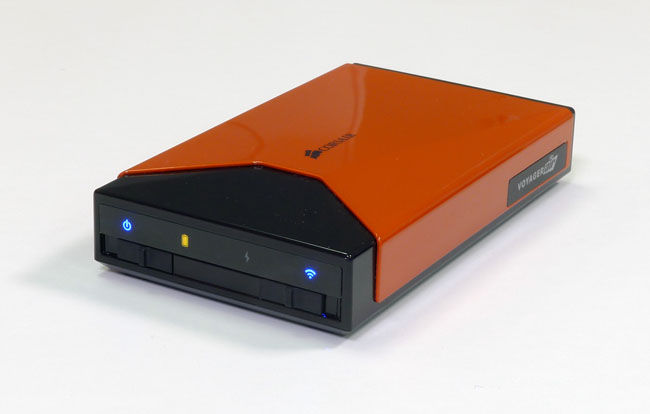 Corsair's Voyager Air: extra content capacity for your tablet or phone
The Voyager Air is a wirelessly connected hard drive of the kind Seagate offers. Like the Seagate Wireless Plus, which I reviewed back in February, the Corsair drive packs a 1TB HDD, with a 2.4GHz 802.11n Wi-Fi adaptor on board for fondleslab and phone connectivity, and a battery - its capacity is 6200mAh - to keep the Air running when you're away from the mains. There's also a 500GB Voyager Air for folk with less money to spend. Neither has WPA security enabled out of the box - you need the app to do that. Though the drive is pre-formatted with the NTFS file system, Mac users can change it to HFS+. It doesn't support the various versions of EXT.
Design aside, there's not much to distinguish the Seagate and Corsair offerings. The Latter is the larger and heavier of the two, but not by much. Both make use of Android and iOS apps to make their contents available to mobile devices. In each case you power up the drive's Wi-Fi and connect to it from your tablet as you would any other wireless hotspot. Both drives can be configured through the app to connect to an internet-fed wireless router, so you don't have to stop viewing web pages, downloading email and such to use them.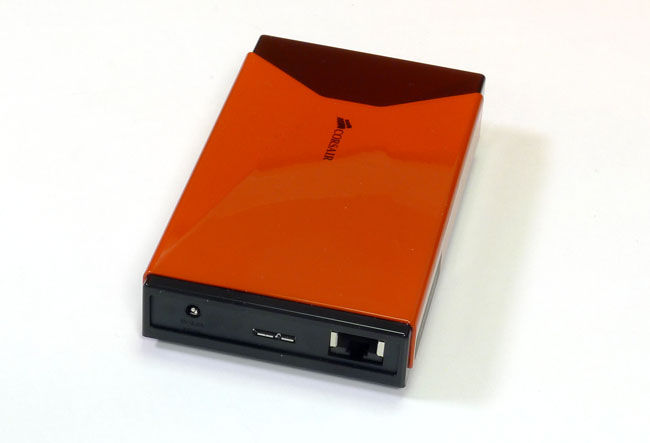 Not just USB 3.0 round the back but Gigabit Ethernet too
Both wireless drives can be hooked up to a computer, and both use USB 3.0 to do so. Seagate's drive has a novelty: the USB port unclips from the back of the drive to allow you to slip on optional Thunderbolt and eSata connectors, handy if you make use of these high-speed feeds, though I suspect Superspeed USB with suffice for most users. Both drives use a micro USB 3.0 connector so it's easy to clip in a micro USB 2.0 cable if that's all you have to hand, though USB 3.0 works with USB 2.0 ports in any case.
The Corsair Voyager Air has a couple of novelties of its own. First, a built-in Gigabit Ethernet port so you can hook it up to your network and use it as a basic NAS box. Sophisticated NAS users will be nonplussed - the Voyager Air is little more than a network-connectable hard drive with a single, public shared volume. You won't find on-board Torrent clients, FTP and media servers, user access account management, storage quotas or anything like that, just basic Windows/Samba file-sharing.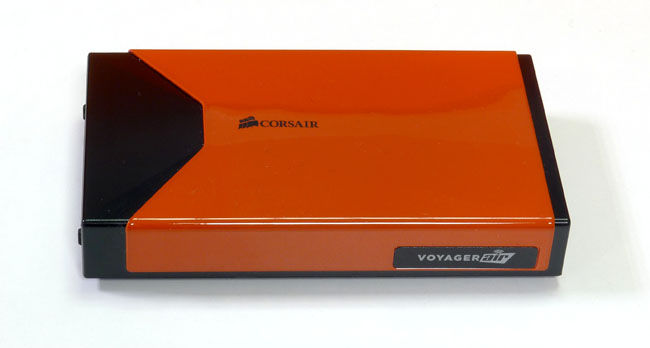 Only a little larger than your average 1TB external HDD
And, unlike the Seagate, the inside of the Voyager Air is reasonably accessible. Remove the screws hidden beneath a rubber bung and the drive's feet, unclip the baseplate, and you're in. Remove the battery and the Wi-Fi card, and you should be able to get to the circuit board and the hard drive beneath. There's the potential, then, for upgrading the storage down the line.
The Voyager Air app - iOS and Android - combines the customary content-access features with a UI that's trying less hard to impress than Seagate's equivalent. For me, the app is just a tool to access the drive and route content to my chosen viewer apps, so I don't need to corral my movie and music files, my photos, and my general documents for me into dedicated file listings. Corsair's app doesn't do so. It simply presents the contents of the drive in whatever folder structure you've given it. Whether you drop all your files into the root directory or carefully organise them into a hierarchy of folders, Voyager Air is happy.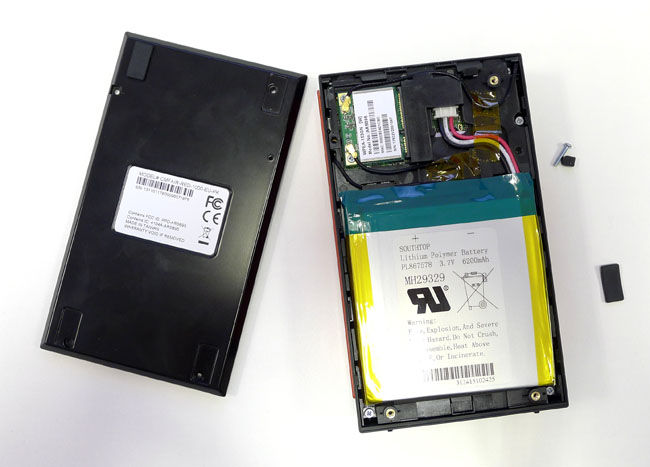 The Voyager Air isn't readily accessible, but you can get in
It checks filename extensions for certain common types and presents appropriate generic icons. There are no previews to indicate what the file may contain, unless the files are photos and you've viewed them directly. That seems reasonable to me. I named the files so I'd know what they are, and I don't need my wireless drive wasting time, processor cycles and battery life - which the app's UI displays, by the way - building and maintaining a media library, ta very much. If you need that, you'll be wanting the Seagate drive not this one.
Still, the app's not as smart as it could be. It knows, for instance, that an AVI file contains video and it displays its clapperboard icon accordingly. Apple's iOS doesn't support AVI natively, but Voyager Air still gives you the option to open the file as to view as such, as well as an Open With button to load the file into a separate app that does read AVIs. Selecting Open pops up a generic 'can't open the file' error message. It's not beyond the wit of Corsair's coders, surely, to know that iDevices don't play AVIs unless there's a suitable third-party app installed and so auto-disable the Open button for this file type? They check the file type to select the appropriate icon, after all. This is not a bother for Android users, of course.