This article is more than 1 year old
Western Digital profits down despite revenue rise
Declining drive prices ate into income
Revenues for disk drive industry leader Western Digital's third fiscal 2013 quarter rose 24 per cent to $3.8 billion – compared to $3 billion a year ago – but profits fell 19 per cent. It's a hard life in the disk drive business.
The previous quarter's revenues were $3.8 billion too; no change there, then. Third-quarter profits of $391 million compare poorly to the year-ago quarter's $483 million, but Thai-flood-induced disk price rises are now long gone.
Profits were up sequentially; the second fiscal 2013 quarter's profits were $335 million.
"Overall industry demand was in line with our expectations. In our business, we saw strength in enterprise, stable performance in client and consumer electronics, and some anticipated seasonal softness in Branded Products," WD CEO and president Stephen Milligan said in a statement.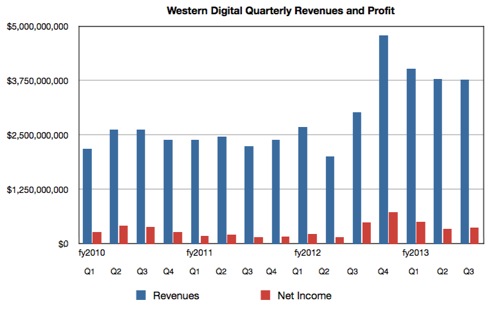 WD shipped 60.2 million drives in the quarter. By comparison, it shipped 59.2 million in the second quarter and 44.2 million in the third quarter of fiscal 2012, back before WD acquired HGST.
We charted the rise and fall in WD's average selling price for its hard drives and here's the graph:

One thing that will affect this is that the average capacity of 3.5-inch and 2.5-inch disk drives is trending up. However we'd, need to know the split between 3.5-inch drive numbers and 2.5-inch drive numbers to understand this effect better, and we don't have that data.
Interestingly, the ASP in the year-ago quarter was higher, $68.67 compared to the latest quarter's $62.52. That would help to explain a profits drop. ®