World's first 5mm-thin gyrating models paraded on disk catwalk
Crumbs, someone needs a fat lunch
---
Western Digital has launched the world's first single-platter 5mm-thick disk drives - including one with a cache of flash memory.
It's also announced an enterprise-class 2.5in drive in a 3.5in frame so as to ease migration from 3.5in performance to the XE, a 2.5in form factor.
The single-platter 5mm-thick UltraSlims are intended for tablet, svelte notebook and any other smart portable devices with constrained internal space and power requirements. These 2.5in drives fall under WD's umbrella of Blue products, which offer mainstream performance, while the flash hybrid model is part in the Black range of high-performance drives. Samples of 500GB and 1TB hybrid Blacks with 24GB of flash were in computer makers' hands in January.
WD UltraSlim Blue
The capacity of this single-platter drive is 500GB and it has a compact connector. This helps it withstand shocks, we're told. WD added that "this new connector receives power from and interfaces with the host I/O bus via the SATA interface connector SFF-8784".
Western Digital said the drive has StableTrac technology, in which "the motor shaft is secured at both ends to reduce system-induced vibration and stabilise platters for accurate tracking during read and write operations which enables consistently higher performance", we're told. It's also got WD's dual-stage actuator to finely control the final position of the read-write head over a disk track after a conventional electromagnetic actuator swings the head more or less into location.
This slim Blue drive is up to 36 per cent lighter than an ordinary 9.5mm-thick 2.5-inch drive, and can tolerate shocks of up to 400G whether or not it's in operation. The thinness of the drive makes it more susceptible to a physical bashing in WD's view, and its engineers were told to design shock tolerance to deal with this. We believe it spins at 5,400rpm. It is being announced a year after WD announced the single-platter Scorpio Blue which was 6.8mm thick.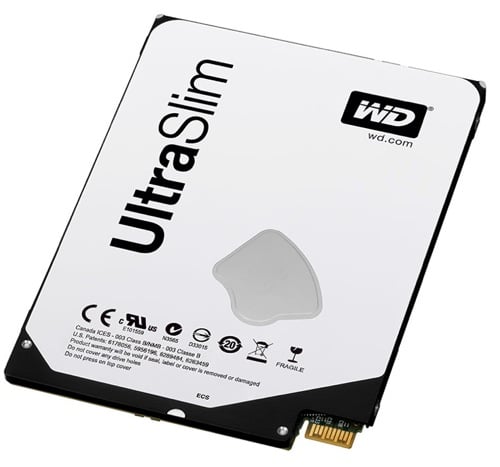 WD UltraSlim Blue disk drive
WD Black hybrid, the solid-state hard drive (SSHD)
These 500GB capacity products are for hardware manufacturers and integrators, and not the retail market. WD said the Black SSHD's NAND memory cache size will vary between 8GB and 32GB "depending on OEM requirements", we're told. WD added that it tries to minimise writes to reduce wear.
WD has not released the spin-speed of the hybrid's disk; we think it's 7,200rpm, a figure based on the Black SSHDs sampled in January.
The drive can take shocks of up 1,000G, more than twice as good as the UltraSlim Blue. The Black SSHD can have a SATA I/O connector - perhaps as fast as 6Gbit/s - and uses the same motor shaft securing and dual-stage actuator mechanisms as the UltraSlim Blue.
Thus WD follows Seagate and Toshiba in producing a hybrid flash drive. Seagate recently announced its fourth-generation chip-disk mutant, the laptop thin SSHD, with 8GB of NAND and 500GB on a single disk platter spinning at 7,200rpm within a 7mm-tall box. It also has a laptop SSHD drive with 1TB capacity and the same 8GB of NAND with a 9.5mm height - a 2-platter product we believe. Seagate is also developing a desktop SSHD with 1TB and 2TB capacities.
Toshiba's hybrid comes with 750GB and 1TB disk capacities, 5,400rpm speed, 8GB of flash, 9.5mm-thick case and 6Gbit/s SATA interface.
We would expect WD to expand its SSHD range with larger capacities in both its Blue and Black product ranges, maybe its Red range too. It's likely that Seagate and Toshiba will come out with their own 5mm-thick drives, both disk and flash-disk, to push into the thin and light smart portable device market.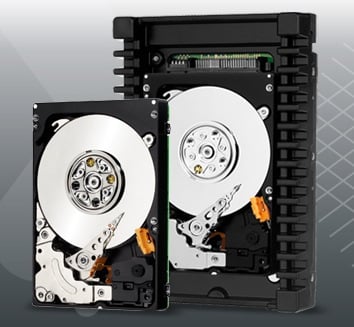 WD XE and 3.5-inch mounting frame
WD XE 3.5in-to-2.5in migration pill
The Western Digital XE spins at 10,000rpm and marries technology in the WD 2.5in S25 gen-3 drives with the boffinry inside the Velociraptor gen-6 disks:
It has a 3.5in mounting frame like the Velociraptor's IcePack.
It uses the same 6Gbit/s SAS interface as the S25, has the same transfer rate of 204MB/sec, the same 32MB cache, and the same two-million-hour mean time before failure rating.
It has the same 300GB, 450GB, 600GB and 900GB capacity levels as the S25.
The same 15mm z-height as the S25.
We think it's a buffed-up three-platter S25, effectively. You can get a spec sheet here [pdf].
WD XE manufacturer's suggested retail pricing is $229.99 (£150) for 300GB and $599.99 (£392) for 900GB. No price was given for the 600GB drive. The XE devices are shipping now and come with a five-year warranty. The UltraSlim Blue has a two-year warranty and a recommended price tag of $89.00 (£58). The Black SSHD drives are shipping to computer manufacturers and integrators now. ®