This article is more than 1 year old
DARPA looks for a guided bullet with DEAD reckoning navigation
Not only has your name on it, but your address too
Madcap Pentagon tech shop DARPA is looking again at the Global Positioning System (GPS, which makes almost all the world's satnav systems work) in a bid to reinvent the tech which used to be cutting edge military gear but these days is tracking dogs and finding golf balls.
DARPA's director Arati Prabhakar has announced that GPS is past its prime, and that her war-boffins will set out to create an alternative, or complementary, technology designed to be small enough to fit inside small-calibre ammunition.
GPS is wonderfully ubiquitous, and a great gift from the US military to the rest of the world, but it's not too accurate - and vulnerable to jamming. This is not even to mention that it only works with line of sight to the sky, all of which has prompted DARPA to come up with a better alternative squeezed into an 8mm cube.
That model uses gyroscopes, accelerometers and an atomic clock (development of the latter having been kicked off in 2008) to navigate by dead reckoning. Assuming one knows the starting position, or at least where one wishes to be in relation to that point, then navigation is just a matter of knowing one's velocity and duration of travel - with suitable accuracy of course.
Last we heard it was being slipped into the heel of a boot, but now apparently it's going to find its way into bullets too.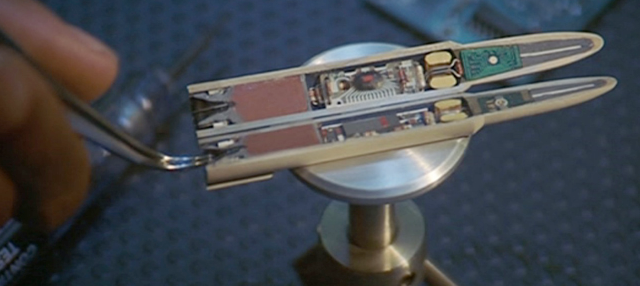 A smart bullet, though this fictional one is from the Tom Selleck classic Runaway
DARPA has long had aspirations toward a guided sniper bullet, though the intriguing EXACTO project has thus far seem to focus more on a heavy .50-cal projectile to be guided smartbomb-style by a laser dot.
There is, of course, another alternative: the use of the plethora of radio signals in which we are constantly swathed. If one knows the location of every TV, radio and cellular transmitter then a multi-frequency radio could enable triangulation - Google Maps already uses nearest-base-station to get a quick fix, and BAE Systems plc proposed something along similar lines last year. DARPA started exploring that angle in 2009 but now seems to be trying to make the tech smaller and more applicable to micro-navigation.
DARPA's research rarely produces tangible results, but even its failures spend government money pushing the boundaries of what's possible. We may not have flying cars yet, but the ones driven by robots are coming along fine and DARPA drove the creation of the internet too.
GPS isn't going away: accuracy is improving and the handful of competing satellite networks being built up at the moment will improve accuracy further by aggregation, but it is current technology while DARPA's brief is to work out what comes next. ®