More than a decade's work could be closer to payoff for Canberra company EOS Space Systems, which last week told the Sixth European Conference on Space Debris that its laser systems could help move space junk out of the "danger zone".
Before you start imagining orbiting satellites bristling with enough weaponry to knock out satellites, think again: the EOS Space Systems work has focussed on ground-based lasers whose energy (by the time it reaches the satellite) is merely enough to push the space junk away from dangerous orbits.
As the company's CEO Professor Craig Smith told The Register, moving stuff in space doesn't need all that much energy at all: "To move an object 100 meters over a 24 hour period we need to apply an amount of energy equal to about the solar radiation pressure (ie sunlight) for five to ten minutes."
The Sun provides 0.16 watts per square centimetre (in space, not on Earth). That's the kind of energy EOS has to deliver at the piece of space junk, aimed in the direction you want to move the object. For that, EOS proposes starting with a 10kW laser.
That might sound like a surprisingly small laser for moving something in space – but to change something's orbit needs a lot less punch than to get a car moving on the ground. A lot less, as Professor Smith pointed out: "If we can change the object's velocity by one millimetre per second, then we can move it [That is, change its orbit – Ed] 100 meters in 24 hours."
That, he said, is sufficient to move the object out of the "uncertainty zone" in which it has the potential to collide with active satellites.
With the physics of "solar pressure" well understood, the key challenge that EOS Space Systems has worked on for more than a decade (with an interruption after the 2002 Canberra bushfires which destroyed its first ranging station) is ranging and tracking the space junk that needs moving.
In collaboration with NASA, and with some Australian government funding, EOS created a demonstration system called RazorView which it says has tracked nearly 100 debris objects, some less than 10 centimetres in size, accurately enough that a metre-wide laser beam will impart enough energy to the target for it to move.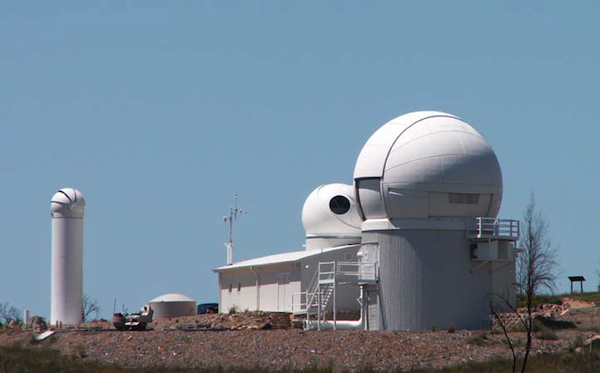 The EOS Space Research Centre at Mount Stromolo
The company has also created the adaptive optics that keep the laser beam on target and minimise divergence that might otherwise be caused by atmospheric turbulence.
Professor Smith told the space conference EOS Space Systems is not considering its proposal as a replacement for de-orbiting or capturing space junk. However, the capture programs are at best many years and billions of dollars away, if they happen at all. ®