This article is more than 1 year old
Ten ancestors of the netbook
Doomed category has a long history thanks to Atari, Poqet, Psion et al
Psion MC200

Technically, the MC200 was a laptop and a machine of a size we'd recognise today as a notebook computer. It evolved from Psion's Organiser series: the MC200 used the EPOC OS, and bundled productivity and personal information management applications into its 256KB ROM, plus the ability to run code written in the Open Programming Language (OPL). It was therefore arguably a large proto-netbook, and paved the way for Psion's Series 3 palmtop.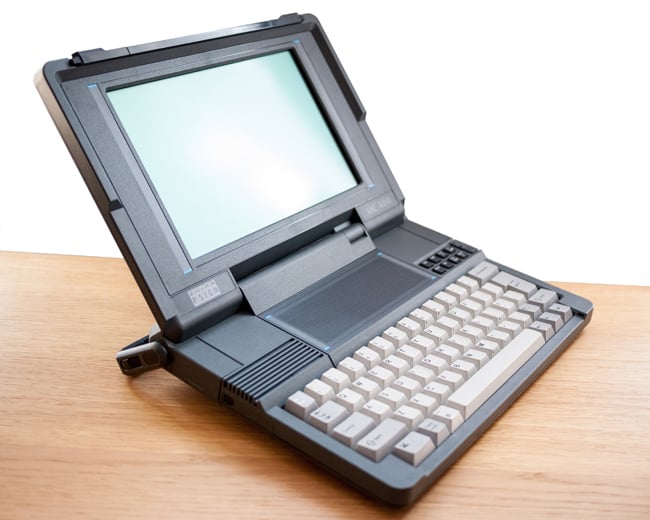 The MC400. Source: Charlie Headey, Retrocosm.net
The MC200 used a 7.7MHz Intel 80C86 processor and came with 128KB of RAM. Four slots allowed it to take solid-state storage cartridges - and extra ROM-resident applications. It had a 640 x 200 monochrome LCD. Psion launched two other MCs at the same time: the MC400 and the MC600 - both came with 640 x 400 screens and more memory: 640KB for the 400, 768KB in the 600. The MC600 had a MS-DOS 3.2 compatible OS in its ROM.
Since the MC200's version of EPOC presented a windowed user interface, Psion placed a large touchpad - possibly unique for a late 1980s laptop - above the keyboard.
Maker Psion
Introduced September 1989
Discontinued 1991
Price £595 (MC200) £696 (MC400) £1295 (MC600)
HP 95LX

As one of the world's biggest calculator companies, Hewlett-Packard wasn't going to be kept out of the pocket computer arena. In April 1991 it leapt into the fray with the 95LX, a 5.4MHz palmtop based on NEC's clone of Intel's 8088 processor, the V20. It ran MS-DOS 3.22 and had Lotus 1-2-3 stamped into its 1MB ROM, too. It was the first palmtop to do so, thanks largely to Lotus R&D chief Leon Navickas' close work with HP, a result of his desire to be able to offer his users an easy way to carry their spreadsheets around.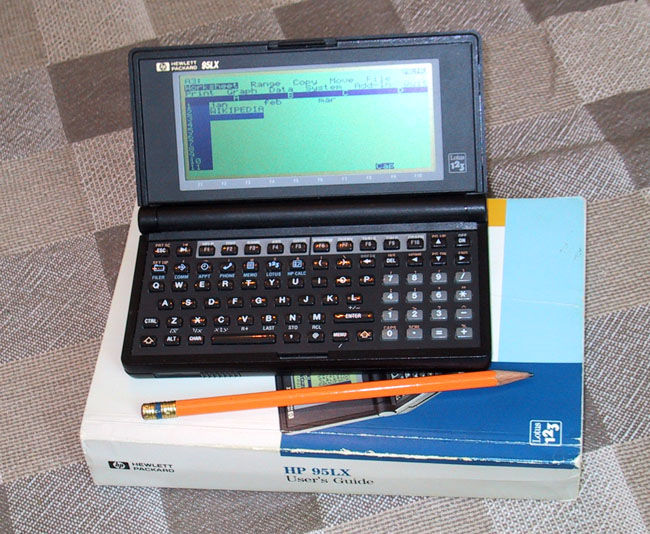 Source: WT Shymanski
The 95LX, codenamed Jaguar, also came with a basic text editor, a calendar and terminal software, which could be used to beam files back and forth through the palmtop's infrared port. A pair of AA batteries kept it running, while a button battery protected part of its RAM partitioned for storage when the main cells needed changing. Its monochrome 248 x 128 LCD was used to present a 40 x 16 array of characters.
Two years after the 95LX's launch, HP revised and re-released the machine as the 100LX, upping the CPU to an 7.9MHz Intel 80186, the memory to a choice of 1 or 2MB, and the software to MS-DOS 5.0. A year later, out came the 200LX with more recent software.
Maker April 1991
Introduced September 1989
Discontinued 1993
Price $699 (95LX)