This article is more than 1 year old
LG beats Samsung to OLED flexi-TV with hella pricey 55-incher
Norks get another excuse to invade the South
At this year's CES, both LG and Samsung proclaimed that concave OLED screens are the next big thing in televisual entertainment, and promised working systems. Now LG has began taking orders for a 55-inch model and will begin deliveries next month.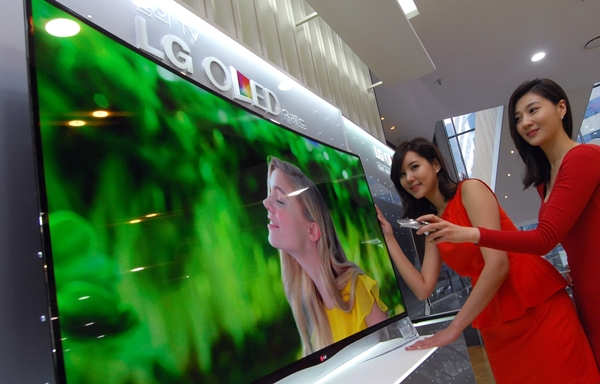 Great curves, shame about the price
The curvy EA9800 1080p model has a carbon-fiber reinforced plastic screen that's 4.3mm (0.17 inches) thin and weighs 17 kg (37.5lb). While the device has a much bigger footprint than a standard LCD or plasma screen, it more than makes up for this in image quality, according to the manufacturers.
The idea is that the display area feels like it has more depth, LG says, and the RGB screen has white sub-pixels built in that brighten up the display, along with computer-controlled contrast levels to adjust for ambient light and positioning better than do other viewing systems – or so says LG.
"Our Curved OLED TV is not only the proof of LG's unmatched leadership in next-generation displays but also a testament to LG's commitment to bringing to market the most exciting TV technology available today," said Havis Kwon, CEO of LG Home Entertainment in a canned statement.
It has better be very, very good indeed to justify the $13,500 price tag. Samsung hasn't released its forthcoming model specs, but it's unlikely to be that much cheaper, and whether people will buy into the technology remains to be seen. The Korean government is keen on the technology and is working with LG on a 60-inch display for signage, but prices will have to fall for consumer demand to kick in.
Meanwhile, both companies promise that flexible OLED displays will be making it into mobile handsets and tablets this year as well. The first results aren't likely to live up to the hype, but the current rage for wearable computing is causing a lot of firms to get into the flexi-screen field, first for phones and increasingly for watches
There's also the question of whether the current police investigation into the theft of flexible OLED technology will tie up the sales of new systems. Last July 11, Samsung and LG staff were charged with leaking technology, and investigations (and accusations) of industrial espionage continue to fly.
Discussions here at Vulture Annex suggest that the new screens are unlikely to fly off the shelves, at least for home users. With a good quality 50-inch plasma costing $999 plus tax, shelling out over ten times that sum for a flexible screen isn't on anyone's radar. ®