Red-hot students, an all-day romp and an £11,000 bonanza
Yup, China's cluster-crafting combat contest concludes
---
ASC'13 Red-hot cluster-building students from Tsinghua University in Beijing stepped up their already high-level game - and took two of the three awards up for grabs at the inaugural Asia Student Cluster Challenge (ASC'13) finals last week in Shanghai.
ASC'13 is the first leg in 2013's Student Cluster Competition Triple Crown - a long-running contest that pits undergraduates against the clock to build benchmark-smashing machines, with cash and power supply budgets.
In doing so, Tsinghua's kids became the first team in student cluster-building history to win both the Overall Award (highest average performance on all workloads) and the LINPACK Award for the highest LINPACK benchmark score during the same competition.
Winning this latest Overall Award also makes Tsinghua the first 'three-peat' student cluster-creating competition champ. They took the top slot at the ISC'12 competition in Hamburg, and they won the All-China play-in competition in the spring of 2012 in Beijing.
In addition to the pride of winning out over nine other university teams, Tsinghua also collects 100,000 RMB ($16,000, £10,300) for their first-place prize plus an additional 10,000 RMB for setting the top LINPACK score.
As one of the two top China finishers, they also get to compete at the ISC'13 Student Cluster Competition in Leipzig, Germany this June. The next highest mainland China team, Huazhong University of Science & Technology, will also get the chance to go for the gold in Leipzig.
On LINPACK, Tsinghua posted a student cluster competition record 7.579 Tflop/s, narrowly edging out home team Shangai Jiao Tong University's 7.430 mark. Taiwan's National Tsing Hua University (NTHU) took third place with 6.519 Tflop/s. NTHU also finished second for the Overall Award, winning the Silver Prize and a cool 50k RMB ($8,000, £5,200).
This new record more than doubles the 3.014 TF LINPACK record set by China's National University of Defense Technology (NUDT) at SC12 last November. It's a much larger performance delta than we've seen before and quite a bit higher than what you'd expect to see from hardware that's only six months newer.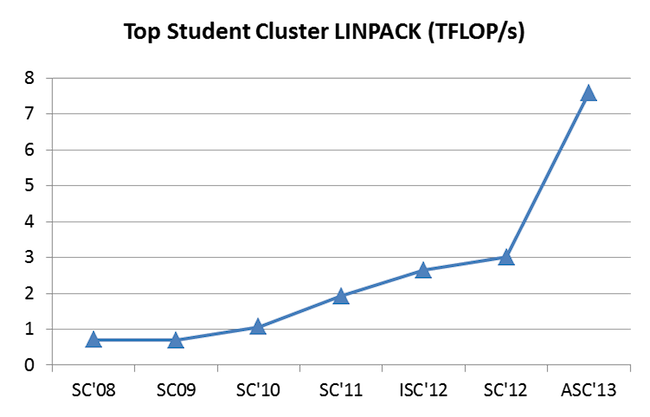 Hooray and up she rises ... how the performance of student-built clusters is improving
We don't have the hardware configurations for each team as we usually do, but we know that the Tsinghua config utilized GPUs (I'd assume Keplers, given the performance), and the team certainly knew how to use them. Inspur, a major sponsor of the event, offered Xeon E5-2650 dual-socket nodes to competitors for use in the tourney. They also made available Intel Phi co-processors, Mellanox ConnectX-3 HCA cards, and Infiniband and/or GbE switches.
Teams could use the Inspur-provided hardware or bring their own components – or entire systems. Tsinghua added GPUs to their system and, knowing the teams, I would bet that NTHU and NUDT did as well. But the big leap forward in LINPACK can't be explained by faster hardware alone. Team Tsinghua must have heavily optimized the LINPACK routines in order to get such a big performance bump.
Team Huazhong, in addition to nailing down a slot in Leipzig, also took top honors for optimizing BSDE (options pricing model) on Intel's Phi co-processor. Along with a nice certificate of achievement, the team also won a cash award of 10,000 RMB.
Sun Yat-sen University, also from China, had the highest GROMACS score (Groningen Machine for Chemical Simulations, a molecular dynamics package). Teams also had to turn in results for OpenCFD (fluid dynamics) and WRF (weather forecasting) workloads. We don't know how the teams finished on these applications, but in most cluster competitions there's a wide range of scores.
The other teams in the competition, Ulsan University of Science & Technology (South Korea), University of St. Petersburg (Russia), King Abdulaziz University (Saudi Arabia), and The Chinese University of Hong Kong, were first time competitors and didn't take home any of the major awards. Some of the teams were impacted by unforeseen technical problems, which is typical for these competitions; others may have made the wrong bet on application scheduling or configuration; and some just didn't quite have high enough results to catch the leaders.
None of the first-time competitors knew what to expect. However, they received special recognition from the judges for being highly competitive and continuing to strive toward their goals in the face of adversity. It's also important to recognize that just getting to the final round of competition wasn't easy. These ten teams were selected from more than 40 universities that submitted applications, so making it to Shanghai was quite an achievement.
The final results at ASC'13 provide the last two teams for the upcoming ISC'13 competition field. China's Tsinghua University and Huazhong University of Science & Technology will battle it out with seven other teams at the ISC'13 Cluster Challenge this June in Leipzig. It's going to be a global melee, with student teams representing North America, South America, Asia, Africa, and Europe meeting in Germany to put their skills to the test in what promises to be an exciting and compelling cluster-off.
We'll make sure that you, the cluster competition fans, are fully prepped for the competition. In upcoming articles, we'll look at the teams, the tasks, their gear, and what strategies they might use to win. Stay tuned. ®